Bob Barker hosted The Price Is Right for almost four decades. Come on down and read these rare facts about his life.
Fired A Model For Gaining Weight
Holly Hallstrom was one of Barker's Beauties. She joined the show in 1977 and was fired in 1995. Her departure from the show was not pretty. Hallstrom alleged that Bob and the producers forced her off the show because of a prescription medication she was taking, as it was causing rapid weight gain. The fight between them was intense, to the point where Holly spent all her money on lawyers and had to live in her car. Eventually, she got millions in a settlement.
Skin Cancers
As a kid on the Reservation, Barker would run around without a shirt, soaking in the sun's rays. Later, on TV, to stay visually appealing to audiences, Bob would try and stay tan (these days he seems to have the orange tinge of a spray tan). His sun exposure showed in a scary way: he's had a couple of moles that developed into skin cancer. Looking back on his youth, he regrets the time in the sun. Barker recommends that sunbathers, "see a dermatologist once or twice a year."
Preganancy Lawsuit
For about five years, Shane Stirling was one of Barker's Beauties. However, things turned sour in 2006, when she announced she was pregnant. Allegedly, she was, "forced into an early pregnancy leave, was not allowed to return to work for almost a year after her child's birth, and was fired abruptly." Bob himself apparently said she should not work while pregnant because it was a "liability" and told her to "go home and take care of your baby." Shane filed and lost a lawsuit regarding her firing.
2015 Slip And Fall
In 2015, Barker took a terrible fall while going for a walk on the sidewalk near his mansion. The side of his forehead was cut wide open. Bob would have been in huge trouble had it not been for the lucky fact that LAPD officers were in the area, responding to another call, and drove by right as Barker was plunging to the ground. The officers used their first aid training to quell the bleeding until the paramedics arrived, and took Bob to the hospital, where he was treated.
Mishandling Of A Miscarriage
Pregnancy discrimination was a common theme at The Price Is Right. Brandi Cochran, a model on the show, was so afraid of revealing her pregnancy because she feared being let go from the show. Eventually, Brandi says the stress caused a miscarriage. A producer on the show who found out about the trauma said that it's, "natures way of getting rid of a bad baby." Producers also apparently made fun of her weight, saying "wide load coming through," when she walked by. Eventually, a lawsuit settled out of court.
Wardrobe Malfunction
In 35 years as the host of The Price Is Right, Barker calls what one particular contestant experienced as, "the most talked about single incident in the history of the show." When a contestant named Yolanda was called down, she was ecstatic to have been chosen and celebrated vigorously. One catch was, though, that Yolanda chose to wear a tube top, and, as Bob explains, "she began jumping up and down and out they came. She came on down and they came on out on CBS."
Accusations Of Racism
Barker has had his fair share of issues when it comes to angry employees leaving his shows, especially the Barker's Beauties. Another issue was raised by Deborah Curling, a former employee of The Price Is Right. She claimed that jokes that were sexist, anti-semitic, and racist were not only tolerated on set, but also very common. The insult was so large that she sued Barker for allowing a hostile work environment. A judge reviewed the case, and ruled that the accusations were specious and not court-worthy.
2017 Slip And Fall
In 2017, Bob took a spill in the bathroom of his Hollywood Hills mansion, and it was serious enough that the ambulance was called. However, Bob had the wherewithal to say that he did not want to ride in the ambulance. Eventually, he decided to go to the hospital, but he has his housekeeper drive him. Head trauma can be devastating, with concussions causing awful problems with alertness and memory. Luckily he quickly recovered physically, but image-wise, the fall re-sparked the false claims he'd died.
MY Bob Barker
As an animal rights champion, Barker has done everything to use his wealth to stop cruelty against both land and sea creatures. One particularly generous donation he made was $5 million towards a boat that is now operated by the Sea Shepherd Conservation Society. In 2013, the MY Bob Barker, named after him, was rammed by a Japanese whaling ship called the Nisshin Maru, and multiple antennas broke, causing power loss. The ship is still active, and flies the Dutch flag, as its home port is in Rotterdam.
Famous Sign Off
Once Barker got the attention and acclaim of the nation as host of The Price Is Right, he used the spotlight to raise awareness of an important issue: pet overpopulation. Every show would end with Bob's now immortal catchphrase: "Help control the pet population; have your pets spayed or neutered." In 1995, he went as far as starting his own organization, the DJ&T Foundation, which provides financial assistance to clinics that have low-cost or even free spay and neuter services.
Came Out Of Retirement
In 2007, at the ripe old age of 83, Barker retired from his 35-year tenure as the host of The Price Is Right. Comedian and TV personality Drew Carey took over the duty. Since Barker's departure, he has returned thrice to grace the show with his presence. In 2009, he came back to promote his autobiography. In 2013, he returned to celebrate his 90th birthday. On April Fools' Day 2015, he shocked audiences by pretending he was the host again, before returning the microphone to Drew Carey.
Now You're Gonna Get It Bobby
One of the most famous movie cameos by Bob was in a scene in Adam Sandler's Happy Gilmore, which is now iconic in the 90's comedy canon. Happy, a hockey player-turned-golfer is paired with Bob Barker in a golf tournament. As the pair dwindles in the rankings to dead last, there is a clash of personalities, which eventually escalates to fisticuffs. Happy eventually head-butts Barker, and taunts him by saying, "the price is wrong!" Bob won an MTV Movie Award for Best Fight for the scene.
Removing The Elephant In The Room
The Toronto Zoo is Canada's best and has many opportunities to see exotic animals like Giant Pandas. However, animal rights activists like Barker oppose zoos, seeing them as prisons for animals. After hearing about the plight of three African elephants in the Toronto Zoo, Barker spent $1 million to get them free. Eventually, the Toronto City Council relented, and allowed Iringa, Thika, and Toka to be transported to an animal sanctuary. In 2015, Iringa sadly passed away from euthanasia to relieve her degenerative joint and foot disease.
Supply And Demand
After Bob served as a fighter pilot in the Navy, he was discharged and returned to Drury College to finish a degree in Economics. Perhaps he was meant to eventually host a show all about pricing, because he had a magnificent understanding of the economy, graduating Summa Cum Laude. Barker has been very generous in supporting Drury, by giving not only six-figure donations, but allowing some of his many awards to be housed on campus for people to see.
Black Belt With Chuck Norris
When Barker was young, he played many sports. He played baseball and football, and he also ran track. In winter he would ice skate. He was good enough to play basketball at the college level, and even as an adult was not satisfied simply with his game show hosting. To maintain his physical prowess, he trained in martial arts with Chuck Norris, the actor and founder of the hybrid fighting style Chun Kuk Do. Barker is a black belt in Karate, and has a red belt in Tang Soo Do.
Threatened Dentist Hunter
In the Hwange National Park in Zimbabwe lived a lion called Cecil. An American dentist and big-game hunter named Walter Palmer killed the lion for sport, and sparked extreme outrage on the internet across the world, even threats of death. Barker was also angry, saying, "I think that whatever misery befalls him, he deserves it," saying that he'd, "go for," the notion of a bounty on his head. At the very least, Bob wanted to see Palmer "extradited and in an African jail for a long time."
Critical Of Drew Carey
In 2007, Drew Carey took over the hosting of The Price Is Right. Barker was asked soon after the takeover how he thought the comedian was doing. Barker responded negatively, saying that Drew, "does the show differently … I try to make the show really exciting. He doesn't do that … he just plays the games." Perhaps Carey was trying to follow Barker's advice: "don't try to copy me, just make it your own show." Barker apologized, saying he meant no offense, and that Drew is, "charming and complimentary."
Bomb Squad
With so many hiring and firing scandals, spurned former models and their allies would have something against Bob. Also, whalers and other people who make money off of animal products and testing would love to get rid of Barker. So when Barker's housekeeper saw a suspicious package in the inside gate of his home, she told Bob's business manager, who called the police. The bomb squad rushed to scene to examine the package. Turns out, it was a false alarm- it was a delivery of medication they'd forgotten about.
Death Hoax
Death hoaxes have become a phenomenon since the internet and social media have taken hold. Macaulay Culkin, Bill Murray, and Bill Nye have all fallen prey to the fake death announcement. Because Bob is advanced in age, and has the occasional slip and fall, internet hoaxers have pounced on the opportunity to report the legendary game show host as dead. The announcement seemed believable enough, and it went viral, until more reputable sources came in and put a stop to the rumors.
60 Year Tradition
Before The Price Is Right, Bob fortuitously got hired to host a game show called Truth Or Consequences. In the early stages, the creator, Ralph Edwards, couldn't seem to find anyone who fit the bill to host. Lucky for Bob, Edwards heard Bob's radio show. Edwards loved what he heard, and hired Bob on December 21st, 1956. Barker hosted the show for a whopping 18 years. The pair toasted every December 21st to celebrate that moment until Edwards passed in 2005.
Bob Barker Studio
In the Fairfax area of Los Angeles, on Beverly Boulevard, there's a massive studio that's so sprawling that it's called Television City. The place is the size of a sports stadium, which makes sense, as it used to be one. Shows such as American Idol, Deal Or No Deal, and The Late Late Show With James Corden are all filmed in Television City. Stage 33, where The Price Is Right is filmed, was renamed the Bob Barker Studio following the 5000th episode of The Price Is Right aired.
Swish Swish
Before he was the smooth-talking host of The Price Is Right, Bob attended university. College is expensive for someone of humble means, so he decided to attend Drury College, where he was given a basketball scholarship. The Missouri school is still good at basketball today- the men's team won the NCAA Division II championship in 2013. Barker, dressed in a suit, met with the team, who gave him a signed poster of all the winning teams that year.
Salt And Pepper
Being on television seems fun, but anyone on the small screen knows that it's hard work. People judge how much you're aging, how you dress, and they overanalyze everything you say. Barker was aware of this issue, but still decided something radical in 1987. Barker chose to stop dying his hair, and let it go gray, as he opposes dyes because they are tested on animals. Barker, "had to get approval from the head of daytime programming," as gray hair on TV was unprecedented. Ratings remained high either way.
Guinness World Record Holder-Twice!
The Guinness Book Of World Records has all the strange and impressive feats that humanity has achieved, from odd things like largest ukelele to inborn traits like the tallest person on the planet. Bob has the unique honor of being in the book twice. First, he was listed as "Most Durable Performer" for having, at the time, 3,524 shows. Also, he was listed as "Most Generous Host in Television History" for awarding about $200 million in prizes. Since then, Alex Trebek has overtaken the first record.
Prefers Puppy Kisses
As an animal rights activist, Bob pays out millions to help even the smallest critter who is suffering. This seems like a lot of work and sacrifice, but for Barker, animals can be better than humans. "I'd rather be kissed by my dogs than by some people I've known," Bob admits. He stopped eating animals and became vegetarian as well, and credits that lifestyle change for his longevity. "I became a vegetarian … out of concern for animals. But I immediately began having more energy and feeling better."
The Price Is Raw
In 2009, Bob Barker appeared on the WWE's Monday Night Raw, in a special edition whimsically referred to as The Price Is Raw. He ran the gameshow he was so used to hosting, except this time, instead of audience members, the contestants were hulking wrestlers. Chris Jericho and Bob got in each others' faces because Bob called the shirtless muscleman "Chris" instead of "Mr. Jericho." Bob held his own, snarkily dissing the wrestler for being, "naughty." Barker impressed the crowd: he won a Slammy Award for Best Guest Host.
Bonanza
Bonanza was an extremely popular show, with the iconic burning map of the Ponderosa Ranch from the opening still familiar to many today. In the second season of the show, one of the guest stars was none other than Bob Barker. He played Mort, who was a supporting character in an episode whose side plot involved welcoming back someone's daughter from her travels to the East with a party. Barker can be seen at this party on the far right in the dark suit.
The Pillsbury Bake-Off
The Pillsbury Bake-Off is a baking contest whose grand prize is a large sum of money, appearances on Food Network TV shows, and in Food Network magazines. The contest brings the most delicious confections to TV, making viewers drool over such baked goods with enticing names like Orange Kiss-Me Cake, Magic Marshmallow Crescent Puffs, and Ring-A-Lings. Barker hosted the contest from 1970-1982, and it was shown at the same time slot as The Price Is Right, so no daily viewers would miss him.
Dogs Over Awards
Bob Barker has done it all. He has won 15 Daytime Emmy awards, and in 1999, he got a cherry on top, winning a Lifetime Achievement Emmy. His name is immortalized among the biggest stars of yesterday and today on the Hollywood Walk Of Fame, with a star dedicated to him in 1976. Still, he thinks that these accolades are not as valuable a part of life as this one, simple experience. "A person who has never owned a dog has missed a wonderful part of life."
Shocking Net Worth
Bob Barker ended up making a fortune out of his lucrative television career. It is estimated that Barker holds an estimated net worth of around $70 million. His time on The Price Is Right proved to be time spent well. What is even more fascinating than his net worth, is what he chose to do with his money. Barker is a huge animal lover and decided to donate millions of dollars to animal rights activism, a causes he feels very passionate about. Later, he criticized the show that made him famous, saying "I am ashamed of [their] total disregard for animals".
Legal Problems
Barker is best known as the host of The Price Is Right, a title he held for 35 years. However, his tenure as host was not without scandal. In 1993, "Barker Beauty" Dian Parkinson left the show to, "pursue other interests," but she alleges another reason that was much more sinister. She filed a lawsuit against Bob for coercing her into a relationship with him. Barker claims she was simply spurned when he moved on from their romance, and she sought revenge. Eventually, she dropped the case.
Bob Needs The Spotlight
Sharing the stage with Bob on The Price Is Right were the models, also known as Barker's Beauties. They present the prizes and gave people some eye candy to gaze at while considering bids. When some folks suggested making the playing field even by hiring male models, Bob responded, "that's a terrible idea. I don't want some young guy back here attracting all the attention. I want people looking at me." With Drew Carey as the current host, Robert Scott Wilson became the first male model on the show.
Quit Miss Universe
Bob set a record for being the longest host of both the Miss Universe and Miss USA pageants which he hosted for 20 years in a row, from 1967 to 1987. However, he and the producers butted heads because the contests gave fur coats as prizes, and Bob is a huge animal rights supporter. Fur coats were included prominently in the 1987 swimsuit contest, and Bob's anger at the decision leaked to the press in a scandal that became known as "Fur Flap." Bob eventually quit both shows in protest.
Navy Pilot
In 1943, Barker was in college, looking to give himself an opportunity to escape his relatively modest childhood. However, with World War II raging overseas, Bob was drawn towards helping his country. The best way to help, he decided, was to leave college, and join the Navy. Barker trained with the United States Naval Reserve to become a fighter pilot. The training just ended and Barker was to be transferred to a squadron, but before that could happen, the atomic explosions in Hiroshima and Nagasaki ended the war.
He's Native American
Bob Barker's family tree has some interesting roots. His heritage is partially Native American; he is one-eighth Sioux. On the US Indian Census Roll, he officially counted as an official member of the Sioux. Culturally, he is much more than an eighth. Since his mother was a teacher and worked on the Rosebud Indian Reservation in South Dakota, Barker spent most of his childhood there.
How Getting a Divorce Saved Demi Moore and Bruce Willis' Relationship
Red Carpet Meeting
In 1987, Demo Moore was engaged to another up and coming actor, Emilio Estevez. The two had met on the set of St. Elmo's Fire and were engaged not long afterward. To support her man, she attended the premiere of his buddy cop film, Stakeout. Among the star-studded parade of actors attending was Bruce Willis. They crossed paths during one of the after-parties, and needless to say, the rest is history. In her new memoir, she discusses what happened and what her first impressions were.
First Impressions
Apparently, she had heard things about Bruce from people in her circle – and heading into the meeting, her preconceived impression was not that great. "My impression was that he was a jerk; however, Bruce was so gallant," Moore said. Demi was taken with his boisterous yet gentlemanly air. He must have been unaware of her relationship status because he took this time to make a few advances in attempt to woo the young actress.
A Number and A Limo
During their conversation at the after-party, Bruce asked for her number. Not having any paper, he stuck his arm out and let her scroll it across his skin. Demi thought that was it for the night. But according to another story in her memoir, Bruce rode up alongside her car on the freeway. He stuck his head up out of the sunroof of his limo and yelled, "Hey Demi!"
Fiancée No More
Unfortunately for her fiancé, Demi was taken with Bruce – and it was not long until she was single and ready to mingle. Demi and Emilio were engaged for two years before she felt a shift in her feelings. It was not long after meeting Bruce that Emilio and Demi officially called it quits.
They Begin to Date
In September of that same year, Demi and Bruce went public with their relationship. Their first official outing was attending the Emmys together. For a whirlwind few months, Bruce used his abundant resources to wine and dine Demi, sweeping her off her feet. No one could argue that the relationship was moving in the right direction, and was moving quickly.
Demi in Secret
Flying from place to place on a private jet, the couple would eventually find themselves en route to Las Vegas, where they spent some time "in private." And as we all know, what happens in Vegas stays in Vegas, right? Well, not so much for this smitten couple, as they would soon find out.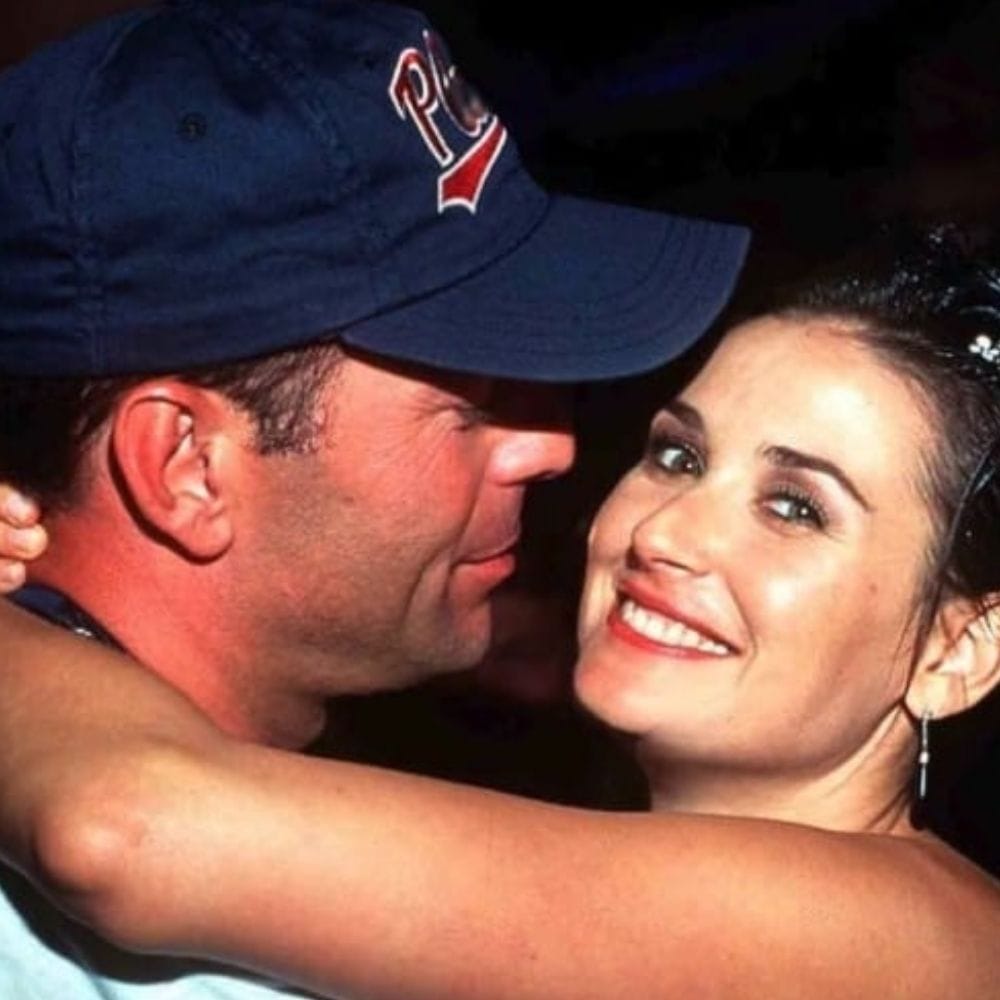 Vegas Wedding
Vegas is one of those places that can be very intoxicating, and these two lovebirds got swept up in the emotions and the bright lights and ended up tying the knot in the Golden Nugget suite! In between moving from table to table on the casino floor, Demi remembers Bruce saying, "I feel we should get married." On their way to Vegas, they had been joking about it – but when he said that, he looked profoundly serious. So she said yes, and just four months after starting to date, they promised to love each other forever.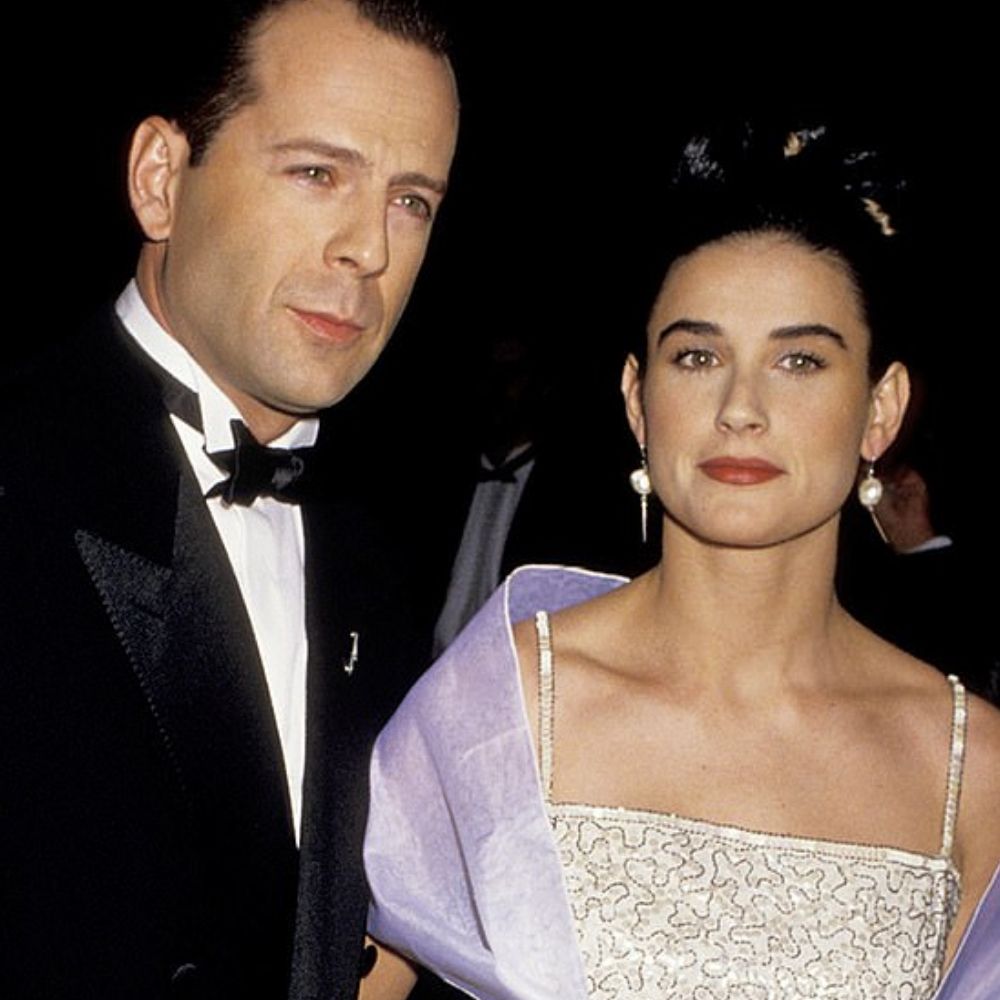 Hollywood Sequel
Though they had already become man and wife, none of their family members or friends were there to witness their wedding. So a month later, they did it up again – this time, Hollywood style. The wedding was as lavish as you would expect, with the high-profile guest list this power couple had. Not only did they have many famous friends in attendance, but the actual ceremony was officiated by the great music legend Little Richard.
Rumer Has It
This couple did nothing at a slow pace, and that includes starting a family. Like most couples, they enjoyed a little honeymoon after they got married – and that's when they may have planted the seeds for their new family. According to many sources, the couple swore that their first child, Rumer, was conceived on the very first night of their honeymoon. As we've seen, this couple's romance was like a tornado – so this was very likely to have been the case, especially when you do the math.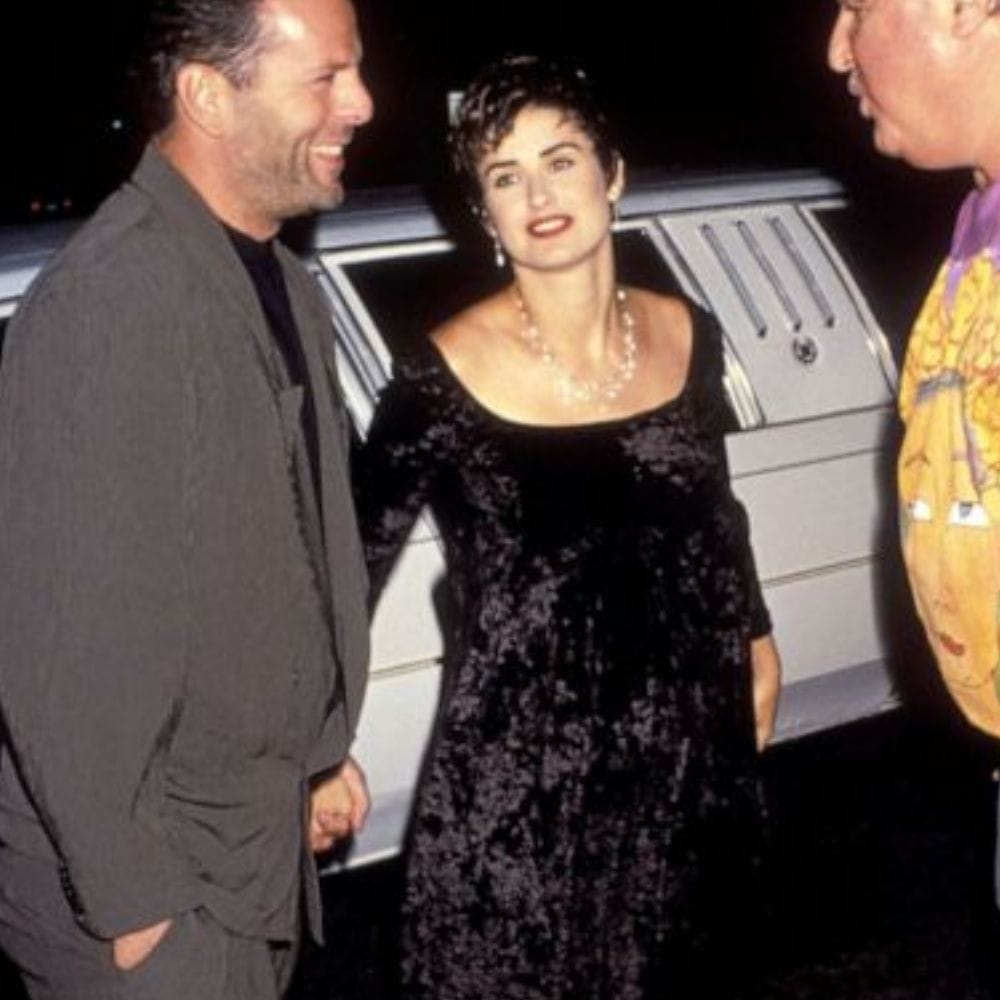 First Child
Just nine months later, in August of 1988, Rumer was born. The couple's relationship had progressed at a record speed. "When reality set in, I do not know if we actually knew each other," Demi says in her memoir. They got caught up in their infatuation, and in no time, they had gone from a whirlwind love affair to a domestic life together.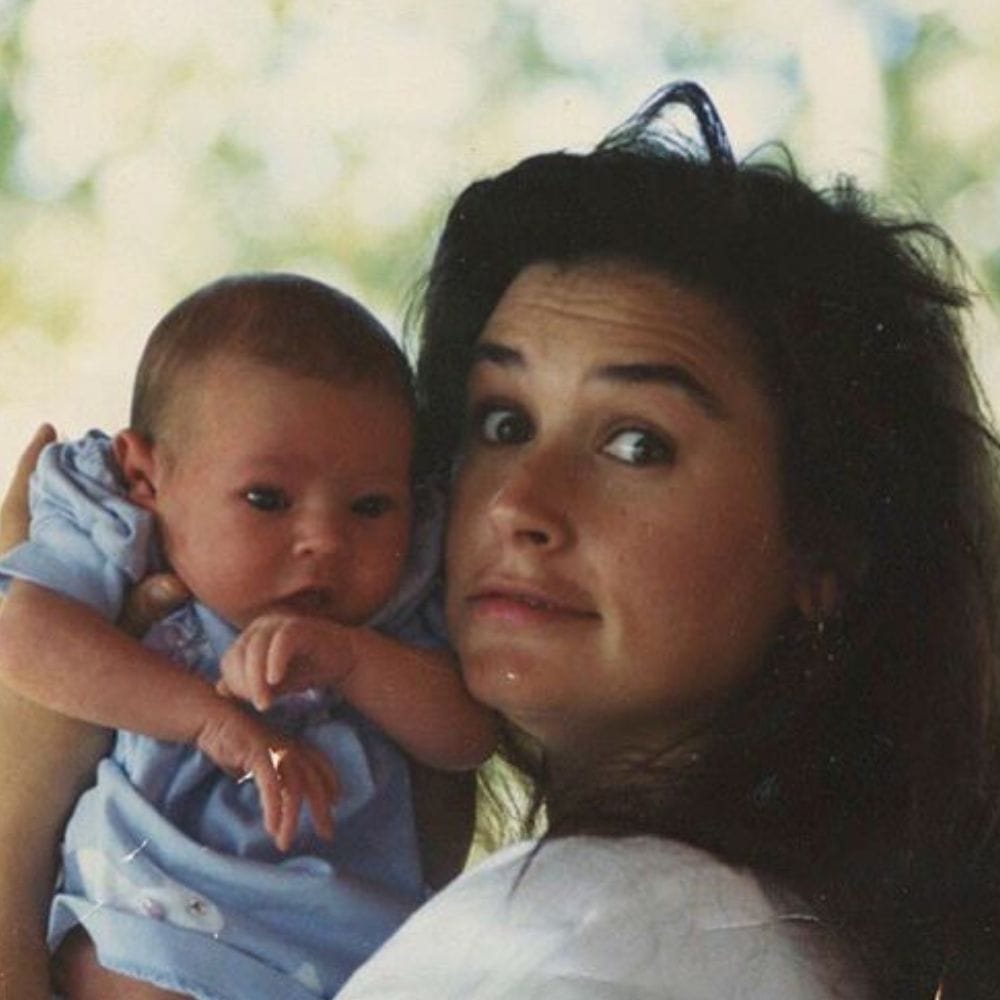 Let's Move to Idaho
After their first child was born, the couple felt like they wanted to raise their family away from the bright lights and paparazzi of Hollywood. In order to do that, they decided to relocate to a rural part of Idaho. Purchasing a ranch, the two commuted to their jobs and had a pleasant and somewhat normal life when not in the Hollywood spotlight. They lived this way for the entirety of their marriage.
Two More Bundles of Joy
Over the next few years, the couple added to their family with the births of two more daughters. Scout was born in 1991, followed by Tallulah, who was born in 1994. While raising their three daughters, the couple saw their careers begin to take a turn – and this meant that there would be many more challenges up ahead.
Becoming Rising Stars
During this time, Bruce had been the star of many action films like Die Hard and Pulp Fiction. He had seen his fame rise after the first Die Hard, and this had brought him many other exciting projects. Demi had also seen some growth in her career with movies like Ghost and Indecent Proposal. She had blossomed from a teen movie star into a serious actress. This elevation of the couple's Hollywood status would lead to some lifestyle changes.
Juggling Life and Career
Making time for both their careers and their family would take a bit of a toll on their marriage, according to Demi's memoir. In order to balance their obligations, they had to time their filming schedules so that they both wouldn't be away from home at the same time. They were fairly successful in juggling their careers and family life, and despite all their stress, managed to become one of Hollywood's "it" couples.
Demi Predicts the End
There had already been quite a bit of gossip about the couple's fragile relationship even back in 1991 when Demi was pregnant with her second daughter, and was asked to pose for her infamous Vanity Fair magazine cover. In the article that goes with that illustrious pregnant pose, Demi inadvertently predicts the future by saying that "the gossip will not cease until someday it becomes true." Fast forward twenty-something years later, and the truth is finally revealed by Moore in her memoir.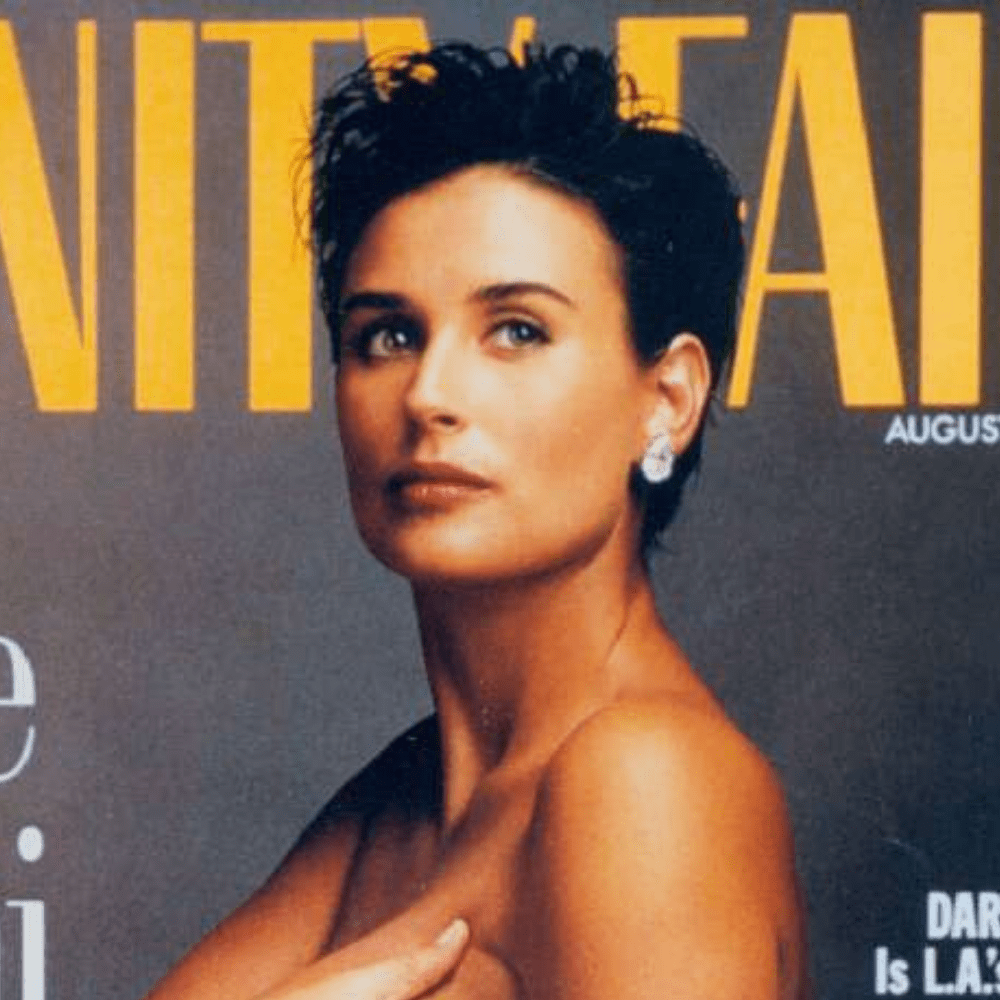 Bruce Willis the Playboy
The couple had many issues, and Bruce discussed some of them in his 1996 Playboy interview. In this interview, he shared his thoughts on monogamy and many other issues. On top of his view that all men eventually lose interest in their partners, he also wanted Demi to stay home with the girls. Demi has said that Bruce preferred her to stay home and raise the girls rather than continuing to make films – and that "he wanted to do whatever he wanted to do." The couple turned out to have very different ideas of what marriage should be.
Time to Go Our Separate Ways
After eleven years of juggling family, career, and personal issues, the couple finally announced that they would be separating. A spokesman for Willis released a short statement that said, "Bruce Willis and Demi Moore have announced that they are ending their eleven-year marriage. They were married on November 21, 1987." Like in all Hollywood divorces, many things had to be worked out – so it took several years before the divorce was finalized.
The Divorce is Finalized
In 2000, Demi and Bruce finally became free of each other – though the couple had already lived separately for at least two years. They had very different movie schedules, and this had played a huge part in the actual deterioration of their marriage. Even with their hurt feelings, the two wanted to be good parents – and that would mean some hard work on their friendship and some unique parenting strategies.
Co-Parenting Skills
After the two split, Demi would talk about how they managed to be such good co-parents. They were able to put aside their personal grievances and focus on their daughters. Demi has said, "I think Bruce was afraid that I would make the divorce tough and that I would keep him from seeing the girls. That is what a lot of divorcées go through, but I didn't use the girls as a weapon, and neither did he."
Demi Steps Out of the Spotlight
After the divorce and with three young girls, Demi needed some time away from the spotlight. She retreated to the safety of her Idaho home. It would be a couple of years before she would be seen again on the silver screen. During this time, she worked on herself and her personal life. But eventually, she got tired of being out of the spotlight and started looking for a new project.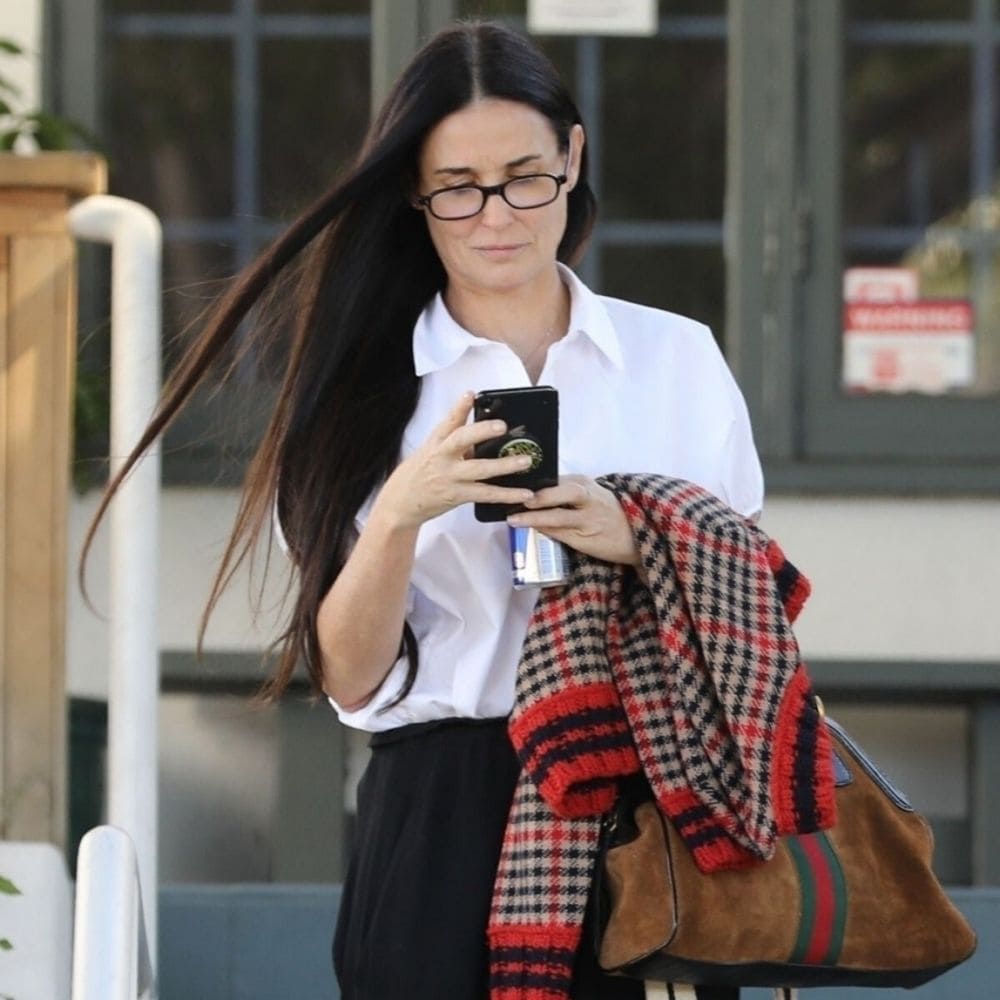 Triumphant Return to Action
Demi hadn't been in a movie in over five years, and many of the producers she approached would say, "We don't know what to do with you, or where you will fit in." Demi wasn't quite sure what they meant by that, but she kept persevering. Eventually, she scored a cameo in Charlie's Angels: Full Throttle. She was in the best shape of her life at age 41, but the roles for women her age were not as plentiful.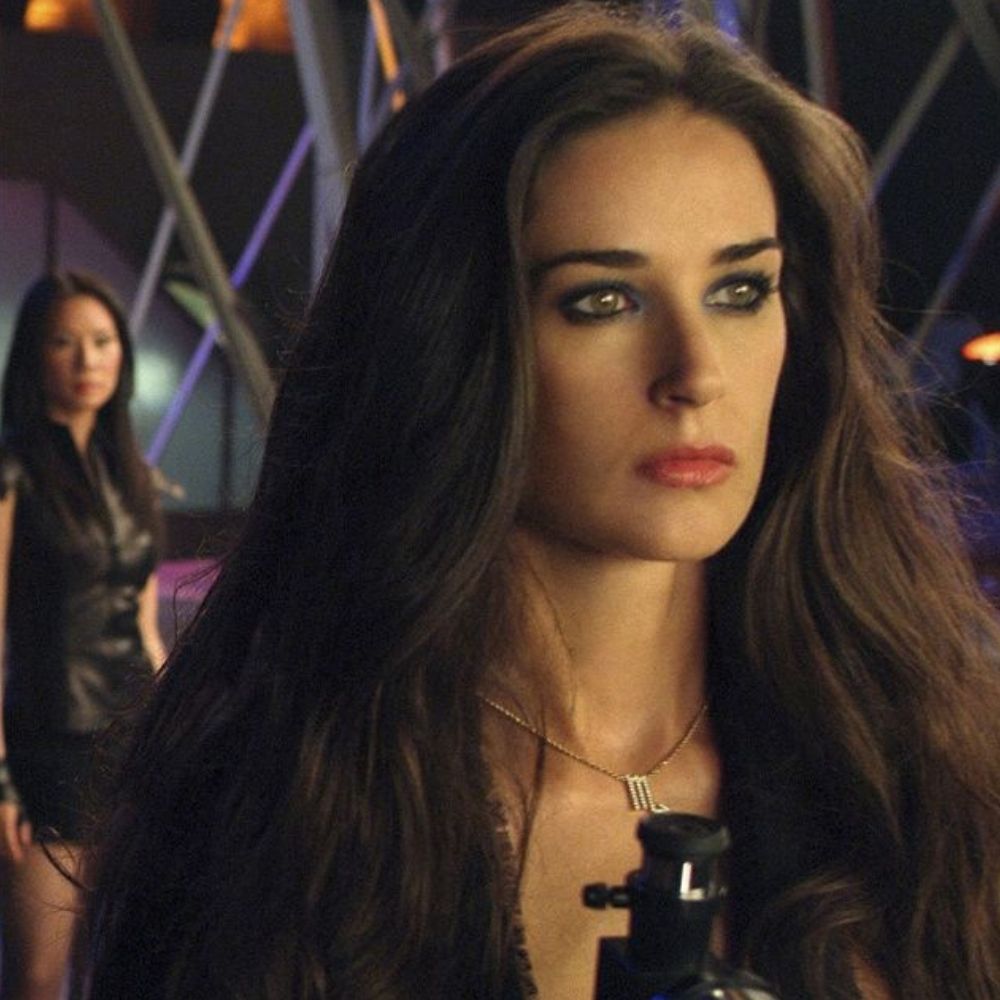 Demi Starts Dating
Her mediocre return to Hollywood would have an unexpected side effect… she would find love with a new beau. In fact, as she filmed her cameo, she met Ashton Kutcher, who was quite a bit younger than her. At the Hollywood premiere of the movie, she and Ashton walked down the red carpet as a couple.
Age is Just a Number
Though there was a sixteen-year age difference between them, the couple did not seem to let this affect how they handled their relationship. In fact, Demi looked at this new relationship as a way to relive her twenties. Demi would allow herself to revisit her youth and experience things for the first time with Ashton. The two maintained a healthy friendship with Bruce Willis, making them quite the trio.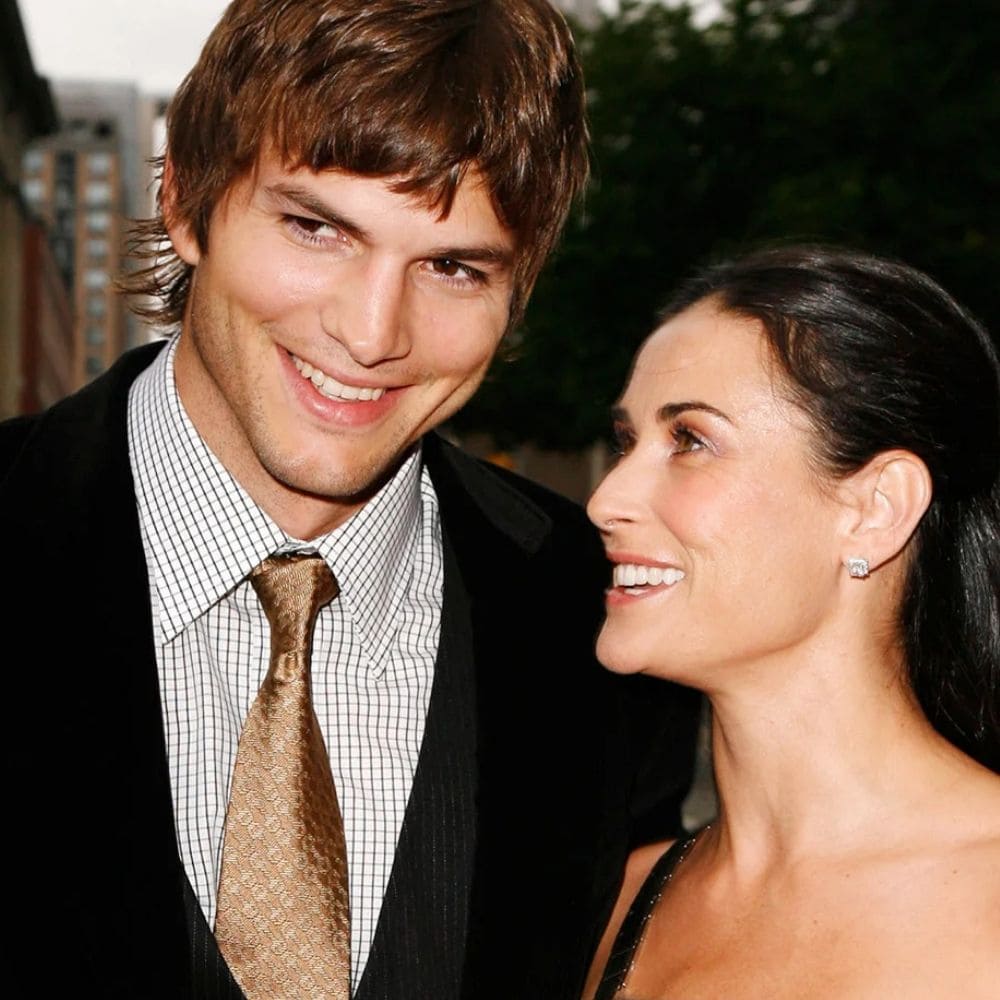 Demi Says I Do Again
Demi and Ashton dated for two years and finally tied the knot in September of 2005. It was a small ceremony with only 100 of their closest friends. Among the guests were Wilmer Valderrama, Lucy Liu, and of course – Demi's ex, Bruce Willis. Many fans thought it was strange that Demi's ex would be invited, but those close to Demi and Ashton were not surprised.
Ashton and Demi Miscarry
Demi had wanted a baby with Ashton, and they found themselves pregnant – but unfortunately, after six months, Demi miscarried. "Ashton did his best to connect with my grief… but he couldn't really understand what I was feeling," she shares in her tell-all memoir. The now 42-year-old actress had a hard time mourning the miscarriage as well… "I tried to allow myself to mourn, but it was confusing." The couple continued to try for a baby, but after no success, they gave up on their dream.
Bruce Finds Love Again
After the breakup with Demi, Bruce struggled to move on. "I spent the last ten years single and, for a greater part of that, sad." Eventually, a couple of friends introduced him to Emma Heming, and the two began dating. The two dated for a year, and in the spring of 2009, Willis and Heming married. In an intimate ceremony, the two said their vows in front of their close family members, including Bruce's children and his ex-wife, Demi.
Another Separation
"It's with disappointment and a heavy heart that I have decided to end my six-year marriage to Ashton," Demi wrote as she made the separation known to the public. She goes on to say, "As a woman, a mother and a wife, there are values and vows that I hold sacred, and it's in this spirit that I've chosen to move on with my life." This fed the rumors that the reason for the split was Ashton's wandering eye.
Demi and Ashton Make It Final
Two years after they separated, the two finally filed for divorce. In 2013, the divorce was finalized and the two were free to move on. Ashton would eventually find his way to marrying his co-star from That 70's Show, Mila Kunis. Ashton and Mila now have two children together. Demi really hasn't dated much since then, but has worked on herself and her relationship with her family.
My Parents Rock
Rumer said in an interview with Larry King in 2015, "I have never had to split vacations or birthdays. They always made an effort to do all the family stuff together, and that made an impact." It seems that the effort which both Bruce and Demi made to keep their family unit intact has garnered appreciation from all three of their girls. Unlike many Hollywood couples, they put their kids first despite their failed marriage.
Bruce Adds to the Family
The warm family feeling would continue with the addition of two more daughters Bruce had with his current wife. The five sisters are close and spend a lot of time together. The entire family gets together for events and is a perfect example of a blended family. Rumer and her siblings have sleepovers and do all the same sisterly things they would have done if they had grown up in the same house.
Demi Roasts Bruce
Comedy Central likes to throw roasts for famous people, and in 2018 they decided it was time to do one for Bruce Willis. One of the guest speakers was none other than Bruce's ex, Demi. "For those of you that don't know me, I'm Demi Moore. I used to be married to Bruce for the first three Die Hard films, which is smart as the last two sucked!" The fact that they could share this moment of humor shows what type of friendship they have developed.
It's Time to Renew Those Vows
Returning to his island house in 2019, Bruce and Emma renewed their vows in front of their loved ones. After ten years of marriage, the couple wanted to recommit themselves to each other, and they wanted to do it in front of those who were closest to them. One of their close friends in attendance was Bruce's ex, Demi. Along with her daughters, Demi celebrated with the family and expressed her happiness for the father of her children who had now become a close friend.
Moore's Inside Out
Demi's memoir was published in the fall of 2019. In it, she shared intimate stories and bore her soul with utter honesty. The release of the book was a big moment for Demi. Her ex and his current wife were there to support her. "I was on edge just before doing Jimmy Fallon, and the phone rang, and it was Bruce," she shared in a podcast. "He called to let me know he was proud of me," she continued.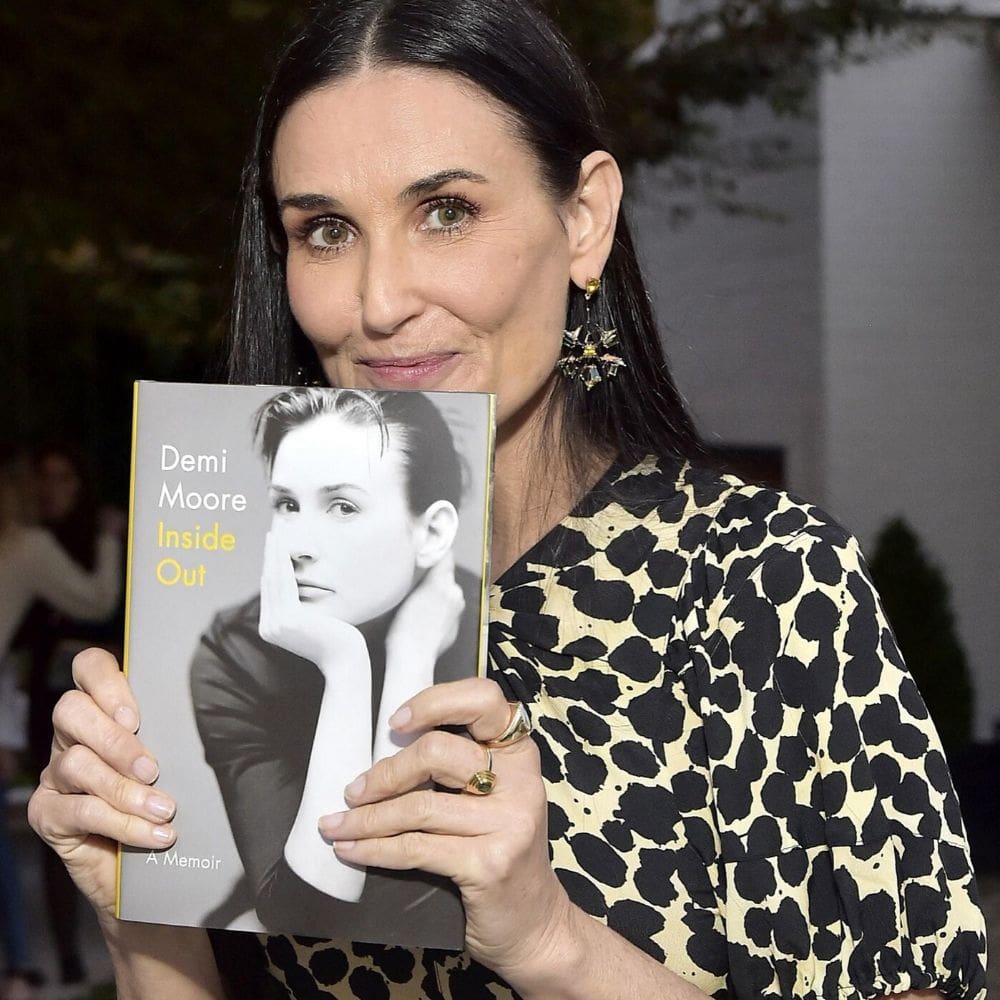 Everyone's Entitled to Their Opinion
Bruce may have been proud of Demi's memoir. However, he is the only ex who was. Ashton was not pleased with the fact that Demi shared intimate moments of their marriage. Demi discussed what she felt was Ashton's dishonesty about his infidelity. Ashton replied to this statement by tweeting, "I was about to post a very snappy tweet. Then I looked up and saw my children and I erased it."
They Worked Hard for Their Friendship
"I still love Demi. We're very close. And we're probably as close now as we ever were," Bruce said in an interview when asked about his ex. The two have worked hard to stay amicable and built a strong friendship even under the prying eyes of the public. Demi and Bruce have managed to build a stronger relationship than they had even when they were married, it seems. They have created a close friendship in which they spend holidays and other major events together along with their extended family unit.
Quarantined Together
In the grips of a pandemic, these two can teach us plenty. Bruce and Demi are showing the world how to have an amicable split. Amid the serious situation going on in the world, this couple and their children have decided to quarantine together. Bruce and Demi are holed up with two of their daughters and their significant others in an LA home. Bruce's wife and other children are spending the time in another home. But Emma wants the world to know they are just fine. So she commented on Instagram, "Family bonding at its best, love and miss you guys."