In light of the summer holiday season, the British Home Office is warning tourists going abroad to check what's permissible to bring into foreign countries. For example, in Indonesia, common medicines like sleeping pills, codeine, and ADHD medication are totally illegal!
"While your local pharmacist can advise on what medication you need and how best to manage it while away on holiday, it's important to also check what restrictions are in place for where you are traveling, and you can do this via the FCO's Foreign Travel Checklist," said Julia Longbottom, FCO consular director.
She continued, saying, "In some cases where restrictions haven't been adhered to, your medication could be confiscated, which if you are living with a long-term condition can affect your health. Therefore, if you're unsure, we would advise you to check the FCO's website for the latest information on how best to prepare."
She added, explaining that, 'We can see that British people are more likely to research the weather before their holidays than research the local laws and customs, so while you're online checking out whether or not to pack sunscreen, we'd strongly encourage you to check whether taking medication into a country is okay or not."
Longbottom advised, "You should also read our travel advice. The FCO can't give legal advice or get people out of prison, so we are urging those heading off on their summer break to join the 16 million people a year who check our Travel Advice, to ensure they are properly prepared for their trip and avoid any potential trouble."
Good to know: Any medicine containing pseudoephedrine is 100% not allowed in Japan. Sudafed and Vicks contain pseudoephredine, so don't casually toss those into your carry on luggage. Additionally, many common over the counter medications for the cold must be accompanied with a doctor's note in Qatar.
These Las Vegas Visitors Enjoyed Their Vacation Just A Bit Too Much
Whether it is for a bachelor party or a wild weekend away from home, there is no place like Las Vegas to let loose and create memories you will desperately want to forget. Unfortunately for the individuals in the article, we captured those exact shameless moments.
Trash The Dress
This woman was feeling so ecstatic towards her wedding during her bachelorette party in Las Vegas that she decided she could not wait until it was time to put her wedding gown on. Therefore, she went back up to her suite and changed into the dress – a reckless act she should have reconsidered since there was a high probability that she would spill something over her very expensive dress and ruin it completely. Her bridesmaids should have talked her out of it, but evidently didn't.
The Farce Is Strong With These Ones
Whereas weddings in other parts of the world take months of planning before a seriously solemn big day, Sin City offers lighthearted couples looking to tie the knot much more fun. This happy couple decided to take their love for the original Star Wars trilogy to the next level and started the next stage of their lives together as Yoda and Darth Vader. Although sworn enemies in a galaxy far, far away, whatever happens in Vegas stays in Vegas.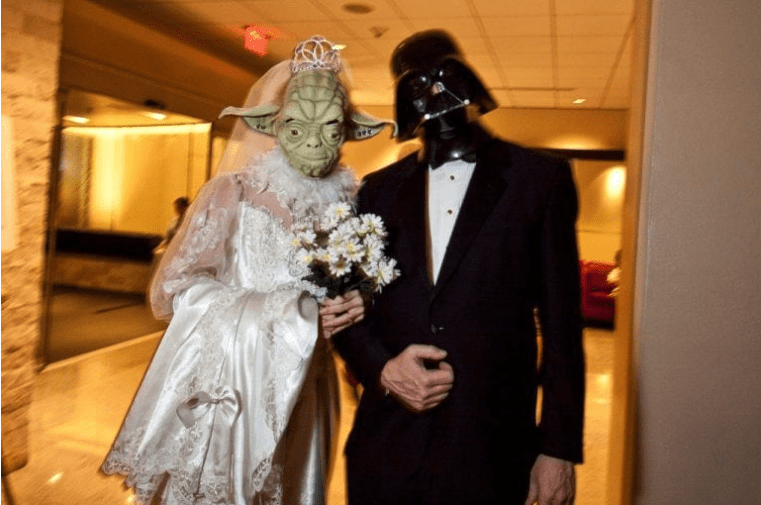 Careful, It's HOT
If you have traveled to the capital of casinos and not stopped for an unhealthy snack at the Heart Attack Grill, have you really been to Vegas? The hamburger joint might sound familiar from its previous positioning in Tempe, Arizona, but if any place were to serve enormous portions of fried food and meat and take pride in "fighting anorexia since 2010," it should be situated in Vegas. The waitresses are dressed as nurses and take orders ("prescriptions") from the "patients", who are customers wearing a hospital gown and wristband.
Permanent Reminder
This girl had one too many drinks at her friend's bachelorette party in Las Vegas and thought it would be a great idea to write how much she was enjoying the vacation on her body. Her friends dared her to get a real tattoo that would last a lifetime, but she was hesitant about the pain it would cause her, so instead, she went with the next best thing and had one of the girls write "I love Vegas" on her bare back with a permanent marker.
Tiring Game
Another sleepy head in the mix is this girl, who was still jet-lagged from her flight from the far east but desperately wanted to participate in a game of poker before her family made their way to the casino on the next flight over. Since her parents were not big fans of the gambling game, she thought it would be best to play a few rounds before they arrived – but ended up snoozing in her seat after only the second round.
Brolove Captured
The guy in the green was taken by his friends on a fun weekend trip to Las Vegas to get his mind off a recent painful break up he had a hard time bouncing back from. It seems the trip helped him feel much better and everyone was in good spirits until they reached this beautiful spot out looking the entire city. The guy lay down on the floor and curled into a ball – but his friends quickly joined in and spooned him to comfort him.
Jackpot Joke
Slot machines are tricky – you can sit at one and win the jackpot after putting in only a few coins, or you can land on one that has recently been emptied and therefore takes away all your money and leaves you completely broke. It is hard not to become addicted to these machines too for this exact risk, which is why the guy in the picture can be seen expressing his anger towards his bad luck and the machine that's put him in a great deal of financial trouble.
A Dare Is A Dare
After partying like there is no tomorrow for three days straight, this guy had just about had it with putting anything in his body that was not edible. After all, something needed to absorb all those tequila shots – and it best be something deep fried and covered with cheese. Once the guy arrived at the counter, his friends started yelling out that he should plank on top of it as a final act before completely swearing off alcohol. He was quick to oblige.
Hair Of The Dog
No trip to the Venetian Hotel in Las Vegas would be complete without a fancy sail down the Grand Canal in a gondola – and this little munchkin puppy could not agree more. Dressed in a fully suiting straw hat and striped shirt, the pup must probably think to himself that he has no idea what he has done to deserve this, but his owner is probably too hungover from the night before to care that this makes her dog uneasy.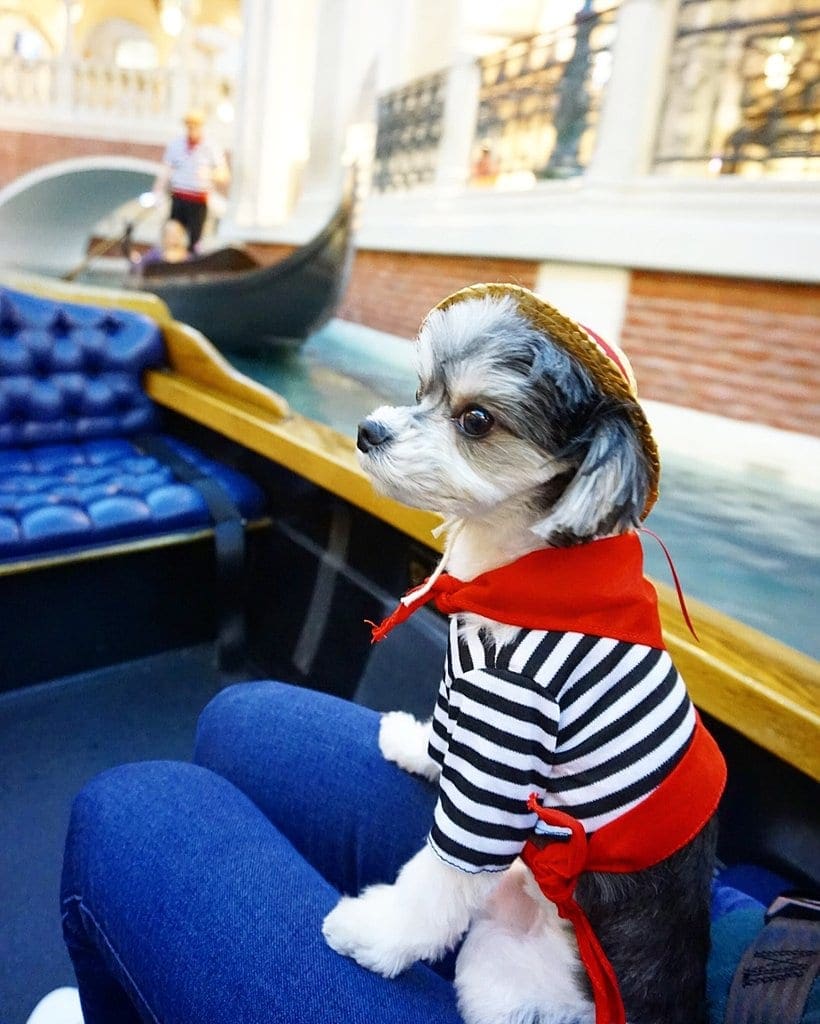 Home Is Where The Slot Is
Ralph was a Vegas fanatic – in fact, all his friends knew that no matter when or what the reason behind it would be, he would be the first one to jump up and down with excitement and plan the trip to the desert capital. Some may argue that Ralph was feeling a little too comfortable, however, since one time he went up to his hotel room, grabbed his mattress, dragged it to the casino, took off his clothes and went to sleep.
Interesting Choice
Sin City's reputation precedes it, and for an accurate reason. Some may argue they love Vegas for its positive vibes and careless attitude, but the truth is that it seems there are no limits in the official party capital of America. Some romantic partners engage in arguments on where the line should be drawn when taking a trip to Vegas, but this supportive girlfriend certainly was open-minded when her boyfriend decided he wanted a hat balloon featuring an exotic dancer.
Red Light
Street performers are a common sight around the strip in Vegas, and when it comes to adorable furry creatures, women are the first ones in line for the show. This monkey, however, was getting a little too handsy with the redhead.
Dedication Is Key
It has become a certain cliche over time, throwing a bachelorette party in Vegas, and it seems the locals have had enough. They say that if you can't fight them, join them, and that is exactly what this man decided to do. He put on the skimpiest dress he could find, adorned his outfit with a sash and wrote the word "tips!" on his fan. Could he have taken the role slightly too far? Perhaps, but it can also be argued that the man is dedicated to his art.
It Felt Like A Dream
Nothing says "we had a wild night out on the town" like a group of fully grown men falling asleep in the middle of a Starbucks. By the looks of their drooling faces, we are going to guess things got a little bit out of control, and no one shut an eye for the entire night. As long as they all had a good time and do not miss their flight back home, we are all for partying it up – that's what Vegas is for!
Don't Drink And Tat
Getting a tattoo was on Joey's bucket list, but it seems that whenever he got the courage to actually go through with it, he was ridiculously tipsy. When he arrived in Vegas with his friends, the latter understood the only way they could make him go through with it was by pouring more vodka into his shot glass. By the time he hit the number four, Joey was ready to walk into the nearest tattoo parlor with a napkin consisting of a scribble with the wrong lyrics of his favorite song.
For Better Or Worse
If this guy may seem familiar, it is because he was featured in this article when he was dressed up as a bachelorette while cruising down the strip of Las Vegas. It seems that getting tips while looking like a lady on her last night being single did not do him any favors, nor did it land him plenty of tips, so he decided a newlywed bride would suit his figure better and win him the jackpot.
Sleep Tight
This woman had to go to the bathroom so bad that she waited outside the stall while sitting down on the carpet floor. Unfortunately for her, fatigue quickly came over the need to urinate, so she dozed off to a deep sleep right there on the floor. Her friends quickly came to her rescue and woke her up, but not before taking a picture of this hilarious moment in order to remind her to never go to the bathroom tired again.
Can't Resist It
It's a well-known fact in Vegas that those who are usually drawn to slot machines are the elderly. This poor guy was exhausted after playing for 8 hours straight, so he took a little nap. These girls could not resist and took a picture with him.
Court Knee
Josh showed up late to work yet again, even though his boss has warned him time after time that it would be the last time. His boss decided she had enough with his tardiness so she told him today would be his last day as a barista at Starbucks. Annoyed with the fact he was terminated and still a little bit tipsy from the night before, Josh decided he would do whatever he wants on his last day, including writing the name Courtney in a completely creative way.
I'm Going To Level With You
The term planking means the act of mimicking a wooden plank. Planking can consist of one lying flat on a surface, or maintain the body level while it's supported in only some areas, having other parts of the body suspended. This grandmother was so psyched about her slot machine winnings that she had to celebrate somehow. For an unknown reason, planking on top of the machine is the first thing that came to her mind, so she just went along with it.
'Till Annulment Do Us Part
It is common for couples to have their bachelor or bachelorette parties in Vegas, but also for them to elope in the very same city. There is just something about the free-spirited and easy going nature of the place that makes people act rather recklessly, such as running away to a distant place and tying the knot. In the best possible case scenario, you end up marrying someone you were already engaged to. In the worst, you find yourself dressed as Elvis alongside a stranger in a Marilyn Monroe costume.
Super Vegas
This might sound the beginning of a joke, but there is probably only one place on Earth where The Joker, Batman, and Bane will ever sit down casually for a meal – and that place is Las Vegas, Nevada – the place where nothing can be expected and everything will feel blurred. While we realize we are talking about fictional characters, it seems unlikely one would find a superhero sitting down with a couple of villains without a care in the world.
Mushroom Kingdom, Nevada
Looks like Luigi failed in his role as Mario's sidekick since it is the red-hat character who seems to be caring for his protector, and not the other way around. Maybe Mario was fed up with feeling as though he was a short, pudgy man who was recognized for being an Italian plumber who resides in the Mushroom Kingdom, and it was this depressing thought that made him drink away his sorrows. We just hope that before things got too out of hand Princess Peach was rescued.
One Night Stand
This man was invited to join a Las Vegas bachelor party trip, and he beyond excited. His younger brother was the lucky groom getting married, and had advised his older brother to bring along a fitting costume seeing as how they would most likely attend a dress-up party. The man in the picture planned his costume in great detail two months in advance. Since he had been married for three decades, he had no idea what a Vegas costume party meant – hence, this is what he wore.
It's A Zoo Out There
45-year-old Rebecca Lemon collects spare change from the crowd passing her by on the footbridge near The Cosmopolitan of Las Vegas. Having been homeless for quite some time, she admitted to Las Vegas Review-Journal that this little stunt of having her cat Cheddar peer over his black sunglasses at tourists who are keen to snap photos lands her about $200 on a good day. However, animal rights activists reported on this and many other incidents as animal cruelty, and since then the use of animals for personal profit has been outlawed.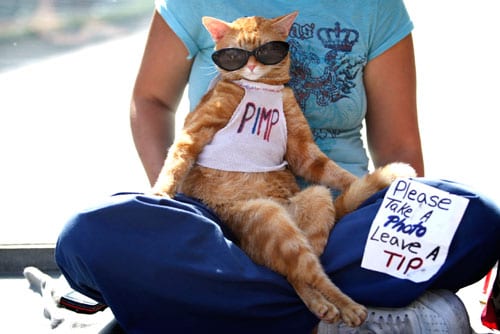 Hair Of The Dog
This guy has never been to Las Vegas before, so when his girlfriend suggested they would make the trip, he decided to go all out there. For months he grew his hair, and when the long-awaited day finally arrived, he decided to chop off the sides and turn his long locks into an enormous mohawk canvas. He then went over to a graffiti artist and asked that his hair would be colored in a distinguished way. Needless to say, his hair looked anything but ordinary.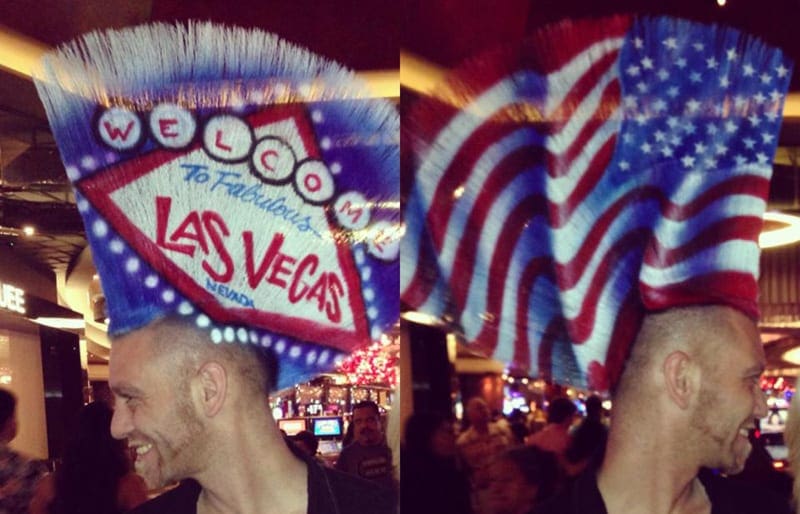 Bridging The Gap
Granny got to flaunt her wild side as she was taken on an exciting journey to Las Vegas with her bridge partners from back home. Her girlfriends, who she called her hens, were ecstatic to see their beloved friend finally break out of her shell – even if it meant putting a few drinks in her first. They took her to this restaurant and the waiter placed a paper hat on her head with the message of her choosing, which was "I went to the prom with Jesus."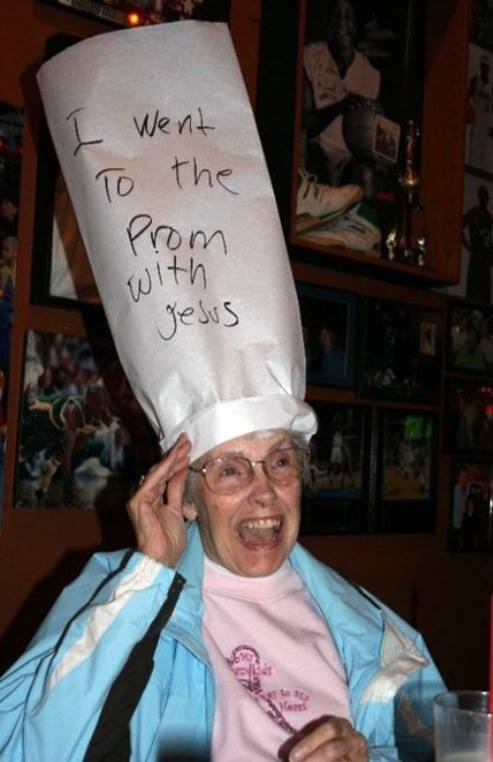 Dream Come True
Courtney met her now husband at a Britney Spears concert, but never thought she would say "yes" to him while standing right next to her idol and the phenomenal singer who brought the two of them together. "Courtney started to shake and cry and smile etc. She stuck her hand out but kept looking at Britney then back at the ring. Britney then the ring. Finally I asked again 'so what do you think?? Want me to put it on you or what!?'" Of course, Courtney said "yes!"
Food Flunk
This poor girl wanted to have a calm night at home, but her friends convinced her otherwise. Since she lived in Vegas, the whole party deal did not appeal to her, but having just gotten out of a horrible relationship, she wanted to get her mind off recent events. She partied hard all night long and when she finally got home, she decided drowning her boozy blood stream in fast food would be ideal. Unfortunately, she fell asleep as soon as the food arrived.
Play The Part
Having just recently moved to Las Vegas, this girl thought Halloween meant dressing up as your favorite Vegas reference. Since she was always big on the games found in casinos – in fact, this was what drew her to move to the city in the middle of the desert to begin with – she thought dressing-up as one would be the ideal costume. Even after she had arrived at the party and noticed she was the only one who went through such trouble for the costume, she was all smiles.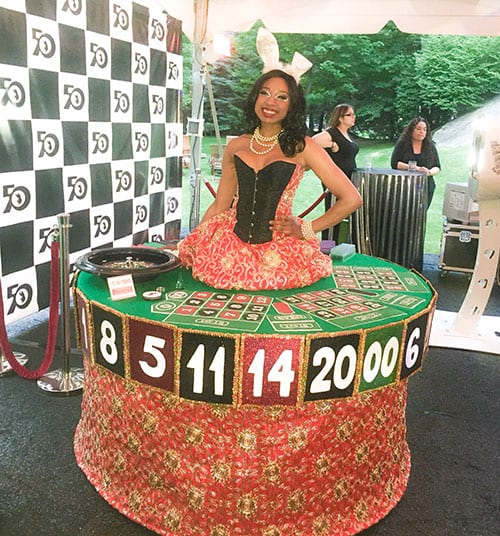 Slippery Hands
Cleveland Cavaliers' Timofey Mozgov celebrated his team's big win at the nightclub XS Las Vegas, where the team was welcomed with an enormous billboard and a screaming crowd. Mozgov wanted to make his fans happy and grabbed one of the girl's phone to take a selfie, but rumor has it he dropped the phone seconds after this shot was taken, smashing the screen into little pieces. The basketball player was so drunk, he didn't take notice of this and didn't even apologize for his slippery hands.
Not Impressed
When it comes to official business-related events, there is a certain code of behavior. While the vibes are more free-spirited than the ones found in the office, it is still a professional environment and people are expected to act in a polite and appropriate manner. The girl in the picture below failed to do so, and just by looking at the faces of the women around you, it is easy to understand that this loose behavior was not appropriate, even if the company was on a Vegas trip.
Ugly Ducklings
Pulling a kissy face at the camera, also known as a duck face, is a phenomenon that has completely taken over since social media has spread worldwide. Facebook entered cyberspace and took over lives in a sense that it demanded everything would be documented. Since many women wanted to look their best when posting pictures online, they made sure to make a smooching face, as it was to meant to make their faces seem slimmer and mouthes more appealing. This bunch, however, had too many drinks to pull it off.
Grab The Bull By The Horns
If you ever have a wild weekend out in the party capital of the world, why not head down to one of the many grill houses available with a mechanic bull and give it a go? The girl in the picture below might not make it look especially fun, but once trying it out, mechanic bull riding can actually be a lot of fun. We just hope the girl in the picture did not get hurt, since that would be one bad fall.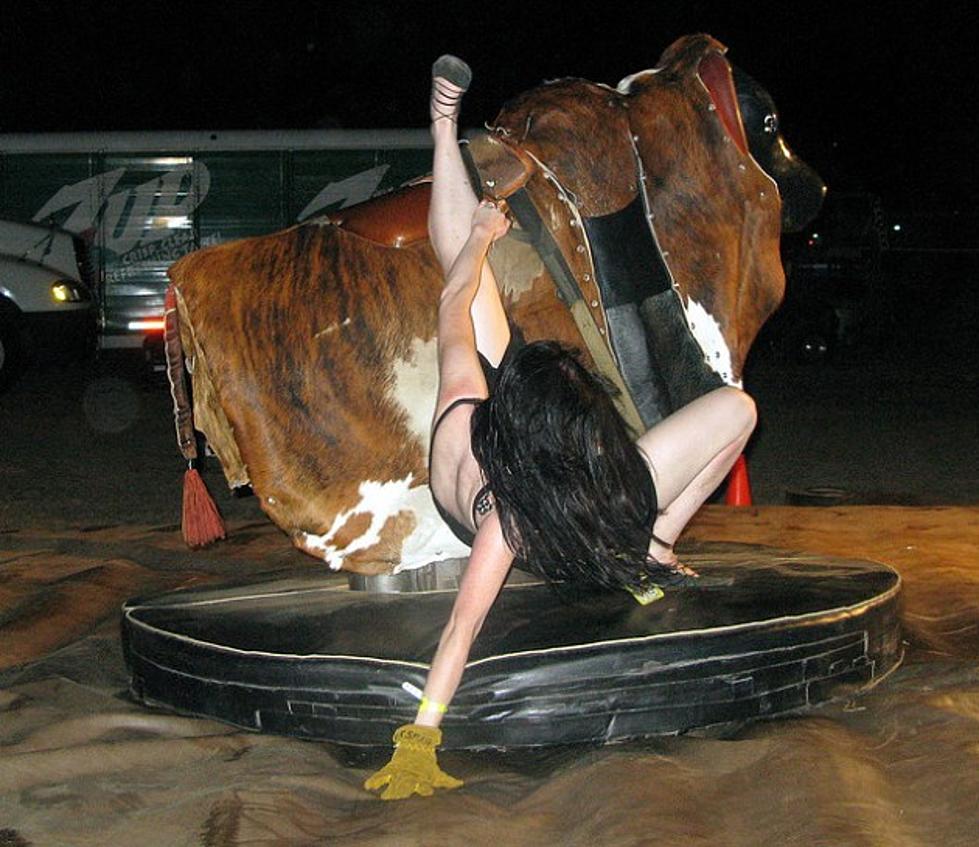 Burst His Bubble
The boy in the picture might look like he is too young to drink, but he is actually celebrating his 21st birthday in this picture. He made the trip to Las Vegas with two of his best friends, one of which took this shot. He thought it might be a fun thing to do, send a picture of himself in an overflown jacuzzi to his crush, but turns out the idea was much more appealing than the actual outcome, since the girl texted him back laughing emoticons.
Forgive And Forget
They say that what happens in Vegas stays in Vegas, which is mostly due to the fact that what happens in Sin City is most likely shenanigans you would not want out in the open – or even to remember yourself. It is a good thing there are churches, just like the Baptist one run by Pastor Allen F. Harrod that are more accepting of mistakes of the past. By putting up a sign like this, they state that while sinning is bad, it can be forgiven.
Pole Party
Now here is a perfect example of an office party that has gone way, way too wild. While everyone on this party bus seems to be enjoying themselves greatly, there is one person in particular that is having the time of his life. The different expressions around the bus say it all. This picture looks like it was taken straight out of a Hollywood film and the next shot would be the much regretted, hangover-filled morning after. One thing is for sure – these guys know how to party!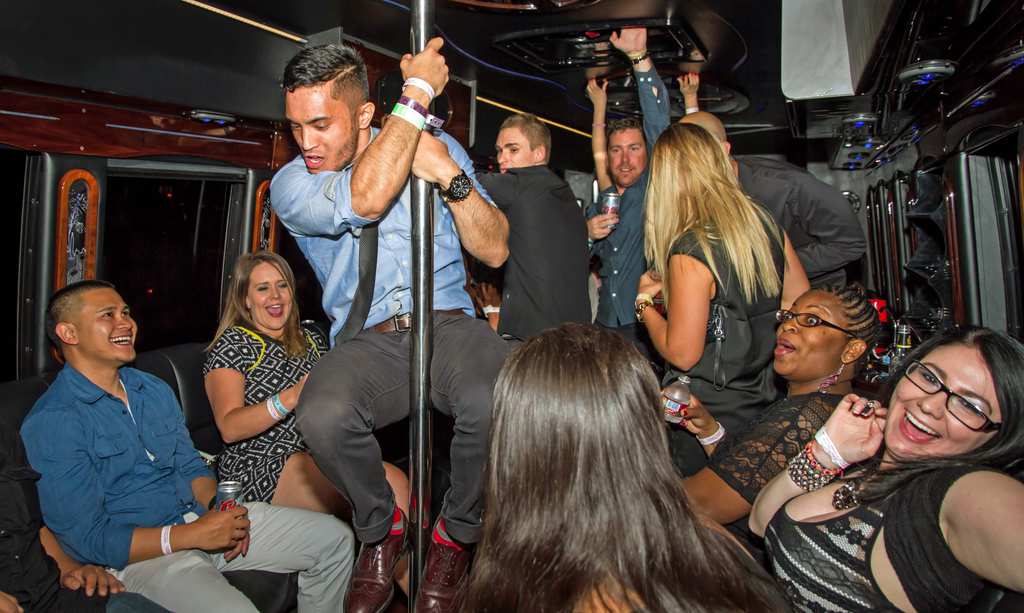 Lucky Charm
Ever since the film The Hangover came out, it is impossible to mention a bachelor party in the city of sin without bringing up the movie. The epic scenes made countless viewers roar with laughter and identify all too well with the most shocking, obscene and hilarious scenes. One of the four main characters, Alan, who is played by the talented actor Zach Galifianakis, was one the funnier characters written in the script, and this guy seen in the picture below was lucky enough to look just like him.
Gambling Away His Freedom
Chewbacca may have been Han Solo's co-pilot aboard the Millennium Falcon as well as a legendary Wookiee warrior, but according to the proof in the form of the picture below, it would seem the creature is a heavy gambler as well. We guess this should not come as news to us, seeing as how Chewbacca was part of a core group of Rebels in Star Wars and it was him who restored freedom to the galaxy, making him a liberal.
Characters Capital Vegas
In case it was not clear from his somewhat shocked expression in this photo, the guy in the glasses could not feel more out of place at this particular moment. This was his very first trip to Las Vegas, and although he was warned in advance that he might come across peculiar characters, there was no preparing him for the moment he would meet this fully grown, muscly man rocking a fuschia feather boa, heavily padded bra and tiny disco balls necklace.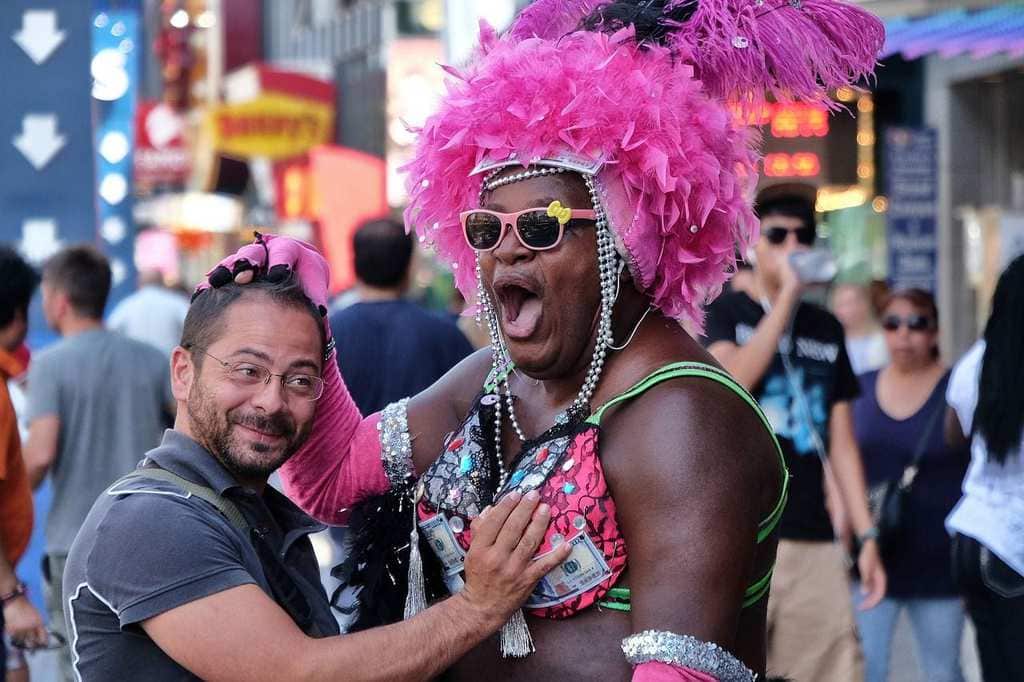 Cupid's Cabin
For those who have absolutely no game, or want to get their expectations of the night out in the open from the get-go, this cheesy hotel room is perfect for them. The heart-shaped water bed is dimly lit with the changing room lights as if to set a romantic atmosphere, which gets a sensual twist once noticing there are mirrors all over this room – including the ceiling. Cupids painted on the walls suggest love is in this air, but it seems this room fits one night stands better.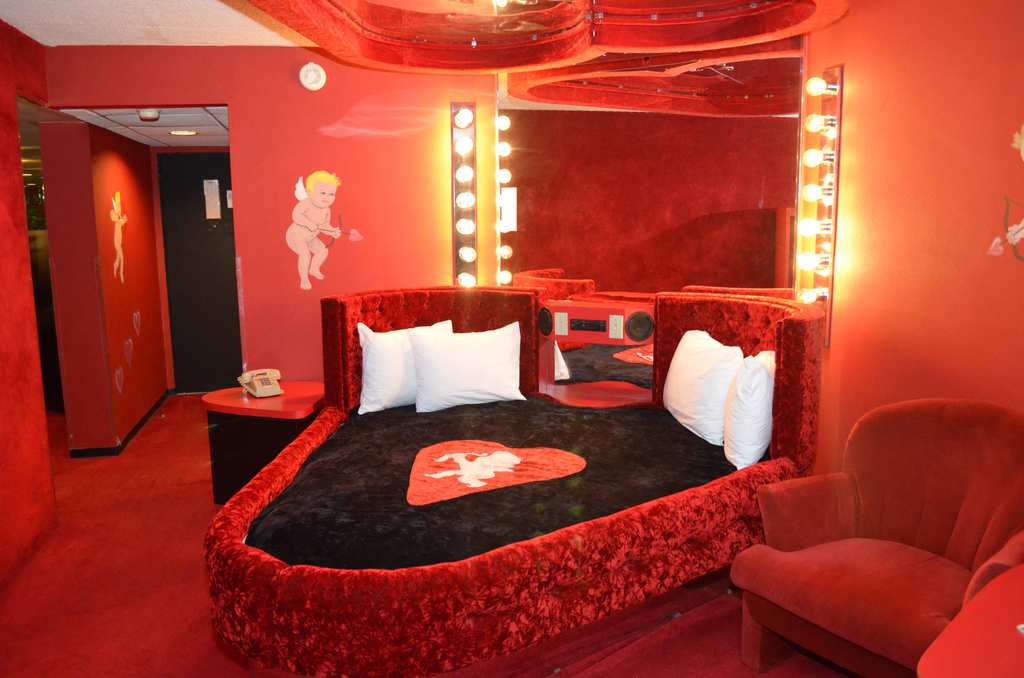 Doze Off Before Take Off
Like many before them, these tourists went all out on their trip to Las Vegas, making sure they spent every moment they could indulging their desires. And just like so many others, it all caught up to them on their way out. McCarran International Airport is unlike any other airport around the world because of the people who go through it every day. Nowhere else can you find so many different people from all walks of life in the same sad, sorry state.
Science Fiction Double Feature
The classiest people in Las Vegas are there for their own wedding, just ask the people who live there. And if you're going to go for a themed wedding, what could possibly be classier than The Rocky Horror Picture Show? Sure, you can go for the whole Elvis theme, but that's been done so many times that it's become too cliché. Who better to officiate your wedding than Dr. Frank N. Furter alongside his creation, Rocky Horror?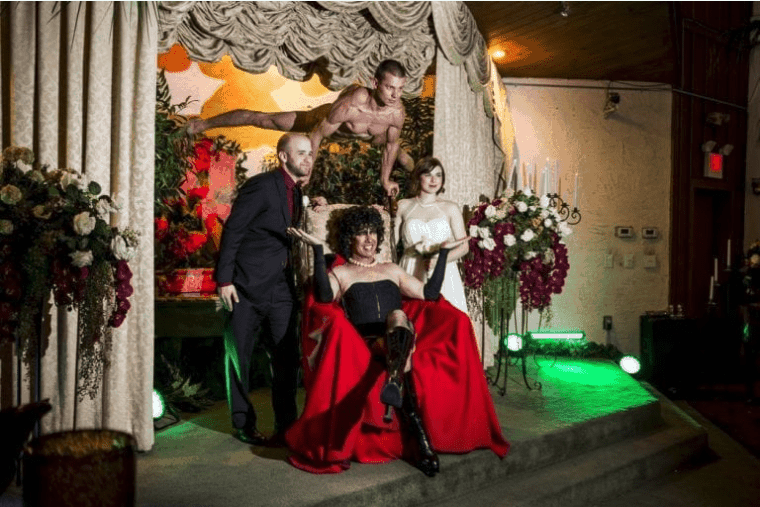 Bubble Burst
Disney stars and key characters can be spotted all around the strip in Las Vegas, but it is a rare sight to see them in such a state, like the one Minnie Mouse is in. We just hope no children observed this sad sight since it could burst many bubbles, and perhaps even ruin their childhood altogether. Can you imagine being a parent trying to explain to their child why Mini Mouse is seen grasping a beer bottle in the middle of the street?
Lasagna, The Gateway Substance
Garfield started off as your average housecat, just like any you might know. He was warned in school about the slippery slope that one risks going down, even after trying just a little slice of lasagna. Garfield didn't listen, though, figuring that just one bite couldn't do anyone any harm. And just like that, he was hooked. He couldn't get enough of that cheesy goodness. Now he's hit rock bottom, living as a street cat. Remember, kids: just say no.
Liar Liar, Pants On Fire
Looks like things got a little out of hand the night before – how else would this girl explain having underwear stuck to her hoodie? She might claim that this was the dryer's doing, but considering the fact she is in the party capital of the world, we seriously doubt anyone would have believed this tale. Even the Starbucks barista standing in front of her does not look too impressed – maybe the girl in the purple hoodie turned around and gave her a sneak peek of her shenanigans, too.
Drop It Like It's Cold
When a police officer yells at you with a command, you should most likely do as they say – unless you want to end up in a jail cell for the rest of your night. This guy was waiting for his trip away from his wife and kids for so long, he couldn't wait to grab a cold beer and chug it right there in the middle of the street. A nearby policeman spotted the man and yelled at him to stop drinking – but to no avail.

Fear Works Wonders
What if what you did in Vegas did not stay in Vegas? The guy seen coming out of the steamy shower only recently had come back from his trip to the city of sin, and he had repeartedly asserted to his fiance that nothing shady had happened while he was away. The truth was very different than what he had claimed, so she decided to get the truth out of him the only way she knew would definitely work – she would scare the living hell out of him.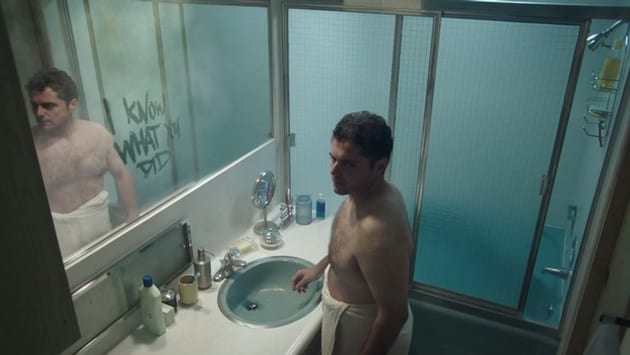 Feeling Blue
The woman wearing a blue sequin dress, blue cutoff gloves, blue stockings, and blue socks as an entire color coordinated outfit might look like she came straight out of a bizarre alien movie at first, but the truth is she is simply a deeply invested, huge fan of the band the Blue Man Group. She has followed their every move and has seen nearly every show in the united states, which was why she went through the extra effort and even put a blue flower in her hair.
Love Hurts
Things can get wild on a night out in Las Vegas, but that does not mean you cannot have a good time with your romantic partner. In fact, some who visited Sin City with their spouses admitted to genuinely having a better time than when they were hormonal singles out on the prowl for some action. The adorable couple seen in the picture below wanted to paint the town red and did so in the funniest way, wearing pillow covers with hilarious messages on them for all to read.
It's A Sign
In case you are having trouble reading the sign, it says – "attention: smoking and drinking, along with laughing, yelling, singing, screaming, running, jumping" and other lewd acts are permitted while riding this specific taxi. The word of so-called caution then ends its message with a warm welcome to Vegas, making those riding in the back seat of this taxi understand that the rumors were true – there really is no other place like Vegas, and there is a reason it's called Sin City.
A Drinking Problem
Alcohol may be cheaper than therapy, but it is definitely not the answer, unlike what this sign by a place called Lee's Discount Liquor suggests. It is safe to say that a lot of people turn to booze in order to literally drink away their sorrows, but this is just a temporary solution that would most likely result in a lot of regret and a bad hangover the next day. Instead, therapy can help with the deep psychological issues buried inside.
No Judgement
Talk about smart advertising! Although the idea behind putting the poster of these girls judging the manhood of the males using the urinals escapes us, this could potentially bring in a lot of men to use the restroom – if not to pee, then to take a hilarious picture. This Vegas bathroom has been seen in many pictures around the web, so their hopes became a reality. We aren't sure which men would like to use the urinals with the size mocking females, however.
Better Safe Than Sorry
Sexually transmitted diseases are not a laughing matter, but it is hard to look at this sign and not let as much as a smile creep on our faces. This witty sign is both an alarming threat and a friendly reminder that some things do not stay in Vegas, no matter how much we want them to remain there along with other less than kind memories. It is important to get checked up occasionally for STDs, no matter how embarrassing it might be.
Going Green Is Not Always A Good Decision
When a sign reads no smoking, it is understandable why some might presume the rule only applies to smoking cigarettes, and not substances that are illegal. However, since some things have been legalized in the past few years around the different states in America, this Las Vegas hotel rationalized that they should not assume all hotel guests will understand they mean smoking, in general, is not allowed, so instead, they put up this rather specific sign to avoid unpleasant situations.