Luxembourg is tackling its biggest problem in the kindest way possible. The European country is well-known for having some of the worst traffic congestion anywhere in the world, thanks to its ridiculously high ratio of vehicles to citizens.
Because of that, the 560,000-resident nation is taking a drastic route to change the problem now that it has twice as many commuters arriving from neighboring France and Belgium than what it had just 20 years ago.
As a result, the country has decided to start offering free public transportation to everyone starting in 2020. It's a move that Prime Minister Xavier Bettel hopes will not only relieve some of the traffic congestion that has plagued drivers in Luxembourg for years, but also reduce some of the carbon emissions that come from all of the vehicles on the road, reducing greenhouse gases and helping the environment.
Many people aren't aware of this, but trams, buses, and trains in Luxembourg have already been offering free public transportation to certain segments of the population. Senior citizens have been able to ride for free for some time now, as have children and students, which makes it easier for people without much money to get around as they need to for school, work, or shopping.
With this bold new move and expansion of the free transit program to all, however, it's clear that Prime Minister Xavier Bettel, who was just elected for his second term, is taking the complaints of commuters, citizens, and environmental groups extremely seriously.
If it were just Luxembourg residents on the roads, it may be different. However, the job market is robust enough in the nation that it attracts some 180,000 commuters from France, Belgium, and elsewhere in search of high paying work. Soon, they'll be able to use public transportation to make their lives a bit easier.
45 People Who Had One Job and Just Couldn't Get it Right
Sometimes, we all need a laugh. Sometimes that laugh comes in the form of watching someone else's mistakes or failures. It might be savage, but when people have one job and still manage to mess it up, it can be a good pick-me-up. We've put together a list of 40+ people who had one job and just could not get it right.
Head and Shoulders
We all know the song, "Head, Shoulders, Knees, and Toes." We probably all sang it as children to learn exactly where the head, shoulders, knees, and toes are on the body. However, one worker seemed to forget this rule when making this mural.
Either this is supposed to be an abstract piece of art, or this really is a fail. Maybe this was supposed to be an artistic interpretation of one of Henry VIII's wives! We may never know, but it still gave us a good laugh.
Stacking Problems
When you've worked at a job for such a long time, sometimes doing the daily tasks become so repetitive and monotonous that we'll switch off our brains. When we're not thinking, we'll ignore the obvious instructions that are staring us right in the face.
That must certainly be the case for this worker, who ignored the massive 'DO NOT STACK' instructions before proceeding to…stack them anyway. Sometimes it makes us wonder whether having these instructions are of any use at all.
A Ruined Surprise
People often underestimate the effort that goes into planning a surprise party. First of all, everyone's schedules need to align so that everyone can attend. Secondly, the group needs to make sure that the celebrant in question doesn't know anything about the festivities. Seems simple enough!
Unfortunately, this poor person who was planning a surprise birthday party for her mother discovered the hard way that plans don't always go the way we hope. Let's hope they were able to pull off the surprise with no other hitches!
It's Fashion Darling!
Looking at fashion magazines and runways from different fashion weeks can really make a person wonder whether they really know what is fashionable, and what isn't. Gray sweatpants are in right now, and can really add to that 'athletic casual' style. However, we think this might be taking it a bit far.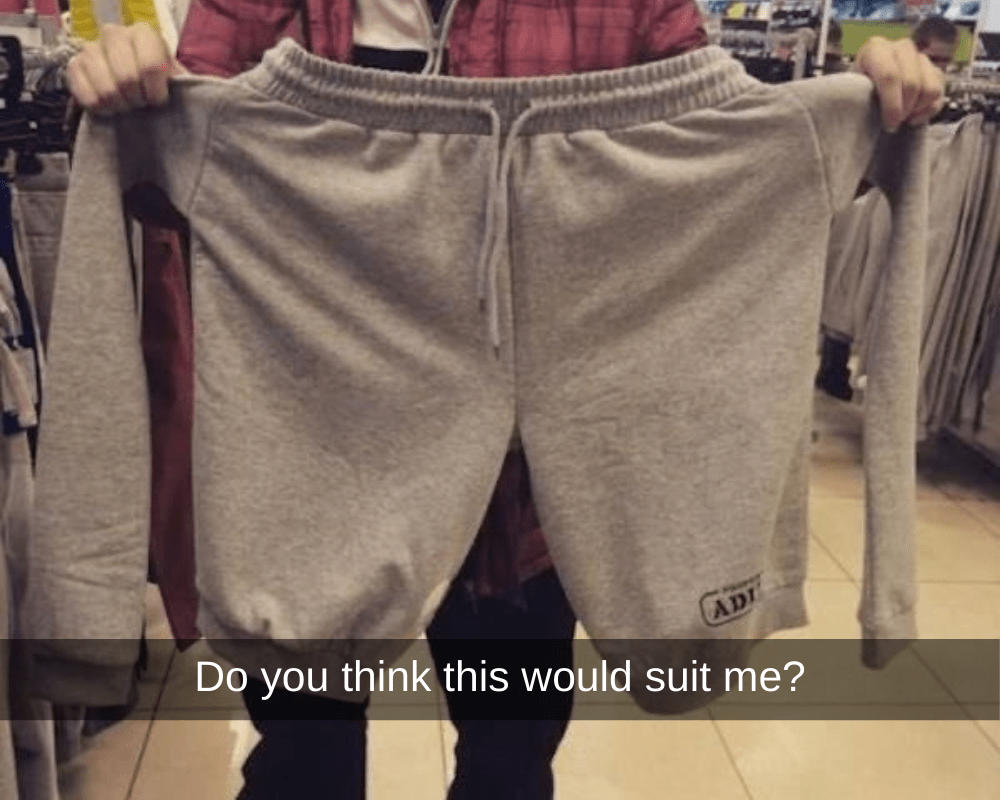 We're not sure whether this was an intentional fashion choice, or someone mixing up the wrong patterns. Either way, this seems like a major fashion faux pas that people should avoid.
A Bunderful Mistake
Hot dogs are a staple at every summer BBQ. When the weather is nice and the sun is shining, however, everyone rushes to the grocery store for the perfect BBQ treats. Often, people will just have to make do with whatever they can find, but this might be a mistake.
There might have been a mistake with the labels, or the packaging itself. Either way, biting into one of these with your hot dog will almost guarantee you more bun than dog.
Bacon My Heart
It's often hard to find exactly what you're looking for at the grocery store without following the signs. However, in this case, it appears as though the employee doing their job took the first word in the phrase a little too literally.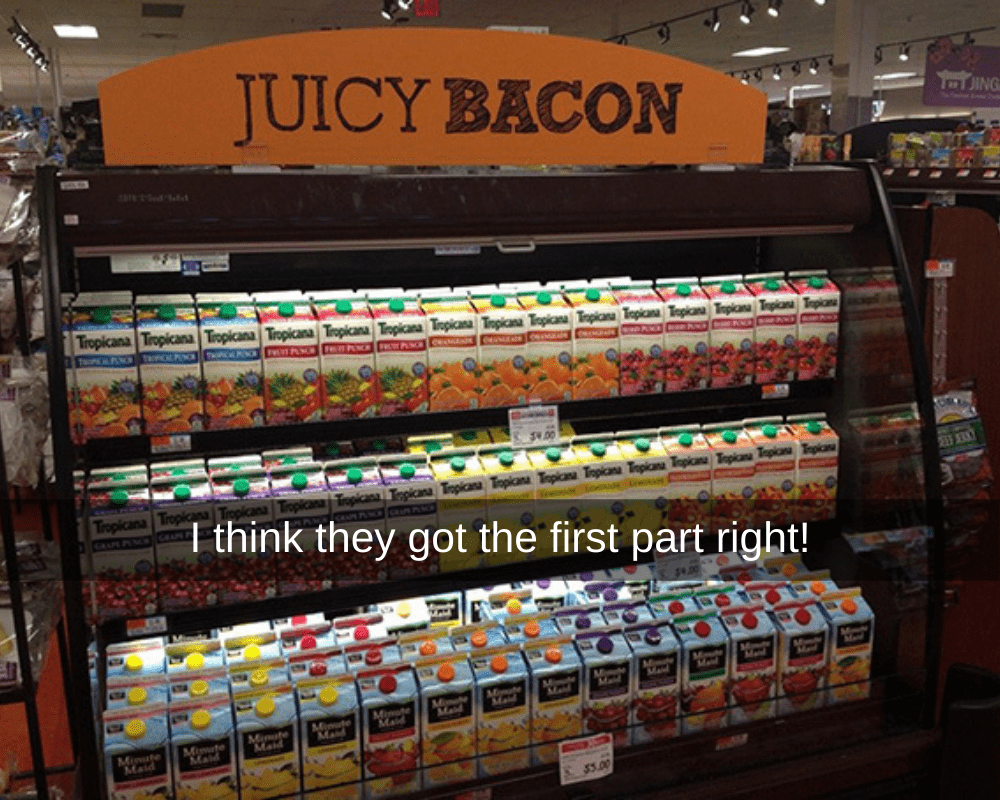 Whilst this fridge is stocked with enough juice that would suit any juice lover's wildest dreams, it does make us wonder where all of that juicy bacon might be. Either way, it might be a good idea to change the sign.
What's the Use?
Automatic barriers are every car owner's worst nightmare. For those of us who are shorter, it is always impossible to stop the car close enough to grab the ticket out of the machine. However, this might be taking it a step too far.
The point of automatic barriers is to make sure that the parking lots don't become overcrowded, but anyone could easily drive around this. Whoever's job it was to install this barrier failed big time.
Berry Shocking!
This user spotted a massive fail whenever they last visited the grocery store. Whoever's job it was to pack these blueberries obviously didn't look at the packaging they were putting them in!
Even though blueberries and strawberries are similar enough in name, you can tell just by glancing at them that there is a big difference between the two. We just hope no one picked up the wrong fruit for their cake recipe.
A Double Take
At first, this failure might be hard to spot. The person who made this might not have even spotted their mistake until it was too late. However, whilst the idea might have been clever, the execution didn't work out as planned.
What makes this even worse is that it seems as though this sign is in a dessert store. Maybe if a little more care was taken, they would have realized their mistake before it hit the internet. Although, we wish that waving your stress away was just as easy as ordering dessert!
Just Add Cheese
We all know by now that the food we order at fast-food chains looks nothing like the posters or commercials. However, the employee working this day must have just been fed up with life.
When we ask for a cheeseburger, we usually expect our cheese to be inside the bun, rather than a decorative piece on the outside. This employee really did have one job and couldn't get it right. This really brings a brand new meaning to the term, fast-food!
A Quick Escape
Fire safety is so important. Any building you go into, you should know exactly where your nearest exits are just in case of an emergency. Usually, some doors will be alarm guarded, meaning that any rattle can set off an ear-piercing alarm.
However, whoever's job it was to make sure that all the important exits were closed obviously didn't do it right — not to mention the fact that the door is propped open using a fire extinguisher. Maybe next time, people should take a look at the warnings before doing anything reckless.
Not a Fan
Sometimes you see something so idiotic you have to wonder whether it was intentional. That was our reaction when we first saw this image. Usually, during the summer months, the cold air in grocery stores is welcomed when it's unbearably hot outside.
We have to ask ourselves the question — what came first? The pole or the fan? Either way, whoever installed this has made the fan obsolete. They just had one job!
In-Seine-ly Weird Gifts
Usually, on vacations, we try to stop at a few gift shops to pick up some souvenirs to bring home to friends and family. You might even be looking for a new decoration or ornament to remind you of the amazing time you had. However, whoever designed this notebook clearly does not have a grasp of Europe.
While some people might think that most cities in Europe are all the same, we're almost positive that the Eiffel Tower isn't a tourist hotspot in London. We hope that for their next design, the original artist managed to catch up on their geography homework!
Not in Place
Roadwork is an unavoidable pain in our everyday lives. They usually cause enough of a disturbance in our daily routine, whether it's our commute to work or just a stroll down to the local coffee shop. It's even more frustrating when the work isn't even done right.
Either someone messed up by ordering the wrong kind of tile, or the workers didn't notice they were working with a different design altogether. Definitely looks like someone was in a rush to get home and put their feet up!
This Is Nuts
We thought nutcrackers only came in the shape of those dolls normally seen around Christmas time, so we were shocked to learn there are actually smaller, and much more handy nutcrackers you can buy at the grocery store. We're not sure how often you would use them, but they might appeal to those who like to have an after-work snack.
However, this tool must have slipped through the cracks in terms of quality. This really must have been one tough nut to crack!
A Shocking Discovery
We're really hoping that the sockets in this sink are for decorative purposes only. While sockets in the bathroom might be useful for razors, hairdryers, and other appliances, they're usually installed far away from the sink. This is a disaster waiting to happen.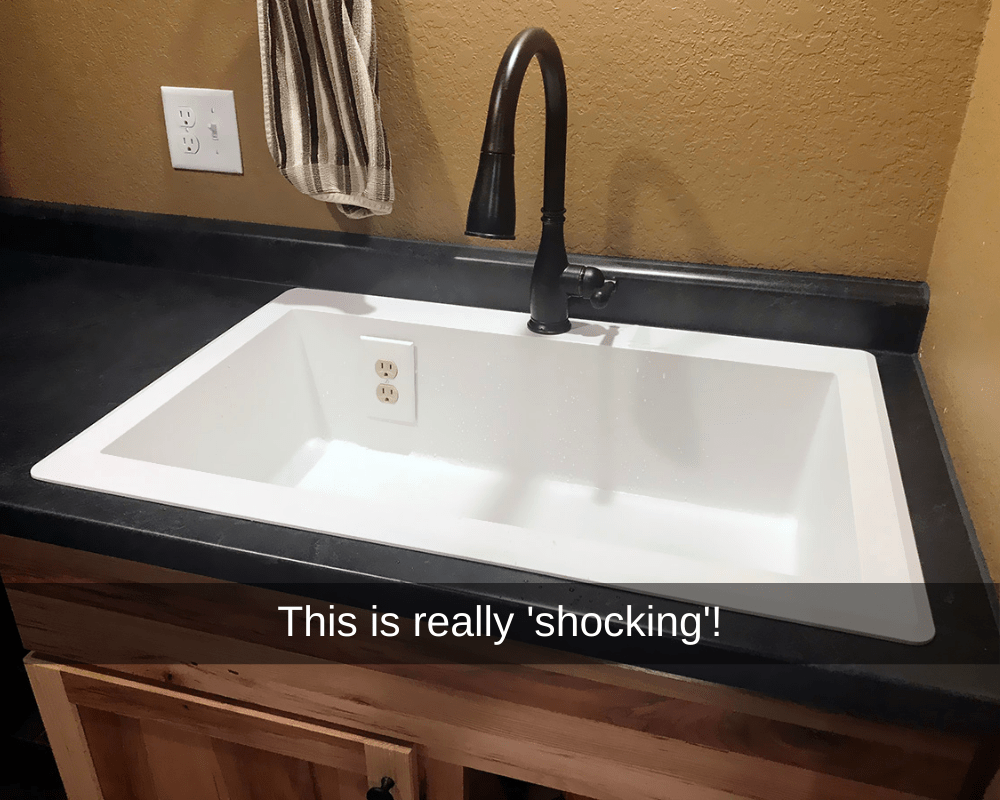 Regardless, whoever installed the sink and sockets really screwed up. Hopefully, they'll learn from this mistake and will have a very bright future — with as few potential fire hazards as possible.
Ice Cream Disaster
Is there any greater comfort food than ice cream? We all have our favorite flavors — chocolate, strawberry, vanilla. Some people like more exotic flavors like Rocky Road, pistachio, or even green tea! If your favorites are the first three, then a Neapolitan is the perfect choice for you.
Unfortunately, the person who bought the Neapolitan pictured here was also looking for a delicious ice cream fix, only to discover that whoever made it forgot the vanilla! Travesty!
Buzzed Off
Spelling Bees have brought about one of the greatest internet videos of all time. We all remember the Vine where a child, around the age of seven or eight, is asked to spell the word iridocyclitis. We were amazed that he pulled it off, given that we had to search how it's spelled for this article.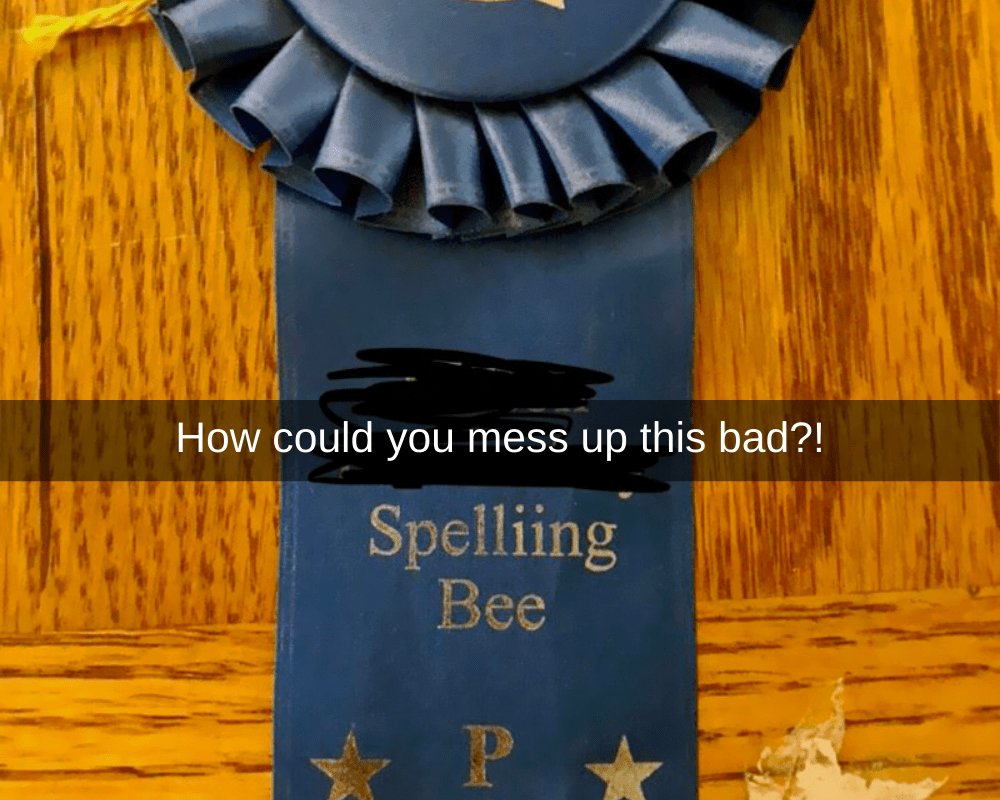 However, one thing we expected Spelling Bee employees to be good at is spelling. Whoever was in charge of designing the ribbons for this particular contest really messed up this time!
Not That Useful
For everyone who lives in places that experience heavy rain, we know what you're going through. Sometimes it's impossible to walk down the pavement without stepping directly into a deep rain puddle, completely soaking your feet.
Storm drains are often a good way of draining the water on pavements so that we can stroll around stress-free and not spend our days drying socks over radiators. Whoever installed this particular storm drain seemed to do it in the one place that won't actually collect any water.
What's Happening Here?
We'll put on the news sometimes while we're having dinner, washing dishes, or even cleaning the house. For those of us who are hard of hearing, or are simply watching the news at a low volume, being able to read the headline box is key to understand what's currently happening in the world.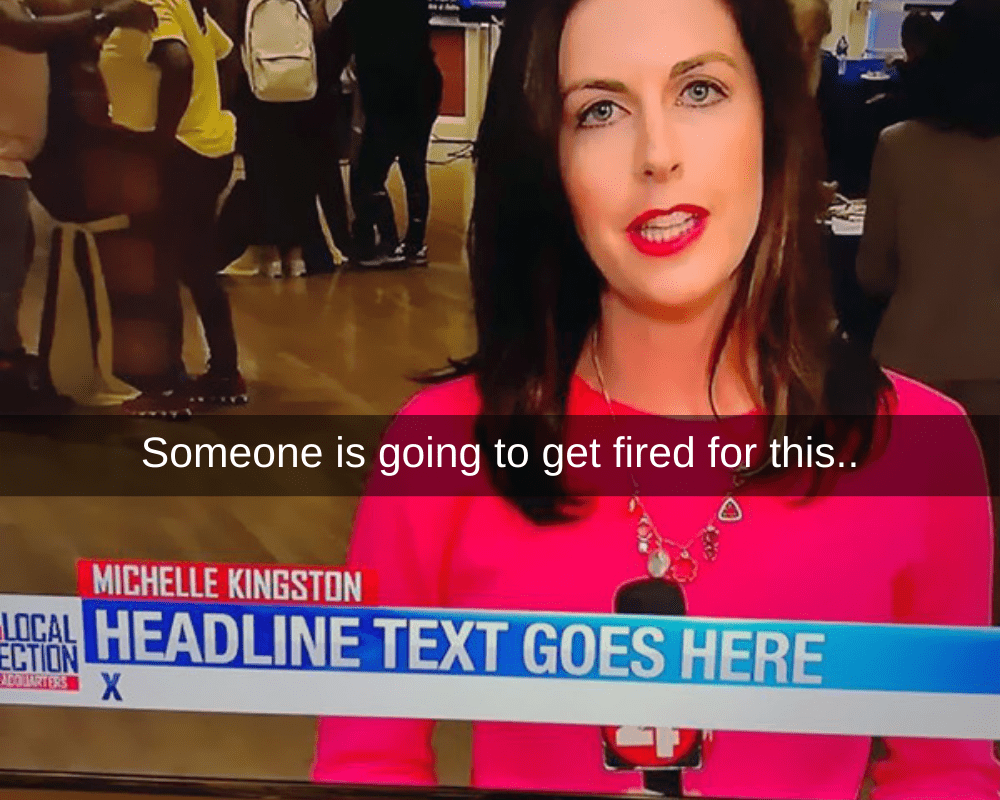 Newsrooms can be stressful environments. With new stories breaking constantly, they're bound to make a mistake. However, this broadcast went out before the headline could even be inserted. Talk about a fail!
All Folded Up
A degree can make a great addition to the wall. Many people like to display them in their homes to show visitors that they not only worked incredibly hard in university or college, but they now also have a certain level of sophistication.
Not only that, but people pay hundreds of thousands to earn their diploma, which is just a piece of parchment at the end of the day. The mailman must not have noticed how important this letter was and completely ignored the warning on the front of the envelope.
Out of Juice
There has been an increase in small charging ports on public transport. You are able to charge any device whilst you're on the move — whether it be on a bus, train, or plane! However, some people underestimate how inconvenient these charging spots can be.
The above user was lucky enough to have sat beside a charging port. However, when they went to plug it in, they discovered it was placed too far to the left for their charger to fit. The person who installed this obviously did not test this out. Maybe in the future, they'll consider USB ports that are smaller and universal to any device!
All Dressed Up
Working in retail can be incredibly frustrating sometimes. There are customers asking the same questions over and over again, and asking you to check in the backroom for a magical restock of the item they're looking for. While no two days are the same, they can be irritating.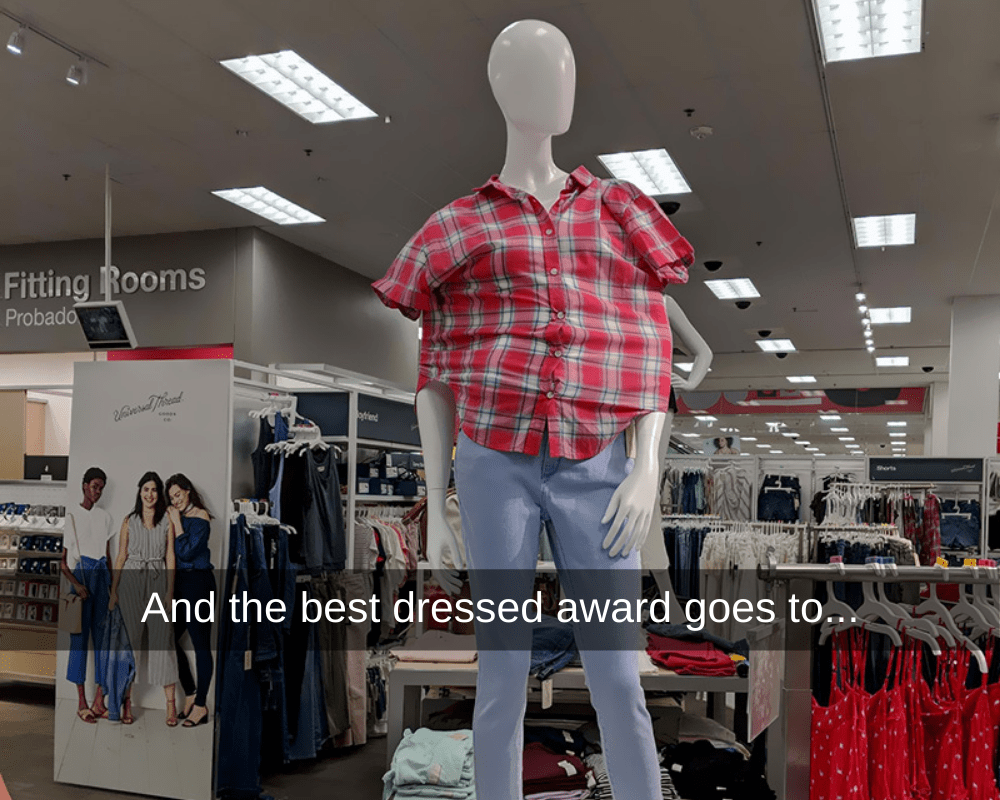 The above employee was obviously having one of those days. Instead of putting the mannequin's arms through the button-down shirt, they just pulled it over the mannequin's head and hoped no one would notice. Unfortunately for them, someone did notice.
Personalization Gone Wrong
Have you ever been scrolling on social media and found the item you were just thinking about? Sometimes, we can strike absolute gold and what we order is exactly what we get. Most times, the item is not exactly what it seems.
This user here was ordering a laundry hamper for her daughter, which came with the option to customize. Although she opted out of it, her item arrived with the default text on the side! This just goes to show you can't always trust what you see on the internet.
Mix and Match
Pumpkins are the official fruit of fall and winter (yes, pumpkins are technically a fruit because of their seeds)! Once the cold weather hits, restaurants and coffee shops start loading up on pumpkin spice lattes, pumpkin spice cake, and even pumpkin spice mac and cheese!
Whoever was stocking the pumpkins, however, really did not want summer to end. We're hoping that by the time the pumpkin supply runs out, there aren't any leftover, out-of-date watermelons lying at the bottom.
Unwrapping a Surprise
If you celebrate Christmas, then you probably spend most of the holiday gorging on mountains of chocolate. This ranges from chocolate coins to delicious hot cocoa. A staple that you'd find in most stockings is a chocolate version of Santa Clause — with a thick beard, rosy cheeks, and full belly.
However, this user opened their chocolate Santa on Christmas to discover he underwent some sort of a makeover. This really looks like one of those Instagram expectation versus reality posts. We hope this didn't traumatize too many kids!
Batman vs. Superman
Lots of people were hyped for the release of Batman v Superman: Dawn of Justice back in 2016. Whilst the film did not necessarily meet the high expectations of fans, it did leave some people in awe. After all, two of the world's favorite superheroes battled it out. It doesn't get much cooler than that…
And although it's quite easy to tell Superman and Batman apart, it appears that someone didn't quite get the memo when it came to understanding who's who. Despite Superman's iconic 'S' logo that's proudly displayed across his chest, the maker of this backpack thinks that this is indeed Batman. Perhaps they should take a break and watch the flick before they create any other designs!
A Medal Achievement
Getting a medal in school is one of the best days in a kid's life. It shows off just how hard you've worked, and can make kids feel as though all of their efforts have paid off. However, someone as young as six could recognize the problems with these medals.
It seems as though whoever had this job did not double-check the name of the awards in question. Is this a first-place medal? Is it a third-place medal? From the picture, it's hard to tell what color these medals are. They might as well be given out as participation medals.
Hakuna Matata
The Lion King is one of Disney's most successful films. The original version, released in 1994, made $965 million in the box office. The 2019 live animation version, which features the voices of Donald Glover (Childish Gambino) and Beyoncé, made over $1 billion.
Despite being so successful, it seems that the merchandise is not always up to par. We're trying to figure out whether these young cubs could be Nala or Simba. Regardless, the cub on the right seems to have had too many witchetty grubs!
Wanted: A New Sign
When learning to drive, it is important to keep your eyes on the road and obey every sign you see. Failure to do so could end with you hurting yourself or others. However, it's also important for those who design these signs to get their message across as clearly as possible.
We've often misspelled words when working against the clock, but surely the person who was responsible for this figured out their mistake before it was finished? Maybe writing a four-letter word really is a two-man job.
Knife to Meet You
Although plastic cutlery isn't the best thing for the environment, no one can understate their handiness. Instead of having to wash up a ton of forks, knives, and spoons, plastic ones can be thrown out after use. They're also children-friendly, meaning that if you're hosting any birthday parties soon, they're a party staple!
However, it might be good to know that people are picking up the right utensils in the first place. This user grabbed a bag of spoons, only to discover that it was actually an assortment of knives instead. We hope there haven't been too many people that fell for this one.
And the Oscar Goes To…
Did you know that after the winners are announced at the Academy Awards, they're able to get their Oscars engraved backstage at a special booth? Getting your name engraved into an award solidifies that it's officially yours! However, this user did not want that.
Instead, when they requested not to have any engraving, they ended up with something completely unexpected. Within the customization box, the user must have written, "I do not want any engraving. Just leave the metal plate blank. No engraving," and it was automatically processed. If only someone had proofed this before!
Deck the Halls
Andy Williams came out with his iconic Christmas song, "It's the Most Wonderful Time of the Year" back in 1963. To this day, it has remained a staple on any party playlist. It can also make a seasonally appropriate decoration for any home or business.
This shopper was getting more than what they bargained for when they went on the hunt for new decorations. Instead of the actual song lyrics, this decoration says, "It's the most time of time of the year." It might be time to call quality control and find out who couldn't get this right.
Enter or Exit
One way systems in stores should be easy. There are usually signs on the doors telling you which door you enter from and which door you exit through. Sometimes, there are even employees to help you out if it gets too confusing. As you can see here, this user didn't have much clarity in terms of where to enter when she arrived at Target.
Why have a 'Do Not Enter' sticker right above the one that says 'Enter Only?' Whoever was in charge of this mishap obviously did not think this through. They'll probably end up with fewer customers than before by forcing them away like this!
An Unlucky Number
People have long said that the number 13 is unlucky. Many commercial airlines don't have a 13th row in their jets due to people's superstitions. Celebrities such as Taylor Swift have tried to reclaim the number 13 as lucky, however, often making many references to it in her songs.
When this user tried to reclaim the number for themselves, they ran into a bit of bad luck. While the number 13 is written out at the top of the shirt, the number displayed unfortunately doesn't match.
Breakfast With No One
Oftentimes, hotels and motels have a generous lobby area where customers can sit and relax while their room is being prepared by staff. However, when this user tried to find somewhere to rest their legs, they were shocked to see the seating area available.
The design of this hotel offers a random ledge just above the reception area, but the problem is that no one can use the seats available! We're not sure whether the architects of this building are to blame for an area no one can access, or if the hotel owners are. Maybe a bit of remodeling can make this an area of attraction — or put up some sort of railing, at least!
A Park With a View
Park benches are multifaceted. Not only can they be great places to sit and meet with friends, but can even become an impromptu picnic table if needed! However, in this case, some TLC may be needed in order for people to make use of it.
With the bench almost being engulfed by the hedge in front of it, much of its functionality has been lost. Plus, anyone who attempts to sit there could be attacked by insects. Perhaps the bench was installed incorrectly or that hedge is completely overgrown. Either way, whoever chose for the bench to be here made a mistake.
Unfortunate Placement
Kids are looking for any excuse to get out of going to school, or doing their homework. So, what happens if there is a sign literally telling them to give up?
This is just an unfortunate advertisement placement on a school bus, but it does make us wonder how many people have seen this and thought there was nothing wrong with it? As funny as it is, it's important that children stay in school and realize their potential.
Stairway to Nowhere
Getting work done on your home can be quite costly. Therefore, it's important to do your research by getting quotes from businesses and looking at reviews. Sometimes cheap doesn't always equal the best.
This poor user was, unfortunately, victim to thinking about quantity over quality. It appears that the workers accidentally built the staircase in a way that the stairs lead right into the railings. With that, it's safe to say that getting up and down these stairs each day may require some athletic ability. Let's hope it was fixed after they realized their mistake!
No More Privacy
Speaking of home renovations, the work done inside of the house is almost as important, if not more important, than the work done outside. It's crucial that workmen pay attention when it comes to taking measurements and using the right equipment.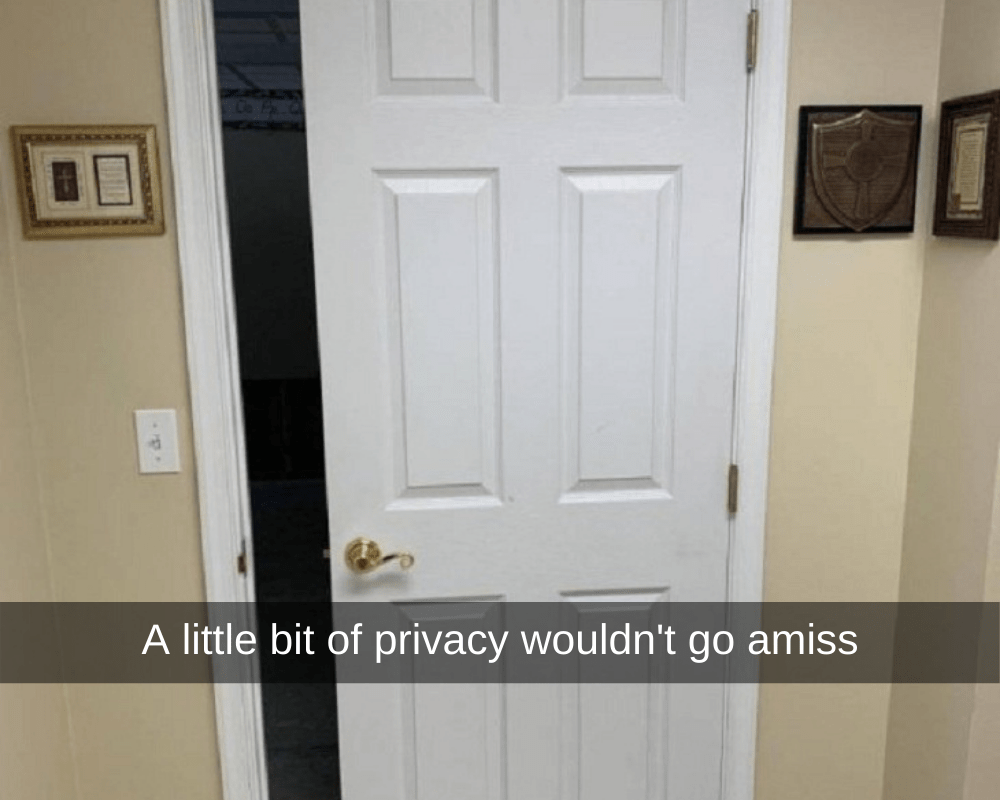 This seems to be one job that just slightly missed the mark, creating a doorframe that's much bigger than the door in question. We hope that this door doesn't lead to the bathroom, otherwise, it would be a privacy nightmare!
Break Me Off a Piece of That…
Listen, we're not hating on chocolate or anything. In fact, we can't get enough of it. Still, this poor Snapchat user unwrapped his Kit Kat, expecting to find a chocolate-covered wafer bar.
Instead, though, he just ended up with a plain chocolate bar — no wafer to be found. And while that's not necessarily a bad thing, we think it's safe to say that the factory the candy came from made a big mistake.
Wear Helmet
We wonder if this guy even notices the irony that is literally radiating off of him. If he's going to wear a t-shirt like that, shouldn't he at least follow his own advice? Perhaps, he just likes to live life on the edge.
Still, then, he shouldn't be preaching his advice to other people. After all, no one will take it seriously if they see him riding his motorcycle completely helmet-less.
What Do I Do?!
If you're someone who really cares about the environment and what goes into it, there's a good chance that this bin would just stress you out. After all, you obviously don't want to throw your bottle into the wrong section of the bin, but how are you supposed to decipher this kind of color-coding system?
Imagine standing there in front of the bin for 10 minutes, trying to figure out what section to throw your trash into, only to find out that it all ends up in one single container. Now, that's what we call a plot twist.
Thanks, Cameraman
We don't know about you guys but this one gave us a good laugh. These two men specifically asked the cameraman not to film them, as their wives thought they were at work, but their request clearly wasn't taken into consideration.
Instead, the dude behind the camera decided to throw these fellas under the bus, which is pretty messed up. What ever happened to bro code? Let's just hope their wives didn't banish them to the couch.
Wait a Second…
Clearly, this company doesn't really believe in their mission statement or product. Then again, they do slide in a way — just at 90° angles.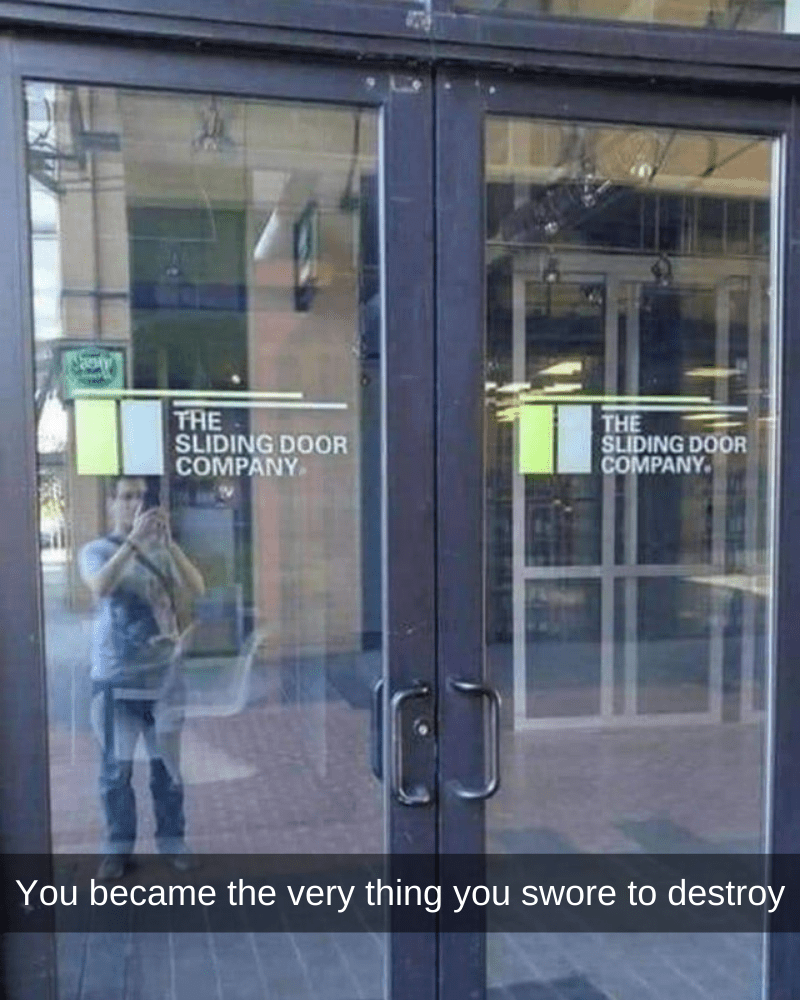 Whatever the reason behind this mishap, whether it was a genuine mistake or a slight overlook, we can only hope that they give their customers exactly what they advertise. Just don't be surprised if the sliding doors that they installed in your house don't move as you'd expect.
Mistakes Are Proof You Are Trash
We're not sure whether the location of this trash can was ironically poor placement or if the librarian did this on purpose. Whatever the case may be, this life "sign" of sorts may be a little harsh, but it certainly gave us a good chuckle.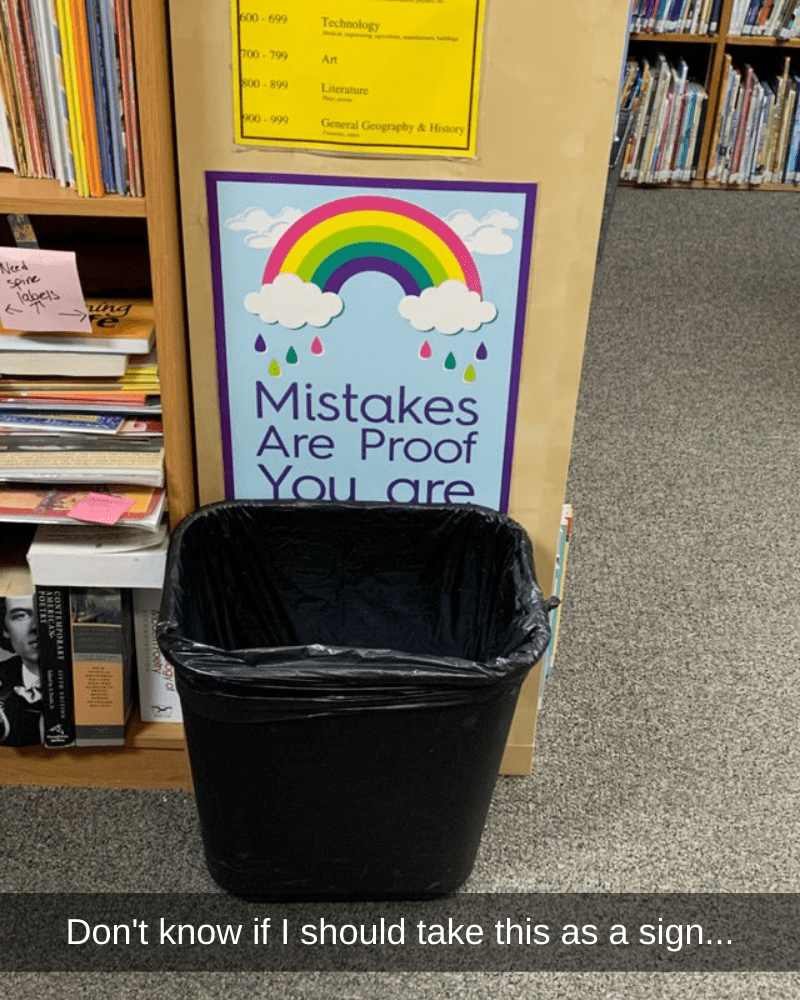 Let's just hope that no small children have seen it, as they're quite impressionable — and being called trash at such a young age could be quite traumatizing.
When Teachers Make Online Quizzes
Ugh, we're just so tired of society categorizing and labeling us. And clearly, Alan is, too. Of course, we're only kidding. In all seriousness, though, this would be quite annoying to encounter when you're only trying to take an online quiz.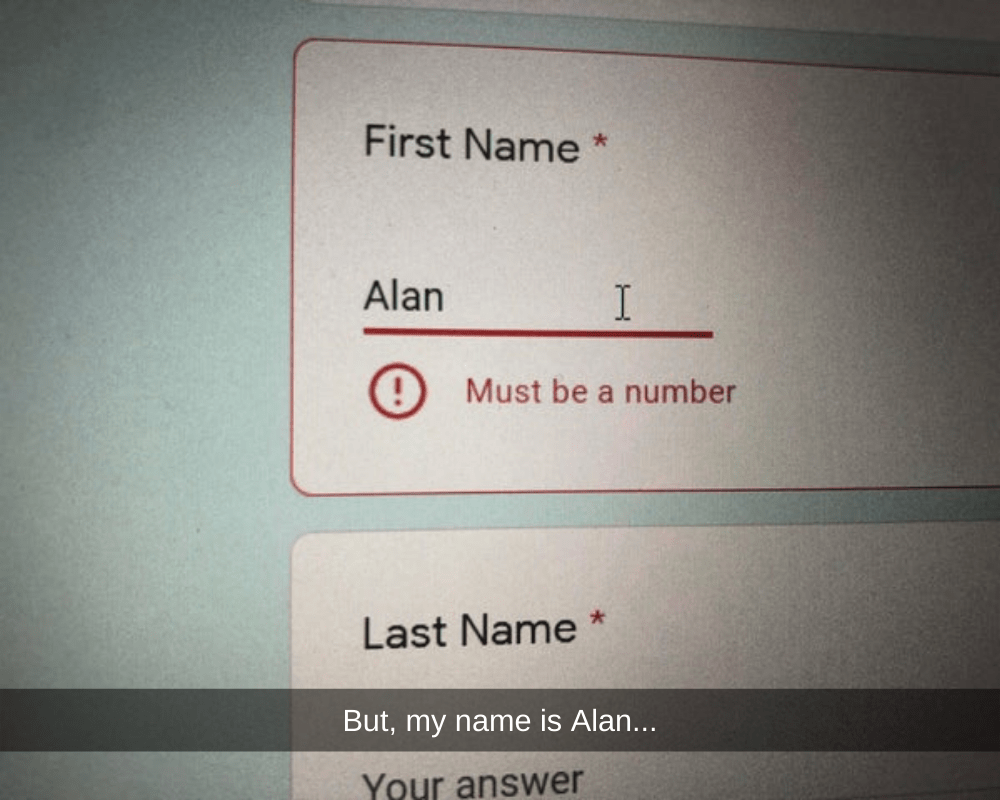 We respect that teachers and professors have adopted these new forms of technology in recent days, but if they're going to do that, they should probably learn how to use it correctly.
Mmmm, Tasty?
Well, this would be pretty surprising to find upon opening your box of pizza. And while it's not necessarily the most desired pizza topping — as there is a whole assortment of other toppings like pepperoni, mushrooms, or pineapple (for those daredevils) — at least these people now have an extra pizza wheel/cutter for their kitchen.
Who knows? Maybe it's their first, and they got it for free! There's really nothing better than that…
A Cry for Help
Buckle up because it's about to be a bumpy ride. At least, that's what we'd think to ourselves if we encountered this type of situation. Don't get us wrong — the intentions behind this sign were all only good.
Considering that there's no button, though, well… it doesn't seem like the best idea to even enter the building. If we saw this, we'd be running the other way while crying for help.
Oh, the Irony
Unless this office supply store stocked up on invisible ink, we think it's safe to say that the employees who put this sign up are a bunch of hypocrites. If we saw this sign ourselves, there's no doubt that we'd call the whole shop out.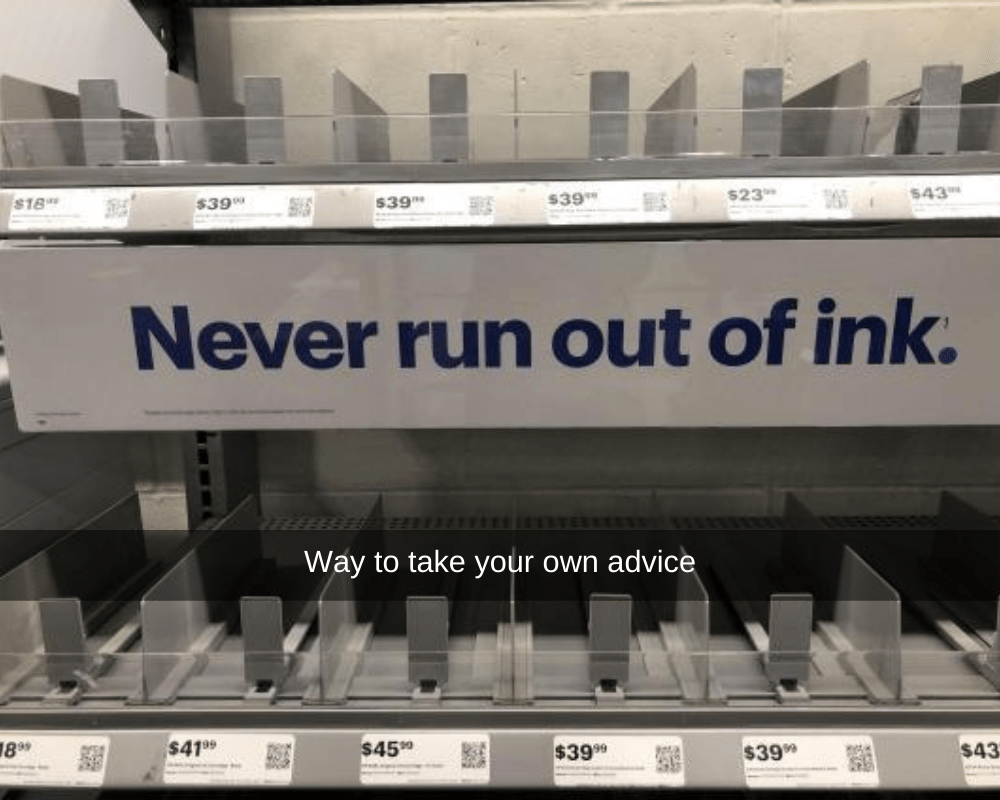 We can only hope that this photo was taken seconds before restocking the shelves with actual ink cartridges. Otherwise, this is just an awful form of advertising.
Someone Hates Kids
Parks can be great sources of entertainment for the little ones. While they play, you can have a moment's rest on the nearest bench and watch them have fun. However, this bench is awfully close to the slide. With that being said, kids should be careful about sliding down too quickly if they'd like to avoid a trip to the emergency room.
Whoever thought of putting a bench so close to the end of the slide clearly wasn't thinking straight. If it was across the pavement, though, it might have worked better!
Let That Sink In
More than ever, making sure that we have good hand hygiene is so important. Although this might be gross to hear, a study found that only one in five adults wash their hands after going to the bathroom. This might make you think twice about buying that sanitizer!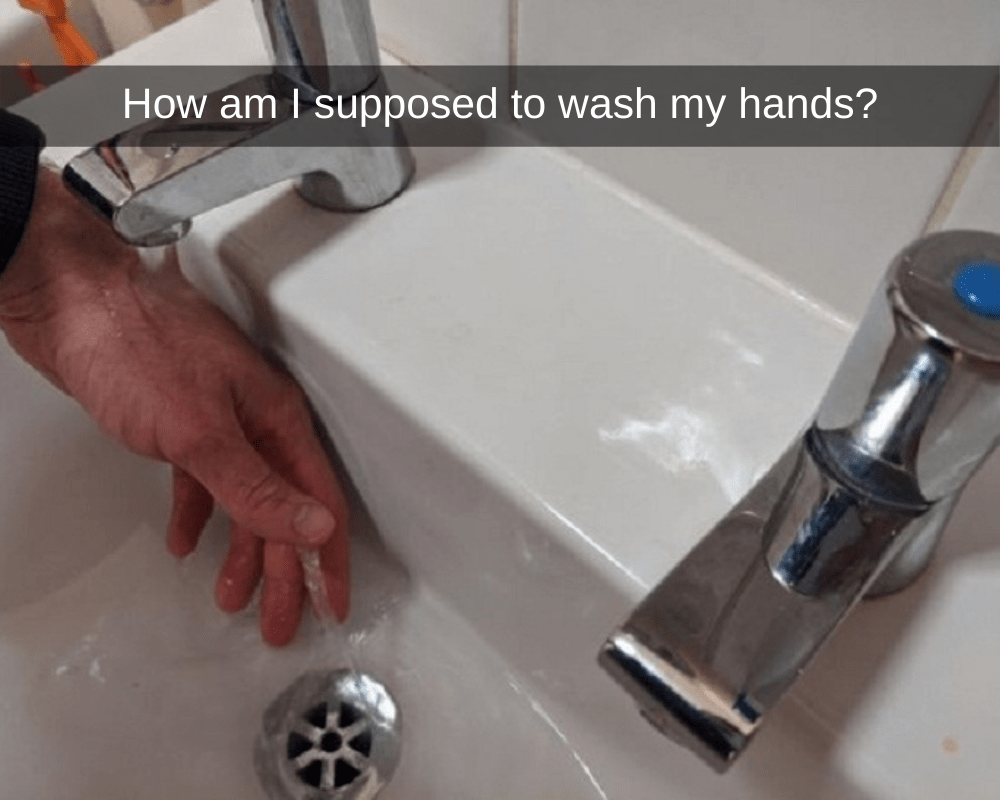 Whilst this person is trying to practice good hand hygiene, whoever installed these taps made them too close to the sink itself. This means that people won't be able to get enough water to wash their hands. Hopefully, they were able to find another tap that worked.
A Mystery Portal
Falling into an open manhole feels like something straight out of a cartoon. Although it's unlikely to happen, putting the open manhole right outside your front door might just increase the odds.
This might look like a Minecraft portal to The Nether, but we can assure you that it's not. Hopefully, the person wasn't home at the time this manhole was left uncovered as that could be a nasty fall into the unknown.
…
Elevators can be scary. A lot of people share the same nightmare and phobia of being stuck inside an elevator just as it breaks down. There can be signs within the elevator that make it feel trustworthy, such as the sounds it makes and how the buttons look.
However, in this particular elevator, there was obviously a lack of care taken when the buttons were installed. It could just be that the button has rotated itself around, but we know we wouldn't want to be getting into an elevator that didn't know the difference between up and down.
Something's Not Right
Finally, we've all experienced that embarrassing moment when you approach a door and don't really know if it's a push or pull. Even if it has no signage, we've all looked inadvertently at a push or pull sign and done the exact opposite of what it tells us to do.
While someone has made handy diagrams to help, there has obviously been a mistake added somewhere along the line. This will only add to the confusion, and we'll all be at step one again desperately pushing on a pull door.