Some people may think that trains are going out of business, but that could not be further from the truth. It may surprise some to think how trains have evolved up until this point. Before, they were a revolution in travel and now they are used for high efficiency or luxury transportation purposes. No longer are they the standard in transportation. The luxury trains make it a point to stick to the fundamentals of traditional and elegant style in trains, and modern commercial trains are getting faster and carrying more people.
Golden Eagle
The Golden Eagle launched in Moscow in 2007. The train features three different types of accommodations. One can choose from the Imperial Suite, Gold Class, or Silver Class. Moreover, each class adds to the luxury by featuring in suite bathrooms. The train only has two Imperial Suites which are 120 square feet in size and have a king size bed. The train's main route takes passengers to and from Moscow and Vladivostok. In addition, there are special routes that include the Silk Road, the Russian Arctic, as well as the Caspian region.
Deccan Odyssey
One of the most luxurious trains traveling on the Indian subcontinent, the Deccan Odyssey is known for its journey between Delhi and Mumbai. The train's cars were built in 2003, and were recently upgraded with new bedspreads and carpets. The train is made up of 12 sleeping cars of which there is two cabin types: deluxe and presidential. The deluxe cabins have built in bathrooms and showers as well as double or twin beds. There are only four Presidential suites which each take up half a train car. In total, the train can accommodate 88 passengers.
Rovos Rail Pride of Africa
Another of the most luxurious trains from the 1920s era is the Pride of Africa. Still considered one of the finest experiences a train traveler can have, the train is well known for its incredible service and food. In addition, the cabins have all been rebuilt using teak paneling and traditional furnishings. The train features three classes: Pullman, Deluxe and Royal Suites. All meals are served in one sitting and accompanied by fine South African wines.
Golden Eagle Danube Express
The Golden Eagle Danube Express has the capability to carry a total of 56 passengers. The train is made up of two dining cars, lounge car, and five sleeping cars. Out of the five sleeping cars, four are Deluxe cabins leaving a single Heritage class cabin. The train travels through Budapest, Prague, Sarajevo, Turkey, and even Iran on occasion. Another great feature about taking a tour on this train is the fact that everything is all inclusive; meaning that food, drinks, tours, transfers are all settled and you can enjoy them at your convenience.
Belmond Royal Scotsman
The Belmond Royal Scotsman is a small but luxurious train. It can only fit just 40 passenger, but for that small group it is an incredible experience. The train features excellent service along with its five star wining and dining experience. All the equipment is vintage 1960s but with an Edwardian twist including varnished wood, fine fabrics, and polished brass. The train has added a new carriage for this year; it is called the Bamford Haybarn spa car and adds even more luxury to the train.
El Transcantábrico
The El Transcantabrico can carry a maximum of 52 passengers. Originally started in 1983, the train journeys across the north of Spain. The train features six sleeping carriages which all contain four compartments that fit two and have built in bathroom facilities. In 2011, they launched a new service. The service is called Gran Lujo and features ultra luxurious suites which take up about half a train car or about 129 square feet. Not only do you get more space but a private lounge area, personal computer, flat screen TV, and plenty of storage. Only 28 passengers are accommodated by the new service.
Belmond Grand Hibernian
The Belmond Grand Hibernian, which launched in 2016, is the first overnight luxury rail experience one can get in Ireland. The train can accommodate 40 passengers and has 20 deluxe cabins. Although the train has a contemporary feel, in terms of its interior design, it still touches on elements of classic Irish history and tradition. Each cabin has a built in bathroom, wardrobe, writing desk/chair, and large windows that enable you to enjoy the beautiful Irish countryside. With regard to the food, the Grand Hibernian is known to have some the the best food and is comparable to the best restaurants in Dublin.
Eastern & Oriental Express
The Orient-Express company purchased a New Zealand train in 1991. It was then transported to Southeast Asia where it was refurbished and renamed. The route that the train takes adds up to a total of 1,262 miles. In terms of countries, the train goes from Singapore through Malaysia to its final destination of Bangkok, Thailand. In 2017, the train added some extra amenities for passengers riding in the Presidential Suites. Among these extras, guests will enjoy cabin wi-fi and even private limousines at stations.
Al-Andalus
Newly renovated, the Al-Andalus train returned to the tracks back in 2012. Since then, it has been boasting its beautiful 1920s Art Deco style cars traveling down its route across the south of Spain. The train has a maximum capacity of 64 guests. Each cabin features facilities in room as well. Moreover, the train has two seperate dining cars, a bar and lounge. Each car is air conditioned and freely accessible to every passenger allowing for a free and pleasant train experience.
Rocky Mountaineer
The Rocky Mountaineer has newly and officially become an international train. Before, the train only passed through Canada, but now it has a stop in Seattle, Washington. Although it is a first class train, it has different levels of service from which one can choose. One can choose from SilverLeaf, GoldLeaf, or GoldLeaf Deluxe services. GoldLeaf guests will be able to dine in the diner for breakfast and lunch where a multi-course meal will be made. SilverLeaf guests, on the other hand, will be served in their seats.
Belmond Andean Explorer: Luxury Sleeper Train
Planned to launch in May, 2017, the Belmond Andean Explorer will be the first luxury sleeper train in South America. Running along the Peruvian Andes from Cusco to Lake Titicaca and Arequipa, the train travels along some of the world's highest rail routes. Compared to some of the other trains on the list, this train has a small capacity. It has a maximum capacity of 48 passengers, and only has 34 cabins. In addition, there will be an open air platform, lounge car with piano and bar, and a spa car.
Shangri-La Express
The Shangri-La is a first class train experience that takes its passengers on journeys through Russia, China, and Tibet. The train features two different levels of service. Its higher end service is the Diamond Class which provides guests with a cabin that has built in bathroom facilities. In addition, it has large double beds for the passengers. The other class is called Heritage Class. In Heritage Class, passengers are provided with twin beds in their cabins and the cabins share bathroom facilities. The shower is separate from the shared bathroom.
Glacier Express
The Glacier Express is a Swiss first class train that takes its passengers between the resort towns of Zermatt and St. Moritz. The train takes around eight hours to travel the 168 miles making it one of the slowest express trains in the world. The train traverses some seriously mountainous terrain. Due to the terrain, the ride consists of passing through 91 tunnels and over 291 bridges to get to its final destination. The train also features both first and second class panorama cars; just be sure to avoid the busy season.
Kyushu Seven Stars
The Kyushu Seven Star is Japan's first luxury train that began making its trips in 2013. The demand to get a ticket for the train was overwhelmingly high. They decided that people would have to participate in a lottery to get tickets for the train. There are 14 en-suite cabins that are complimented by a dining and lounge car. Moreover, each of the 14 rooms for the guests are unique. One thing that sets this train apart from others is that it will make an occasional stop and offload the passengers so they can take a little scenic excursion.
Bergen Railway
The Bergen Railway, that has been around since 1909, was the only line that connected Oslo and Bergen at the time, and it only became electrified in 1964. The trip from city to city takes approximately seven hours to complete the 300 mile journey. While on the trip, passengers will pass over 300 bridges and through 200 tunnels. The train only takes trips during the day, and does not have any on board meals. Since the train travels across the Hardanger plateau, one has a great opportunity to catch some views of the wildlife in the breathtaking wilderness.
Maharajas' Express
The Maharajas' Express is a state of the art Indian luxury train that can handle a maximum of 84 passengers. The train was built with the intent for it to be one of the most luxurious train in the world. The train has a total of 22 cars which include two dining, two luxury, and an entire car devoted to the Presidential Suite. Each cabin is packed with amenities for the passengers including LCD tvs, wi-fi, temperature control, and big windows.
Bernina Express
Completed in 1910, the beautiful Bernina line is run by Rhaetian Railways. The route, which starts in either Chur, Davos, or St. Moritz, includes the highest railway in all of the Alps as it passes Piz Bernina. The railway has grades of up to 7% along the 38 mile route and drops from 7,391 ft. at the peak of the summit to 1,408 ft. as it arrives in Tirano, Italy. The train requires reservations for all seats and it a daytime only ride.
Golden Pass Panoramic Express
The Golden Pass Panoramic Express offers both first and second class panoramic cars. One can enjoy incredibly beautiful views from the oversized window, and there are also small ceiling windows in the cars that allow passengers to look up and enjoy a nice view of the sky. The First Class cars accommodates up to 33 passengers in groups of four and two. The Second Class cars can fit a total of 48 passengers. In addition, there are Superpanoramic trains that have extra VIP seats over the engineer.
Belmond Hiram Bingham
The three and a half hour journey made by the Hiram Bingham takes its passengers from the city of Cusco to the mysterious abandoned Incan city of Machu Picchu. As far as dining goes, the dining car can accommodate 42 passengers in a single sitting. The passengers are served a Peruvian brunch on the way to Machu Picchu followed by dinner on the way back. In between, passengers can visit the lounge car for a lovely drink and some gorgeous views.
Belmond British Pullman
The Belmond British Pullman is made up from 11 restored cars that were all originally made between the 1920s and 30s. Each car can fit up to 20 to 26 passenger making the total capacity for the train around 226. Nearly every car has tables for couple or groups of 4; the only exception is a car that has a few tables for groups of 3 or passengers traveling alone. All food experiences on the British Pullman are handled with extreme care and attention in order to ensure a memorable experience .
The Blue Train
Largely considered one of the best luxury trains, The Blue Train ferries its passengers between Cape Town and Pretoria. The 994 mile journey is 27 hours long, but this includes a stop for some sightseeing on both the sides of the trip. The train is run by a state owned company and it only makes it voyage eight times a month. In addition, there are two train sets; one of which can accommodate 74 passengers, while the other can take up to 58 passengers.
Canadian
The flagship of VIA Rail Canada, the Canadian, transports passengers between Toronto and Vancouver a total of three times a week. In total, the journey spans 2,775 miles. Those that are lucky enough to ride in the new Prestige Class will receive a rather large bedroom that includes all kinds of amenities and upgrades such as the larger bed, free alcohol drinks, butler service, flat screen tv, and even first choice for meals. Passengers in the Prestige Class also have access to the dome cars that offer views to enjoy that others would envy.
The Sweet Train
Little sister to the aforementioned Seven Stars in Kyushu, The Sweet Train is another of the special creations thought up by the creative minds at JR Kyushu. The beautiful train is unique in that it's a luxury experience that spans all of two train cars and the tickets need to be booked months in advance. The trip is only two hours and features a delicious light lunch that is then followed by four elegant courses of dessert.
Indian Pacific
The transcontinental Australian train, the Indian Pacific, offers riders a bi-weekly journey to and from Perth and Sydney. Riders on the train will pass over the longest stretch of straight laying train tracks in the world as they ride across the Nullarbor Plain; approximately 300 miles. In total, the trip crosses 2,704 miles and takes 3 nights to complete. The route is busy especially during the holiday season, and this can mean that you won't have much room in the lounge car to enjoy a drink or two on your journey.
Ghan
The Ghan actually is named after the Afghan camels that were used to get riders across the last leg of the trip to Alice Springs. In 2004, the train began to take its passengers on a journey from the top of Australia down to the bottom. The trip itself takes two nights and covers a distance of 1,852 miles. In 2008, a new Platinum class was added. There were an additional 24 of these cabins added and each cabin is an incredible 82.5 square feet in size.
Tren Crucero
The Tren Crucero is a daytime only train. It first started began operations in 2014, and only consists of of four carriages: two dining and two lounge cars. The train carries a maximum of 54 passengers between Guayaquil and Quito on a three night and four day journey. Along the way, passengers off-board for overnights in hotels. The trip along Ecuador gives its passengers a great views of the scenic landscape and the promise of interaction with locals along the way.
Flam Railway
On this picturesque railway, it is all about the absolutely beautiful views. There are spectacular scenes that leave one simply speechless. The train rides on the steepest standard gauge rails in the world. At 5.5% the line climbs an incredible amount in a very short time. In only an hour, there is already a 2,833 increase in elevation. The track there is around 12.4 miles, but the scenic landscape provides you with many varied views of mountains, waterfalls, ravines, and rivers; each leaving you wanting more.
Royal Canadian Pacific
The Royal Canadian Pacific is certainly one of the most luxurious trains in North America. It now offers a brand new charter service where riders can book the entire train and get a taste of what it's like to travel like royalty. If one were to book this service, they would be entitled to bring along 29 of their friends to accompany them along for the incredible experience. Most of the train cars were actually built between 1917 and 1931
THSR 700T
The Taiwanese THSR 700T is a high speed train that first started running back in 2007. The route between Taipei City and Kaohsiung used to take around four and a half hours to complete, but due to the high speed it has dropped down to a mere hour and a half; saving the average passenger three hours of time. Out of the 12 train cars, nine provide power. The 700T is able to go from 0 to 186.4 mph in only 15 minutes.
ETR 500 Frecciarossa
The ETR 500 Frecciarossa reaches the same top speed as the aforementioned THSR 700T: 186.4 mph. This makes it the fastest train in Italy, and it carries passengers between Naples, Rome and Milan. Due to the high speed, the train is able to make it from Rome to Milan in only two hours and forty minutes. The train offers four different classes: Standard, Premium, Business and Executive. All of the classes on the trains are soundproof and include free wi-fi.
SNCF TGV Duplex
The high speed TGV Duplex is a powerful and fast train operated by SNCF since it began running in 2011. In fact, is is the fastest train in France due to the fact that it reaches speeds of 198.8 mph. The ultra comfortable two level train can carry a maximum of 508 guests and it connects all the major cities in France. The train has an impressive recyclability rate of 90% and offers its passengers a choice from three classes to ride in.
Alstom Euroduplex
The Euroduplex is similar to the aforementioned TGV Duplex.  Both trains travel at a maximum speed of 198.8 mph and are operated by the SNCF railway company. The train began operations in December of 2011, and can carry a maximum of 1020 passengers at once. This third series of TGV trains connects French, German, Swiss and Luxembourg railways. Unlike earlier series, the Euroduplex weighs less and even consumes less power. In addition, the train has real time information about the trip on screens near the door or in the seats.
E5 Series Shinkansen Hayabusa
The E5 Series Shinkansen Hayabusa is a Japanese bullet train that is operated by East Japan Railway Company and can reach speeds of 198.8 mph. Since its debut in March of 2011, it has been the fastest train operating in all of Japan. The train runs a 444.28 mile track between Aomory and Tokyo and can accommodate a total of 731 in its three lovely classes. The entire trip, at high speed, is completed in only two hours and 56 minutes.
Talgo 350
The Talgo 350 is a high speed train that runs between the cities of Madrid and Barcelona. Its top speed is 217.4 mph, and features a sort of beak that the very front of the train. This is what gives the train its nickname "Pato", but in reality it helps the train navigate through high pressure waves. The train is driven by two driving cars and is accompanied by 12 passenger cars. The passengers are able to purchase tickets for one of four class options.
Siemens Velaro E/AVS 103
The Siemens Velaro E is originally designed by German company Siemens; thus, in Spain this train is referred to as AVS 103. The train, similar to the Talgo 350, runs at a top speed of 217.4 mph and travels between Madrid and Barcelona. In testing, however, the train was able to achieve speeds of 250 mph. Up to 404 passengers are able to make the trip between cities in a short two and a half hours at this speed. In addition, the Velaro E has only eight passenger cars.
AGV Italo
The fastest train in Europe, the AGV Italo operates with a maximum speed of 223.6 mph. However, when tested in 2007, the train was maxed out and able to reach a mind blowing speed of 356.6 mph. Interestingly, the train is constructed out of 98% recyclable materials. The train runs between Rome and Naples, and can make the 140 mile trip in just under an hour. The train has 11 cars and is divided into the different classes for the passengers. All the train's classes offer adjustable seats, live tv, and even free wi-fi.
Harmony CRH 380A
China's Harmony CRH 380A is the second fastest train in the world. The train is electric and can reach a maximum speed of 236.12 mph. However, when it was initially tested, it reached a record speed of 258.58 mph. Running between Shanghai and Nanjing, the train became operational for the public in 2010. The train has a maximum capacity of 494 passengers. The passengers, for the most part, receive basic accommodations such as lighting for reading, charging port, and an electronic display.
Shanghai Maglev
The Shanghai Maglev travels at a maximum speed of 267.8 mph making it the fastest train in the world. The word "maglev" is actually a combination of two words – magnetic levitation. Thus, the train is actually suspended above the rails by way of magnetic fields. The electromagnetic forces are created by ultra strong magnets that propel the train by allowing it to move forward without any kind of wheels or contact between the train and track. It only takes the train four minutes in order to reach its top speed.
Venice Simplon-Orient-Express (VSOE)
The VSOE is generally considered the most authentic luxury train still around today. The cars have navy and gold coloring on the interior with white ceilings giving it a very vintage 1920s Art Deco feel. However, there are no showers on board the train, and no bathrooms in suite. The train still travels its legendary route, that was made famous in an Agatha Christie novel, to this day; taking passengers from Paris to Istanbul. The other cities it passes through include Venice, Prague, Dresden, and Krakow.
Palace on Wheels
The Palace on Wheels is an Indian luxury train. In 2009, it was refurbished and launched again. Originally the train was developed for royalty, the train has 23 coaches and can carry 104 passengers. In 2010, the train was voted the 4th most luxurious train in the world. The route that the train takes goes from New Delhi to Sawai Madhopur, Chittaurgarh, Udaipur, Jaisalmer, Jodhpur, Agra and back to New Delhi. The entire journey takes seven nights and eight days to complete.
Copper Canyon
The Copper Canyon Train Tour follows the path of the Chepe (Chihuahua al Pacifico) railroad. The railroad travels across some of the most rugged terrain in Mexico. The trip itself takes nine days and the cost of it is $1000. It begins in Phoenix and works its way down the Sonora Desert through breathtaking scenery while crossing rivers and skirting along the edges of the the mountains. In all, the luxurious train passes through 86 tunnels and over 38 bridges while on its journey.
Toy Train
The Toy Train, which runs along the  beautiful Darjeeling Himalayan Railway, is a two foot narrow gauge rail that takes passengers between Darjeeling and New Jalpaiguri. The railway was originally completed in 1881 and runs for approximately 48 miles between the final destinations. In addition, the railway is listed as a World Heritage Site by UNESCO. The Toy Train has also been portrayed on film several times including in Bollywood titles such as Barfi!, Parineeta and Raju Ban Gaya Gentleman.
Napa Valley Wine Train
The Pullman cars on the Napa Valley Wine Train have a unique story. Many of them were actually built in 1915 as first class coaches for use on the Northern Pacific Railway. During the time, they  were considered to be cutting edge technology as they were entirely built from steel. In 1960, the cars were purchased by the Denver Rio Grande Western Railroad who used them until selling them in 1987 to the Napa Valley Wine Train project.
Elipsos Trenhotel
The Elipsos Trenhotel transports passengers between Paris, Madrid and Barcelona. The trip takes some so it is not entirely uncommon to find yourself falling asleep in one city only to wake up and eat breakfast in a completely different city. The train offers three classes to choose from: Tourist, Business and Grand Class.  Each train compartment can accommodate four passengers and has a sink in the room. In the Grand Class, passengers have a shower as well as a toilet in their cabin.
Coastal Classic
The Coastal Classic is a semi-luxury train that runs between the Alaskan cities of Anchorage and Seward. The train only runs between the months of May through September. This is due to the travelers coming to visit and see the glaciers. The tour has a total of three stops with the average trip taking approximately four and a half hours. The total distance is about 114 miles with the train traveling at around 59 MPH.  Passengers can choose between Adventure class and GoldStar Service.
Emerald Isle Express
The lovely and picturesque eight day rail cruise through Ireland offered by the Emerald Isle Express is a countrywide tour brought to you by Railtours Ireland. The rail tour features a ride on a blue and gold painted heritage train that has been restored with much attention and care for every detail. The cars are furnished with shined brass and fresh upholstery. Crisp linens and fresh flowers are also used to give a sense of extra amenities.
Shongololo Express
The Shongololo Express has been operating since 1995 out of its home station in Pretoria. The train goes on three different tours which vary in length from 12 to 15 days depending on which tour you take. In general, the train will take guests through South Africa, Namibia, Swaziland, Mozambique and Zimbabwe. The train can accommodate a total of 72 guests in two different cabin types: one with twin beds and one with double beds. In addition, the Shongololo Express features two historic dining cars.
HSL-1
The Belgium HSL-1 has been operating since 1997. It is a high speed rail lie between France and Belgium and brings the transit time between Paris and Brussels to approximately and hour and a half.  The line is a total of 55 miles in length and travels at a speed of 186 miles per hour.  The total cost of construction for the line was a staggering 1.42 billion Euros. This is a large sum yet it can be seen as a great investment due to the fact that this is an extremely popular travel line.
Tama Train
In Japan, there is a well known and much loved cat that was honored as the train's station master. Unfortunately, the honored cat passed away in 2015, but since then a new apprentice has been named. In 2009, the Wakayama Electric Railway brought on a new Tama Densha train or Tama train. The train was customized with cartoons and many features related or referring to cats. In 2010, a station was created at Kishi and rebuilt to resemble the cats face.
KTX Sancheon
The KTX Sancheon is a high speed train built by Hyundai Rotem. The train has been operated since 2009 by the Korail company with some other operators as well. The train has a top speed of 190 miles per hour and is the second high speed train in South Korea. In addition, the train rail has a overall length of 659 feet which allows it to carry a maximum capacity of 363. The train also features two traction head cars and between them are eight intermediate cars.
The Wealthiest Kids And Most Bizarre Things That Happen In Dubai
Here Kitty Kitty
In almost any city in the world, we'd panic if we saw a cheetah (even a cub) out in public. However, this lady seems fearless as she's only half paying attention to the wildcat in her lap, holding it with one hand while using the other hand to chat on her cell phone. The cheetah is clearly a pet and seems to be enjoying the change of scenery. He's actually a quite well-behaved safari predator.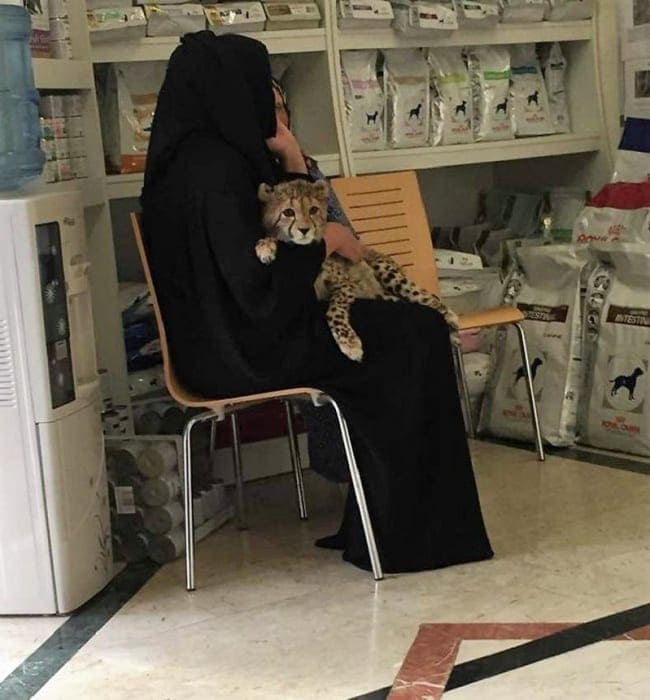 Custom Paint Job
A Jeep Grand Cherokee, while a perfectly acceptable vehicle in most of the world, can make you feel like a peasant in Dubai. In the land where Bugattis, Lamborghinis, and Ferraris are as common as a run of the mill Toyota Corolla, you need to step up your game to fit in with the uber-rich crowd. This person had the bright idea of spicing up their Jeep by covering it in a custom 24K gold paint job, and it definitely worked!
Gold Bar Vending Machine
We all know that feeling – you've gone to a hole in the wall shop or restaurant, reached for your trusted plastic, and been told that sorry, the place is cash only. This is followed up by the mad dash to the ATM, which usually charges us a ridiculous fee. Well, in Dubai there are ATMs that give out more than cash – yes, this is a gold bar vending machine! Great for those situations where you've forgotten your gold at home.
Luxury Loo
Public bathrooms are typically not a place where you want to spend a lot of time. Even the nicest public facilities still give us an icky feeling, and we try to get in and out as quickly as we can. However, this public bathroom in Dubai is nicer than our wildest dreams. We'd gladly chill in here for the rest of the day, especially if we were allowed to use the state of the art rainfall shower and jacuzzi!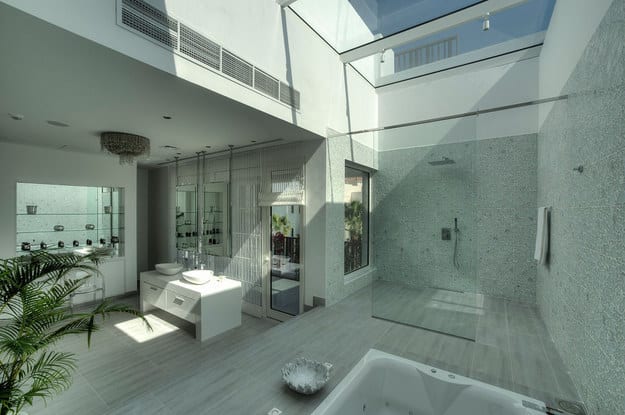 Boating With A Lion
While you might think to take a casual snap of yourself in the marina aboard your luxury yacht and uploading the pic to Instagram as the peak of flaunting your wealth, you'd be wrong. The ultimate power move is taking a pic of your pet lion on your luxury yacht. We're not sure how you could possibly show off more than this. The lion seems to be enjoying the sea air, although we'd be scared to be trapped on a boat with one!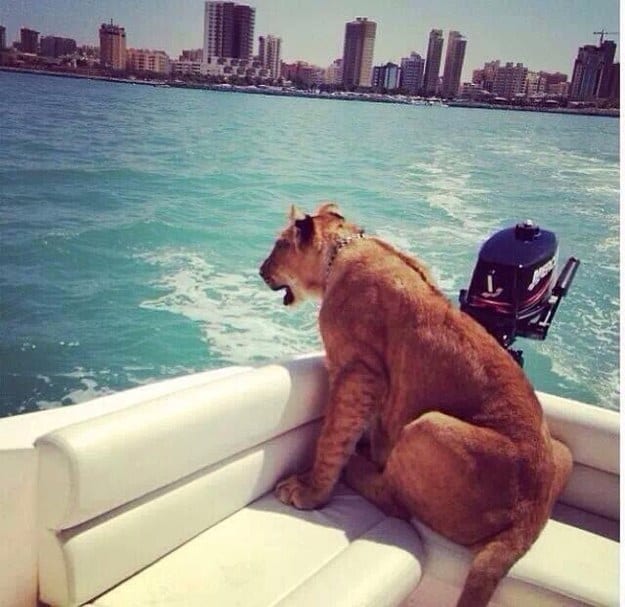 Skiing In The Desert
So while you might think of the middle of the desert as being the least likely place on earth to find a ski resort, Dubai boasts the world's biggest indoor ski resort, and the only one on the planet which is open all year round. If you're a European expat desperately missing the cool thrill of the Alps during winter, this Dubai ski resort is the ideal place to go. Slopes are ranging from beginners' to advanced!
Stacking
These hard to find desert tortoises are difficult to spot, an endangered species, and not particularly friendly to humans. But as we've seen in previous pics, the residents of Dubai totally love exotic pets – whether they're wildcats like cheetahs and tigers, or more tame animals like these rare reptiles. Check out this guy flaunting his wealth – he doesn't just have one or two of these hard-shelled creatures, he has an impressive total of eight of them!
City Of Cranes
Since the original oil discovery, Dubai's economy has been booming. But decades after its initial appearance as a major player in the global financial scene, Dubai has expanded its horizons and has an economy based on more than just the "black gold" under the desert. Due to lax laws, for setting up businesses as well as a lack of income tax, the city is now the perfect place for foreign investors. Construction is permanently happening and there's always growth.
James Bond Or Reality?
It might sound like something from the future, but Dubai doesn't just have the world's biggest variety of barely street legal sportscars, it also has the cutting edge amphibious car! In fact, the Crown Prince of Dubai, Sheik Hamdan Bin Mohammad Al-Maktoum, doesn't just have one water car – he has a grand total of six, which together are worth more than $800,000. These cars are called the "Panther" and can reach speeds of up to 80 mph on the road.
Decadent Dessert
This isn't your average cupcake – this is Dubai, so all that glitters really is gold. This cupcake costs over $1000 and holds the record as the most expensive cupcake in the world. The deliciously decadent cupcake is appropriately named "The Golden Phoenix" and is comprised of the finest Italian cocoa, Ugandan vanilla beans, and 23 karat gold, of course. If you're gonna indulge in this number of calories, you might as well do it in style.
Families Only
What exactly is a "family zone", you might wonder? Well, it's a restricted area where single men aren't allowed, so that women can frolic freely – oh, wait, women have to be modest and cover themselves anyway. In Dubai, there are family zones in both malls, restaurants, and the beach. The only men who are permitted in "family zones" are those who are accompanied by their wife and children – we suppose to keep out any young guys with wandering eyes!
No Dogs, No Fish
We've seen a lot of pics of funny signs in our lives. From awkward instructions about what not to do on an escalator to what is forbidden on an airplane, instructional signs like this are the source of much humor and also say a lot about the culture of the place where they're put up. We're laughing imagining that this happened enough times to cause the municipality to put up a sign like this – it must have been a recurring issue!
The Check, Please
It's every party animal's nightmare – you go out to a club, where you already know that you're going to get overcharged, but they end up totally taking you for a ride and presenting you with a bill for over $380,000! However, this bill is in Emirates dirhams, which means it comes out to just over $100,000. Still, a pretty penny to pay for one night out on the town! But when in Rome, you gotta do as the Romans do.
Not Your Average Squad Car
Since there are so many Bugattis, Ferraris, and Lamborghinis on the road in Dubai, it makes sense that the police department would have to keep up and of course, the official police vehicle is a Ferrari. Otherwise, how would the cops be able to track down and stop the super fast car driving bad guys? I mean, it's for practical reasons that every policeman in Dubai rides in a Ferrari. We have a feeling that's the biggest perk of the job.
Golden Trio
In any other city in the world, a gorgeous trio like a Porsche, Ferrari, and Mercedes Jeep would turn heads – but in Dubai, this type of amazing line up is simply an everyday event. This pic shows a casual scene in the city. Appropriately gold plated, just to make sure that their wealth is flaunted enough, this vehicle screams pure luxury. We don't know whether or not these cars can outspeed the classic Ferrari Dubai police cars!
Nice Ride
Everyone who lives in a city is familiar with bad traffic – it's just a fact of life in every city in the world, including Dubai. Waze won't even help you when the road is totally clogged. The best way to beat that nasty traffic jams? By air, of course! Only in Dubai can you see a Helicopter flying as high as the skyscrapers with the sole purpose of transporting a luxury vehicle from one end of the city to the other.
Limo To The ER
Talk about arriving in style! God forbid, if you suffer a serious injury and have to be immediately transported to the hospital, it's a terrible situation. But, let's admit, it's a little less terrible if you show up to the emergency room in the back of a luxury stretch limo. This indulgent emergency vehicle comes replete with a flashing blue light on top, to make sure that you cut the crowds and get medical treatment as soon as possible.
Morning Commute
This scene would be a major cause for concern anywhere else on the planet, but a tiger sticking its head out a car to get some fresh air is simply par for the course during a normal, everyday commute in Dubai. The tiger is somebody's pet and appears to be enjoying the change of scenery, but we have to admit that we might've freaked out a little if we spotted this guy while standing in traffic!
Hang 10
Paddleboarding while wearing your traditional thobe and headdress is so Dubai! This picture depicts how gracefully old and new blend together in Dubai – a father and son in the garb of their ancestors are doing an activity that nobody could have ever imagined would be possible in the desert.
Loading Zone
A Dubai parking lot is basically a supercar show – Lamborghinis, Ferraris, Porsches… and what exactly is that thing? Parked right next to a luxurious Mercedes is a bit of an older model of transportation – a camel! The camel, for what it's worth, looks perfectly content to take a break in the parking lot. This picture is the perfect example of the unique blend of old and new, traditional and modern, that can only be found in Dubai.
Ridin' Dirty
In Dubai, people often show off their wealth and class by choosing unconventional methods of transportation. This man, for example, prefers to boast his social status by riding his pet lion, Gertrude, to work every day. Working class Dubai residents look on with envy as they get to work by bicycle or foot. Sure, it may come at a risk of being mauled and eaten by a hungry lion, but it's worth it to show the world that you've made it.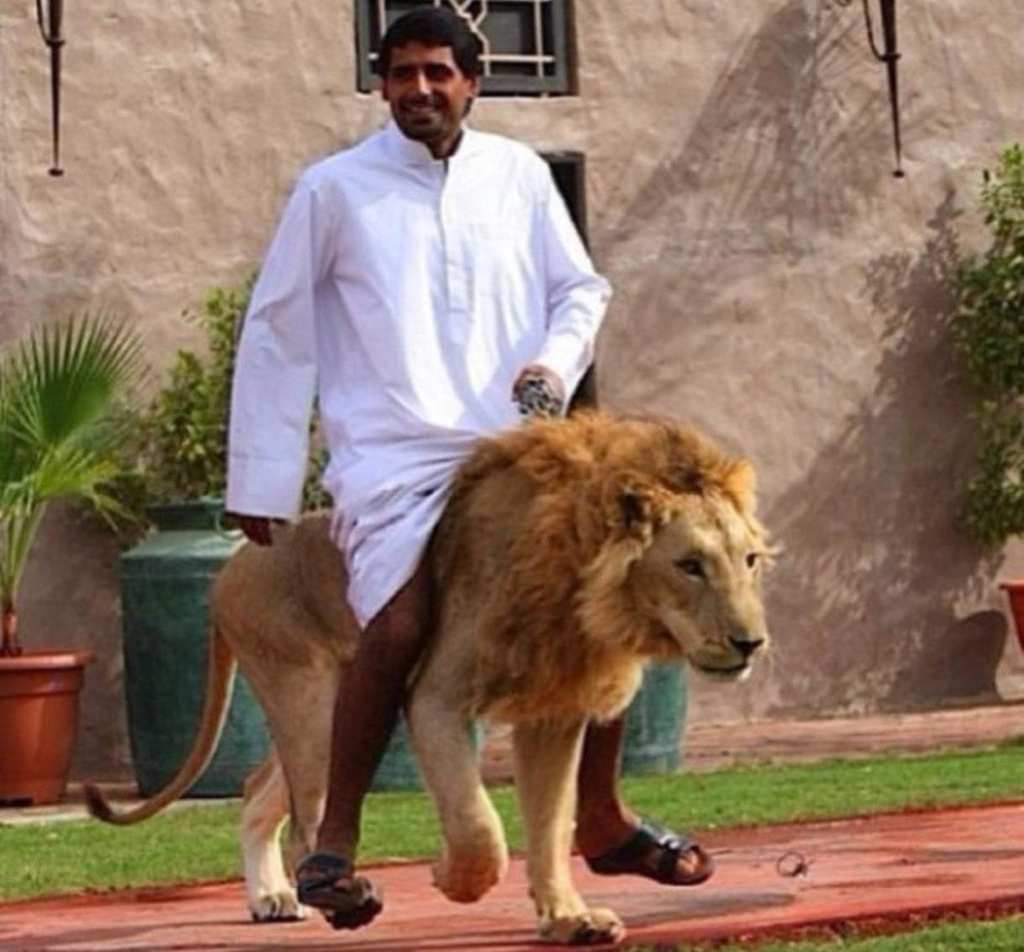 Playtime
This Dubai resident was taking a nice relaxing afternoon nap on the hood of his fancy sports car when his furry friend decided to interrupt to have some fun. If your idea of fun involves a trip to the hospital to treat the scratches your exotic pet gave you, then Dubai is the place for you! As you've probably noticed by now, the people of Dubai love their big cats. So much so, that they let them climb up on their sports cars.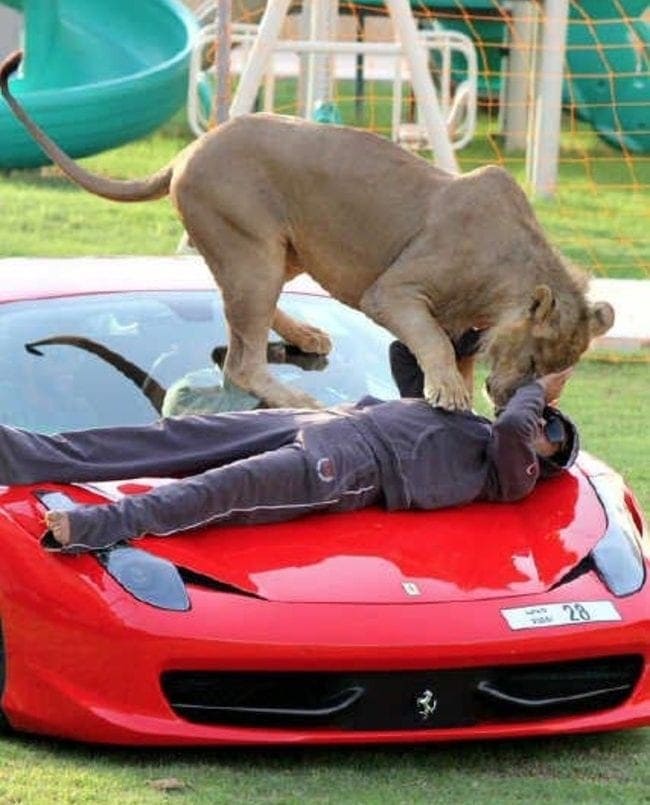 Culture Clash
When old traditional dress meets modern fashion, there's bound to be a major culture clash.
I Call Shotgun
Everyone loves their cat and wants to show pictures of how cute it is to strangers. In order to pay for a big cat like a cheetah, you gotta have a lot of dough. This guy needed to show off his exotic pet – a cheetah! Riding shotgun in a luxury vehicle is a much different life than what this cheetah was used to back at home, running wild and hunting prey on the plains in Africa.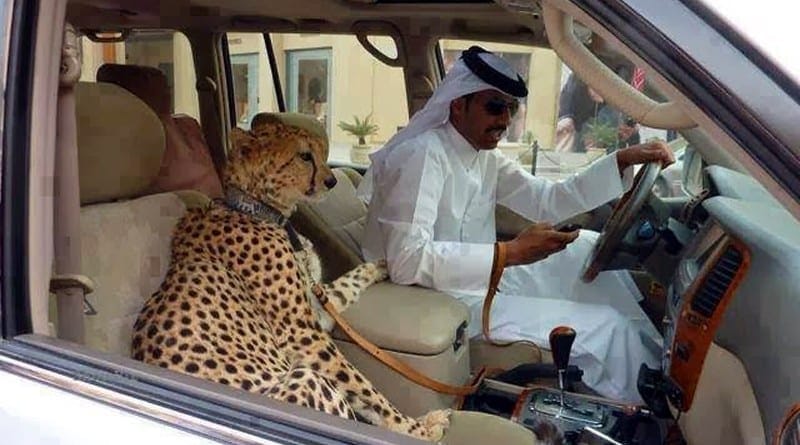 Teaching An Old Cat New Tricks
Everyone knows that the best way to train your big cat is on the hood of your expensive sports car. That way, you can show off your dangerous exotic pet and your social status at the same time. It's truly the best way to prove to the whole world that you are the ultimate alpha male. Unless, of course, your plan backfires and your friendly exotic pet turns on you. Then you definitely won't look like an alpha male.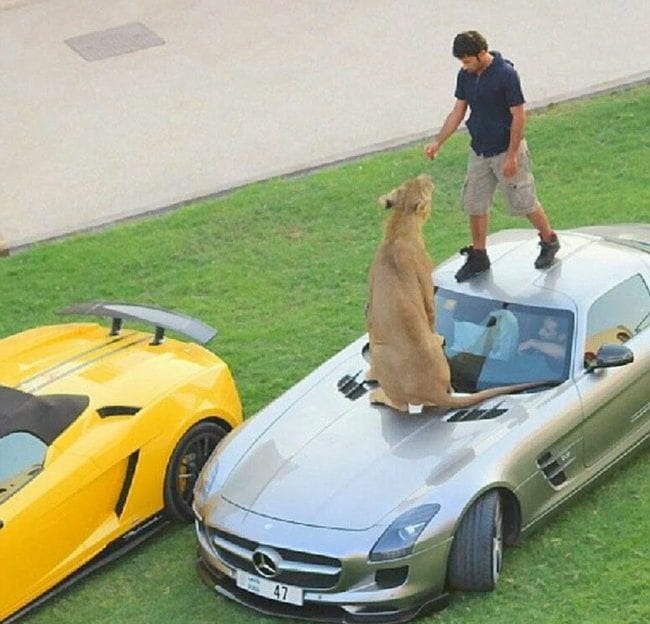 Everyone knows Dubai as the playground for the rich, the home base of jet-setting millionaires from all over the globe. Buildings that tower above the clouds define Dubai's skyline. Check out these pics that show what can only happen in this breathtakingly unique city!
Riding Dirty
In ancient times, camels were a symbol of wealth – the beasts of burden provided valuable transportation, storage, milk, hair for clothing and brushes, and worst case scenario, meat in times of scarcity. Nowadays, most people in Dubai buy the flashiest car possible rather than stroll around with their pack of camels. But this guy decided to blend the best of both worlds by riding around in his expensive Mercedes Jeep while still showing off his animal investment!
Traffic Jammin'
In Dubai, cars are much more than a method of getting from point A to point B. Cars are a lifestyle. They are used to show social status, as well as wealth Because everyone in Dubai is apparently rich, everyone has a fancy sports car. Upon first glance, this photo appears to show hundreds of car enthusiasts on their way to a car show. However, this photo is actually just a typical Wednesday rush hour commute on the streets of Dubai.
All Gold Everything
When you travel to Dubai, don't be surprised if your eyes hurt from how shiny everything is. That's because gold is one of Dubai's most popular accessories. Residents of Dubai will pretty much use gold for everything. They have gold necklaces, gold bracelets, gold earrings, gold watches, gold crowns, gold cars, gold jackets, gold shoes, gold toothbrushes, and even gold trash cans. While this may seem a bit impractical to Westerners, once you arrive in Dubai, you'll appreciate the elegance.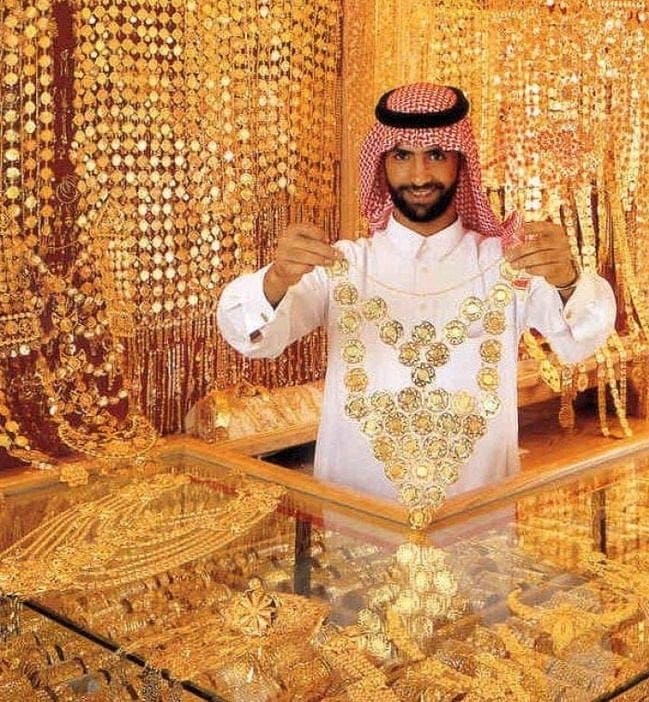 Serious Horse Power
This resident of Dubai likes to ride in style on his horse-themed white motorcycle. Sure, he could have gone with a more traditional macho design, but Dubai is a culture that appreciates elegance and attention to smaller details. This gentleman even decided to wear a matching white sweatshirt and pants to accessorize his majestic new bike. He'll certainly be the talk of the town when he rolls up to his cousin's graduation party on this fine-tuned machine.
Shine Bright Like A Diamond
If you're driving a late model Mercedes convertible, it's clear that you've got money to burn. But in case you really wanted to drive the point home, there's nothing like a diamond encrusted Mercedes to make sure that everyone knows you're rich. Plus, in Dubai, a Mercedes is pretty standard and not exactly a head turner, so you have to step your game up a little bit if you truly want to stand out from the crowd.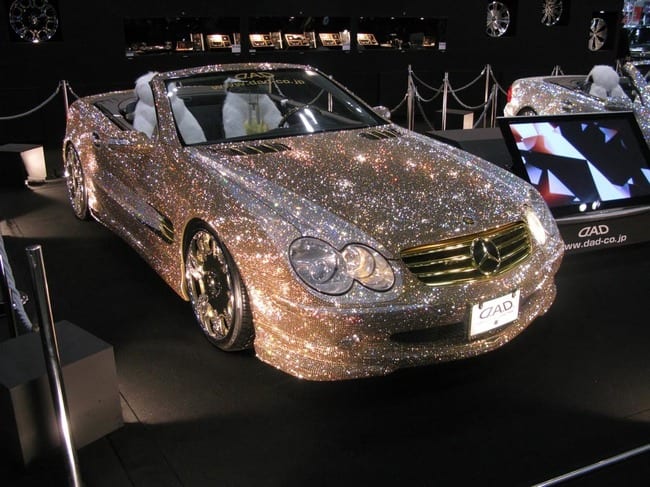 Uber Bugatti?
People in major cities all over the globe are obsessed with Uber. It's the quickest and easiest way to get from Point A to Point B, whether you're commuting to work or coming home after a wild night out on the town. But Dubai is the only city in the world where your Uber driver is likely to pick you up in a luxury sports car like a Bugatti! Talk about a 5-star ride.
Just Building A Boat
Working class citizens of Dubai are not afraid to get their hands dirty and put in some manual labor. The workers in this photo are in the early stages of building a boat by hand. As you can see, their design is not unlike that of Noah's Ark. If we know anything about the people of Dubai, however, it's safe to say that the only animals to be boarding this boat when it's complete will be big cats.
Shop 'Til You Drop
Dubai is home to the largest mall in the world, the Dubai Mall. At 5.4 million square feet, the Dubai Mall has well over 1,200 stores and services, and in 2011, was the most visited building on the planet. Inside the mall, visitors will find this massive aquarium as well. The Dubai Aquarium & Underwater Zoo has over 300 ocean species, including sharks and rays. The mall is also home to a movie theater, theme park for kids, Rainforest Cafe, and SEGA-themed amusement park.
Look Mom No Hands!
Residents of Dubai love to live life on the edge. Whether it's getting up close and personal with a ferocious lion or riding the top of your SUV like a surfboard as it flips upside-down on the freeway, the people of Dubai can really do it all. At this point, we're almost positive that every person you come across in Dubai is a well-trained stuntman. Either that or the life expectancy in Dubai is abnormally low.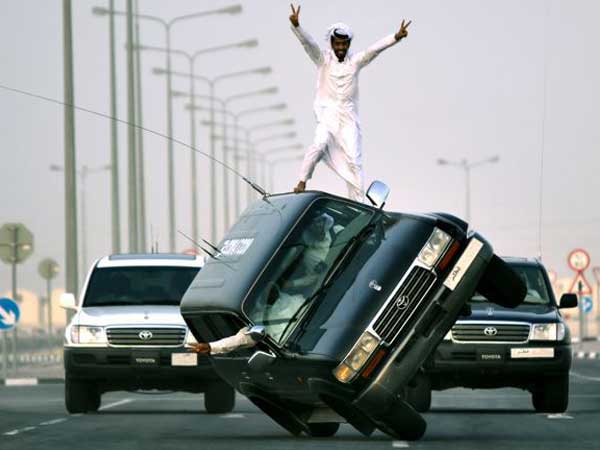 Not A Frat House Foosball Table
A Foosball table is that gnarly thing found in dive bars and frat houses. Usually sticky with unknown substances, it's one of those things you touch and immediately regret it, then run to the bathroom afterward to wash your hands. However, we would gladly eat a meal off of this Swarovski crystal and diamond encrusted Foosball table in Dubai! We have to admire the city's commitment to making even the most mundane, everyday objects the epitome of luxury.
Sky High
Because Dubai is all about architectural innovation and pushing the limits of human capability, of course, there's a tennis court in the sky! This tennis court holds the record for being the highest in the whole world. Perched atop the mega luxury hotel Burj Al Arab, it's elevated 1,000 feet above the ground. Roger Federer and Andre Agassi played a casual match on the court. How someone can play up there without getting woozy? We don't know.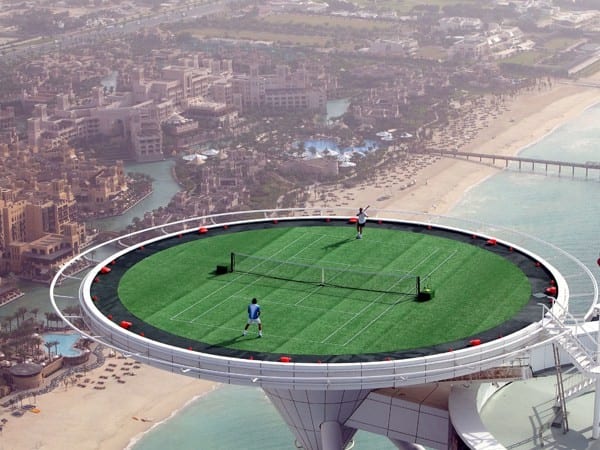 Sky High Living
Imagine waking up in the morning, peering out your window to check out the day's weather, and seeing clouds below you! Well, this is everyday life for jet-setting expats in Dubai, who have enough money to buy penthouses that are literally sky high. Dubai has the concentration of high rises in the entire world, and those high rises are also the highest possible. Dubai is the city with the most number of Penthouses and condos available above the 50th floor!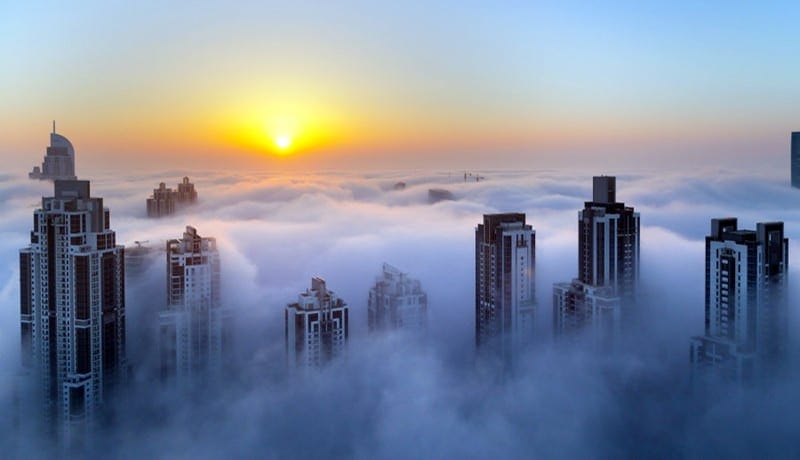 A Faster Ambulance
We've already seen the Ferraris that the municipality of Dubai uses as their standard police car, but we promise you that you've never seen fire trucks and ambulances like this before! This Corvette and Hummer are how paramedics and other emergency personnel respond to civil calls for help. In a way, it's very practical – if you have a medical emergency, every second counts, and these vehicles are guaranteed to get to you way quicker than your average boxy ambulance!
Camel Racing Robots
Cultures all over the world are obsessed with animal racing – whether it's racing greyhounds or horses, citizens from nearly every country on the globe love to see our friends from the animal kingdom pushing themselves to the limit. But in this case, like everything in Dubai, the time-honored tradition of camel racing has a new modern twist. Look closely at the figures atop the camels – instead of humans; they are super lightweight robots designed to be aerodynamic!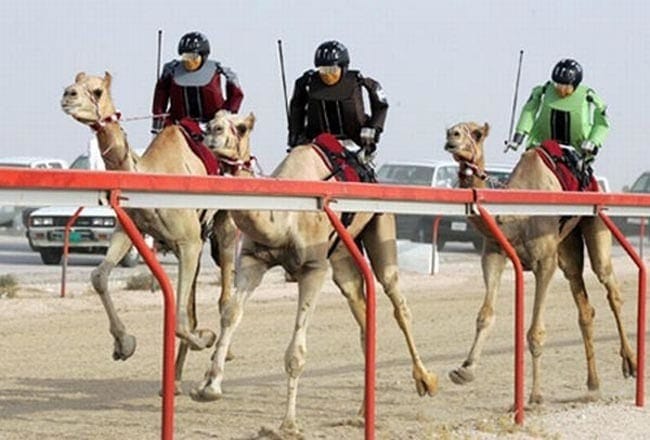 Hotline Bling
Those six digits below these phones aren't their serial numbers – it's their sky high prices! A gold plated or diamond encrusted Nokia can set you back a cool several hundred thousand dollars. But if you're an insanely rich expat living in Dubai, accessorizing your cell phone with precious gems is par for the course. In Dubai, your image is everything, and a luxury cell phone is the perfect item to pair with your super rare sports car.
White Gold Whip
And here we have, yet again, another late model Mercedes customized in a way to make it clear that the owner is fabulously wealthy and wants everyone and their mother to know it – a late model Mercedes painted in pure white gold! Talk about flashy. This custom paint job has got to be worth more money than we will ever see in our lifetimes, but don't count on us checking out this car on the street – it harshly reflects the desert sun!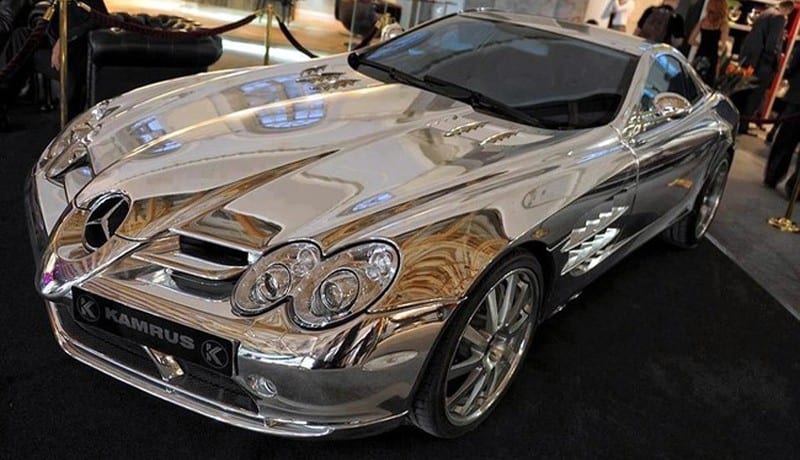 Marble Floored Stable
Horse stables aren't usually considered to be nice – they're the place where horses feed, rest, get hosed down and their hooves cleaned. Comparing a child's messy room to a horse stable is a common metaphor used by parents. Only in Dubai would you find a horse stable with a marble floor and painted ceiling, that resembles the lobby of a luxury hotel in Las Vegas! This horse is definitely living the good life, although we're sure he prefers to be outside.
Bikini Vs. Burqa
Dubai welcomes Western expats, who find the lack of red tape when setting up businesses, the government's encouragement of foreign investment, and no income tax extremely appealing. But along with Western residents comes prime ground for some major culture clashes, as we see here in this crazy pic. A woman in a bikini on a beach next to a woman in a burqa is something unimaginable anywhere else on the globe, but in Dubai, it's merely a fact of life.
Surf's Up
One of the craziest things about Dubai in the United Arab Emirates is the constant contrast between old and new, modern and ancient, and that can be seen especially in the attitude of the native Emiratis. While they embrace new modern day luxuries and technological advances, they still hold serious respect for their religious roots. This pic is the perfect illustration of that phenomenon, as these ladies are attempting to paddle board while still dressed in their traditional clothing.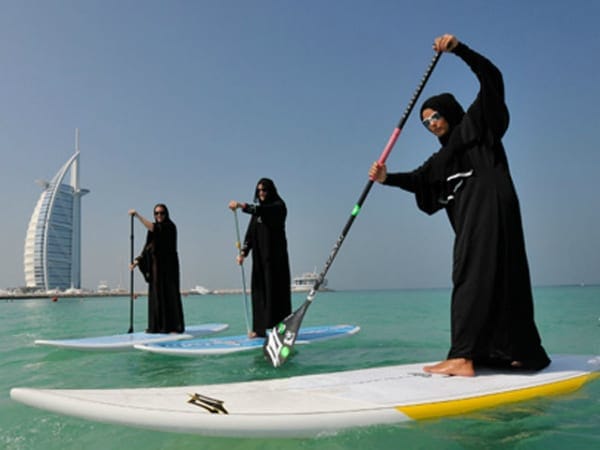 Daredevil
Since Dubai is the city with the highest concentration of skyscrapers on the planet, this metropolis is definitely a daredevil's dream. There's no other city in the world where people come specifically to jump off of the buildings! The ultimate achievement of course would be to belly flop off the top of the Burj Al Khalifa, but nobody's come close to doing that yet. Basically, if you're a thrill seeker whose looking for extreme heights, Dubai is ideal for you.
Lap Of Luxury
We've seen a ton of gold on this list already – cellphones made from straight up 24 karat gold, encrusted with diamonds and other precious gem stones. We've seen the world's most expensive cupcake, which boasts an indulgent edible gold leaf frosting. But this item is the one that really takes the cake – it's a high heel shoe made by a French designer whose primary feature is that it uses a block of gold shaped like a cassette for the heel!
Not Quite A Soup Kitchen
Dubai isn't just a luxury playground where the privileged few pamper themselves and flaunt their wealth – the city has a caring side, as well. Here we can see Dubai's commitment to helping the needy. But this isn't your average public food bank, where the best the poor walk away with are a couple of cans of tuna – this refrigerated, luxury food bank dispenses yummy things like yogurt and cappuccino mix, which shows that not only the rich deserve to treat themselves.