The music and film icon Cher recently traveled to Pakistan to celebrate Kaavan's departure from his home in the Pakistani zoo and his resettlement in Cambodia, where he will live under much better conditions in a special sanctuary. Kaavan is also known as the "world's loneliest elephant," and providing a happier life for him has been the goal of many animal rights groups and activists in recent years. Their efforts have finally paid off.
Cher Was a Strong Advocate for Kaavan's Resettlement
Back in 2016, when the world first learned about Kaavan' plight, many animal activists and organizations began petitioning to free the sad and lonely elephant. Four Paws, known as an animal rescue mission organization, and Cher took up Kaavan's cause and eventually fought for its happy ending. The singer flew to Pakistan off the record and met with Prime Minister Imran Khan to discuss the details of Kaavan's resettlement.
Kaavan hasn't had an easy life. He has languished in the Pakistani zoo for over 35 years, spending most of that time in chains. The animal even lost his beloved partner in 2012 when she died after an infection. What caused severe emotional damage to Kaavan was the fact his dead partner laid next to him for days before it was removed. Can you imagine the trauma the heartbroken elephant went through? It's one of the reasons Dr. Amir Khalil, a veterinarian working with Four Paws, diagnosed Kaavan as emotionally and physically damaged. Living in chains, surviving his partner, and spending so much time in isolation all contributed to dubbing him the loneliest elephant in the world.
Cher Is Making a Documentary on Kaavan
After her meeting with Khan, Cher expressed her gratitude to Pakistan's prime minister for making it possible to take the elephant to a safe sanctuary in Cambodia. She also revealed she's working on a documentary that traces Kaavan's journey and resettlement. She believes it "will be heartwarming," and we agree!
A Look At The Amazing Private Island That Tim And Faith Bought For Themselves
Country music's power couple Tim McGraw and Faith Hill certainly have good taste in properties. The couple has a history of impressive homes and, in this article, we take a look at some of the most luxurious abodes they've bought and sold over the years. Prepare for some serious interior design envy!
L'ile de Agnes, Bahamas
Tim McGraw and Faith Hill have always had stunning homes, but the country's favorite married couple really outdid themselves when they purchased a 20-acre island in the Bahamas named L'ile de Agnes in 2003. They bought the island with the desire to build their very own private island paradise, but it would be many years before they made their dream a reality, as the only building on the island when they purchased it was a small shack. They were playing the long game!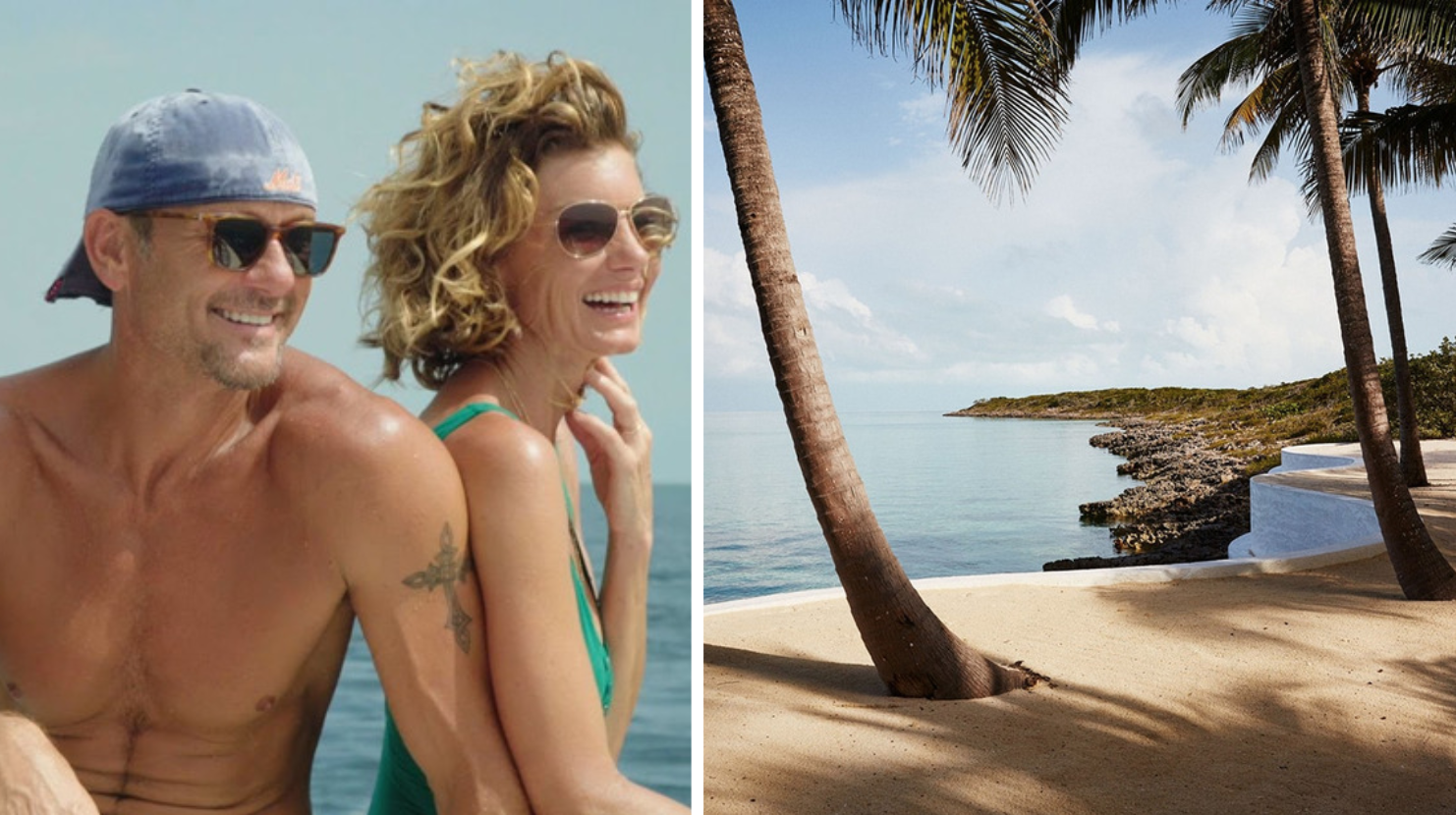 Pool Between The Palms
When surrounded by the sea, a pool seems less necessary, but fans of country music legends Faith Hill and Tim McGraw will know that the couple can't bear to have a property without a swimming pool. The pool terrace itself is mere meters from the seaside, and transitions smoothly into the internal house spaces. Designed to accommodate a comfortable number of people, the stylish outdoor furniture in aquatic hues was made by Royal Botania and Henry Hall.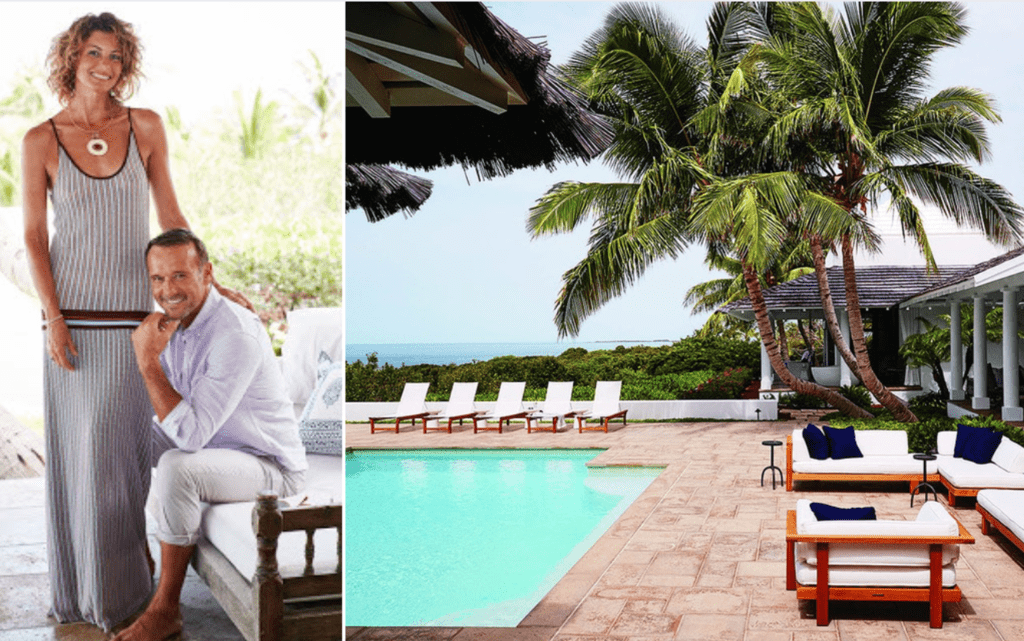 Something For The Soul
The open-air living space that connects one of the pavilions to the pool area is particularly preferred by Faith Hill who said "We wanted to feel connected to the outside. When the breeze comes through the room, it's just life-changing… It really is! It's something for the soul." The interior designers have done a superb job matching the blue accents of this room with the clear sky and sea outside, and the whole experience seems extremely harmonious and peaceful.
Deep Blue Dream
Faith Hill told Architectural Digest in 2017, "We set out to build a house. We had no idea we had to build everything else". "We basically had to build a little town," said McGraw, who went on to describe how they had to provide housing for all of the people helping to create their oasis, plus finding ways to have running water and electricity. Despite being a country couple, the pair love the ocean and swimming so they were determined to make the island their home.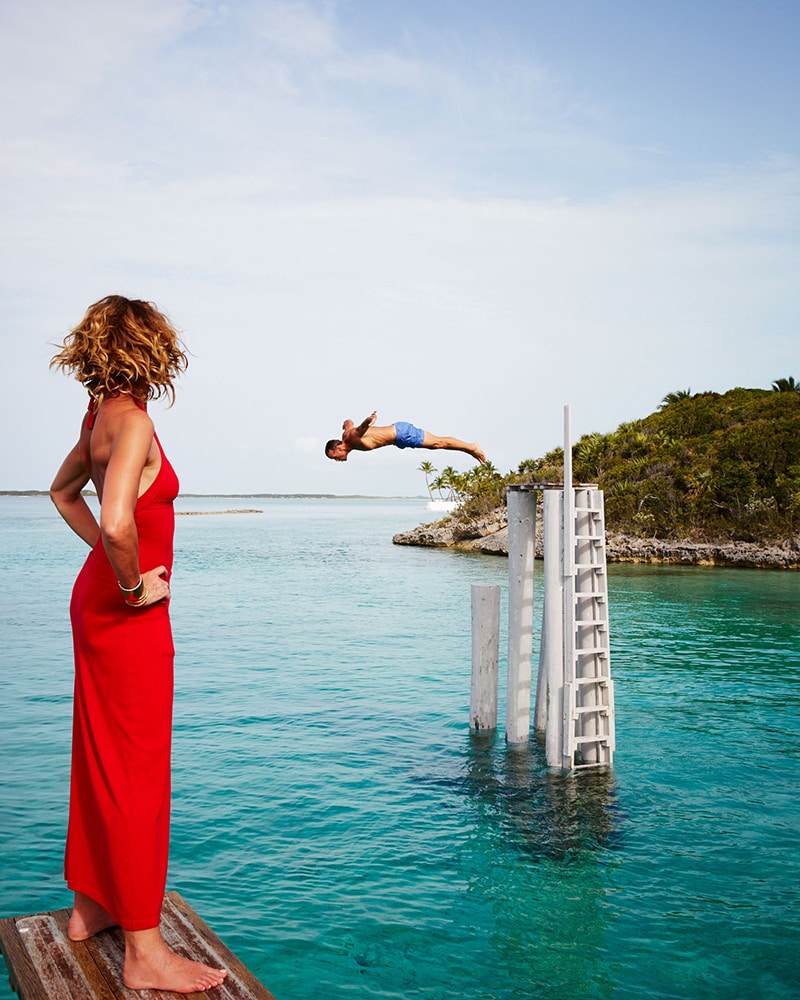 A View For Two
Although they love to have company, much of the property seems to be designed in a romantic way. This slice of paradise includes several cute corners where Faith Hill and Tim McGraw can spend time together far away from the busy trappings of superstardom. Faith Hill remarked that "As long as our family is together we can pretty much make a home anywhere." True as that is, we bet it having a private island really boosts the family togetherness!
Pavilions Of Peace
From the pre-existing little shack on the property, Faith Hill and Tim McGraw have crafted a stunning eight-pavilion home connected by thatched roofs. The exterior features well-maintained landscaping, which has always been important to the couple, and they maintain the tropical feeling by highlighting the palm trees on arrival to the property. Their architect, Bobby McAlpine from the Tennessee firm McAlpine, asked himself the question: "What does paradise look like for a couple of creative people like them?" The answer: this!
The 9-Year Project
It took nine years for Faith Hill and Tim McGraw to have the home built and furnished. Their initial aim was that their white, airy new build would blend in with the environment of the island, and it does so gloriously. Bleached wood and tropical accents are featured throughout the design, with architectural flourishes that nod to the styles of traditional Greek island houses. The couple were inspired by beaches and kept the color palette washed-out with only natural flashes of color.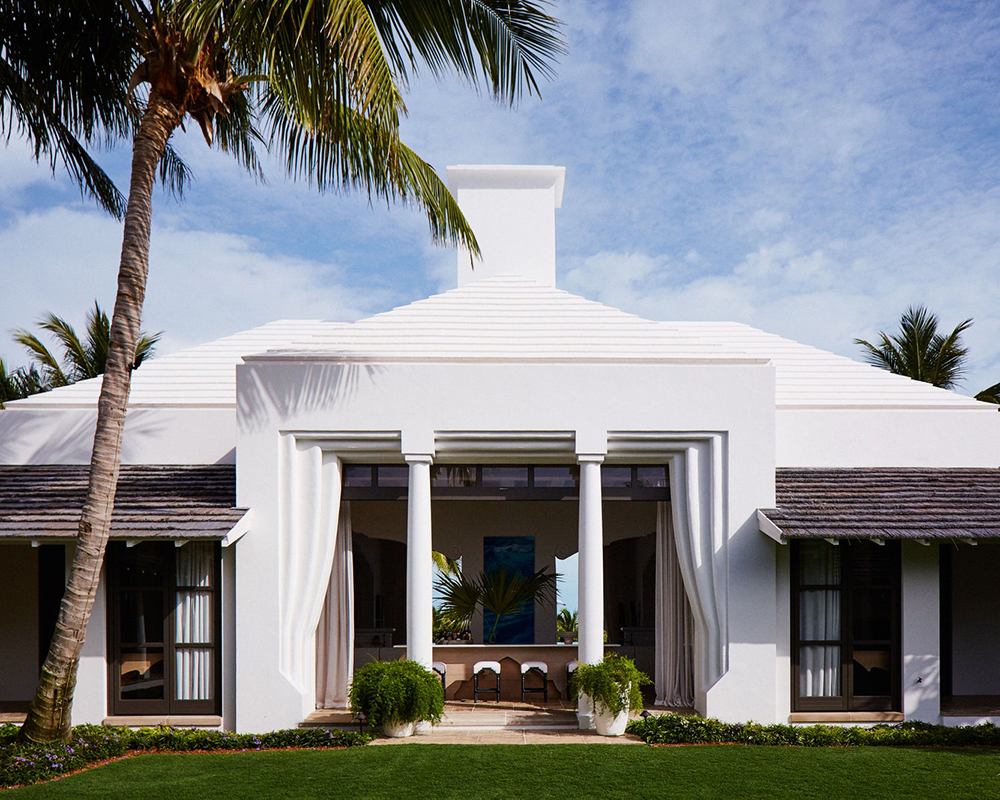 A Life Spent On The Road
Faith Hill and Tim McGraw are used to life on the road and spend much of their time touring. While the Bahamas property was being completed, they often visited the island with their three daughters Gracie, Maggie and Audrey. Tim recalls the many vacations spent sleeping on the beach in large seaside yurts: "It was like camping! The kids loved it." However, the couple seems overjoyed to finally have their dream home built and furnished to perfection.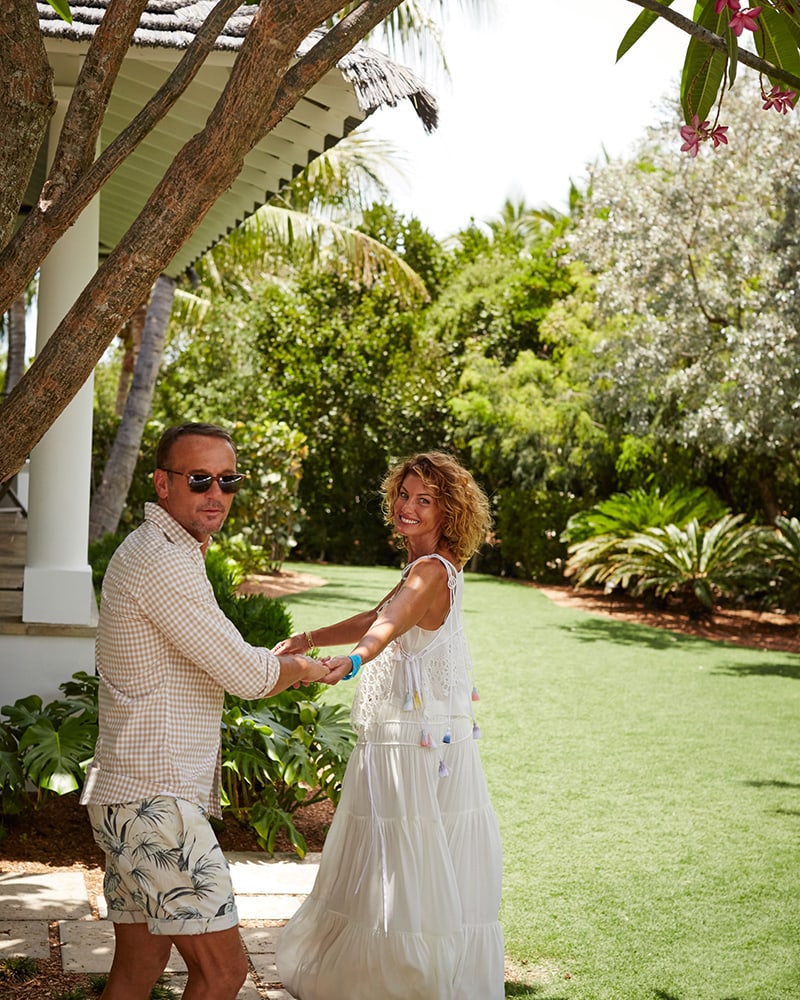 Space For Friends And Family
Another one of the eight pavilions in Faith Hill and Tim McGraw's Bahamas paradise property has everything you could need for a relaxing day spent with friends and family. The dining table in warm wood has space for 8 people to sit around. The lowered sofa seating is great for relaxed socializing and is the ideal shady corner to retreat to when the midday sun is high in the sky. It seems like the couple have really thought of every occasion!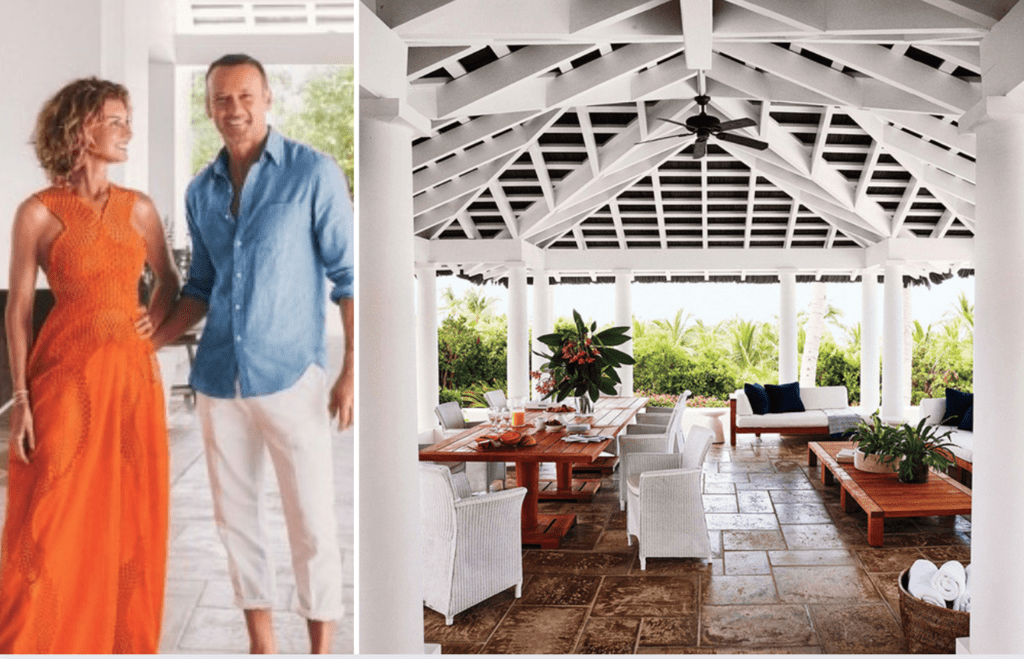 Spacious And Architectural
The little details are what make the difference in this kind of premium property, and this transitional stairway with an arch is absolute perfection. Despite being a new build, its classiness makes it seem like a timeless property. The hallways of the house all have this same airy feeling which makes it seem totally zen. This would be an ideal place to practice yoga or sit on a step to read a book in peace.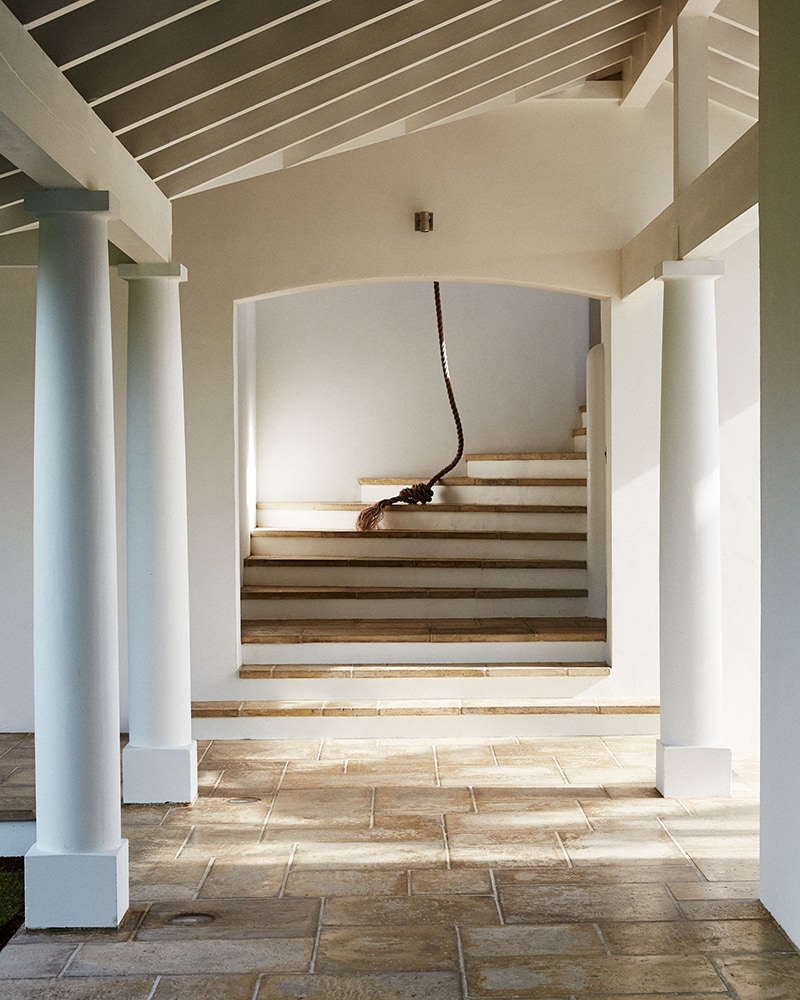 Guest Bedroom, Kitty Included
Who wouldn't want to be a guest of Tim McGraw and Faith Hill in their stunning property on a private island? It seems that no expense was spared in the guest bedroom either, which is decorated in the same seaside-inspired tones that we see in the rest of the property. And what's better than a room with a sea view? A room with a sea view and a kitty too! That's one way to feel at touch with nature.
Fall Asleep To The Sound Of The Ocean
The master bedroom is the pride and joy of Tim McGraw and Faith Hill. This incredible room opens up completely along one wall so you can fall asleep to the sound of the ocean and wake up to the sound of the birds. According to the Architectural Digest article, the room also has a free-standing bathtub big enough for two on its porch! The entire Bahamas property is immaculate, and a dream come true for the country couple. But what about their other houses? Read on to discover more!
Boat Access Only
L'ile de Agnes sits in the middle of a spattering of small islands in the Bahamas. Exhuma is the nearest international airport, so Faith Hill and Tim McGraw have to use a boat to reach their island paradise. It's surely a pleasure to zoom over the crystal clear waters, so approaching the island becomes a whole adventure in itself. The couple has three daughters who often join them and their friends on group vacations to the gorgeous property.
Even the Entrance Is Stunning
Here, Faith Hill and Tim McGraw can be seen hanging out in the stunning entrance loggia of their home. It was architects and designers Bobby McAlpine, Greg Tankersley and Ray Booth who envisioned how this entrance would look and it is the perfect way for the couple to welcome whatever friends and family they have visiting at any given time. The entrance doesn't just look great, it's also practical as it leads the couple to virtually any part of their home.
A Bath With a View
The porch of the master bedroom isn't just a beautiful space where one can take beautiful views of the sea that will last a lifetime. It is also a place where one can clean themselves after a trip to the sandy beaches. This freestanding oval bathtub was built by Waterworks. It just goes to show that every detail, both big and small has been meticulously thought out to make sure that it perfectly blends into the home.
Tranquil Waters
One of the biggest selling points that led Faith Hill and Tim McGraw to this remarkable part of the world was its tranquil waters. What separates this island from others around it was how peaceful the surroundings were. While they would undoubtedly be able to find things to do such as scuba dive, jet ski and swim, these waters are also wonderful to look at while walking down the white sandy beaches. If there's one thing that the couple wanted, it was peace.
Going on Adventures Together
Despite their busy lifestyles and the desire to find a home in a peaceful environment, this didn't stop Faith Hill and Tim McGraw from wanting to explore the island and go on a variety of adventures. The couple, along with their kids, love nothing more than going on hikes through the island's copious amount of jungles and cliffs. In this photo, Faith can be seen watching McGraw taking a brave leap off a cliff into the ocean.
The Best Place in the World
If anything could summarize how Faith Hill and Tim McGraw feel about their island home, it would be Faith's words: "We've been all over the world, and we really wanted to create a special place we couldn't find anywhere else." Tim reiterated her sentiment by adding, "Every time we land the plane and walk onto the beach and head up to the house, we turn to each other and say, 'This is the best place in the world.'"
Franklin, Tennessee
Faith Hill and Tim McGraw bought this incredible 753-acre farm consisting of four residences from renowned country music legend, Hank Williams in 2001. It contains not one, but four main residences and plenty of other smaller abodes for staff and friends. The couple had to choose which parts of the property they would renovate. This ballroom with a spiral staircase, hand-painted frescoes, and vintage chandelier would be stunning if it had been restored to its former glory. Older buildings on the register of Historic Places often have stringent legal conditions attached concerning what you can and cannot do to a building.
Beechwood Hall
The H. G. W. Mayberry House, also known as Beechwood Hall, is a historic antebellum plantation house built in 1856. It's even on the Franklin, Tennessee, register of Historic Places. From the outside, it is incredibly impressive. Perhaps that's why country singers Tim McGraw and Faith Hill ultimately decided not to renovate this main property and turned the attention to other buildings on the property instead, like the country log residence.
Rolling Countryside
Guests must have been gobsmacked at the sheer size of this Franklin property. Faith Hill and Tim McGraw would have needed a large team to tend to the pastures and take care of the orchards, from which a sizeable apple harvest can be obtained every year. The water in the stream looks extremely clean, so Tim and Faith could have happily swum there, surrounded by the breathtaking Tennessee countryside.
The Barn Conversion
This carefully renovated barn is the perfect set piece for a couple of country musicians! It's unclear as to whether Tim McGraw and Faith Hill ever had horses, although there are 12 fully functional stalls here if they wanted to. In many ways, the entire 753-acre estate is a country musician's dream. You could saddle up and ride through the countryside for miles whilst never leaving your property, although it's certainly more enjoyable if you invite some friends along for the ride.
The Bungalow
This small house is one of the two guest quarters available on Faith Hill and Tim McGraw's large estate in Franklin, Tennessee. According to reports, the couple bought the estate in several parcels in 2001. They actually used the estate for over 12 years, although never as their primary residence, before eventually putting it on the market in 2013 for a cool $20 million. It probably cost quite a lot to maintain this giant estate, and they would have sold it in the knowledge that their island paradise was almost complete!
The Log Cabin
Tim and Faith never actually restored the main Beechwood Hall property, and instead chose to spend most of their time in this 3,300 square-foot log cabin built between 1800 and 1850. The couple restored this property, named Samuel Morton House, and it too is on the National Register of Historic Places. They actually used the estate for over 12 years, although never as their primary residence, before eventually putting it on the market in 2013 for a cool $20 million. It probably cost quite a lot to maintain this giant estate, and they would have sold it in the knowledge that their island paradise was almost complete!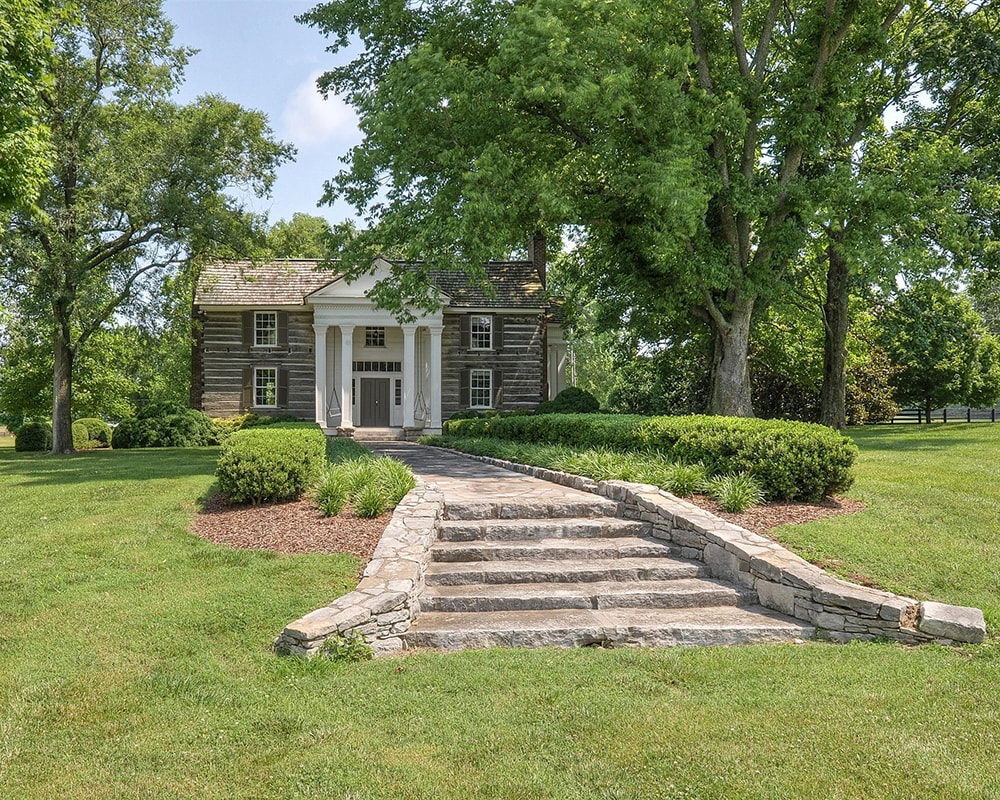 A Lot Of Work To Do
The main house of Beechwood Hall was not restored by Faith Hill and Tim McGraw during the time they lived on the Franklin estate. It seems that although it was a beautiful, large residence, there was a lot of work to be done that would have been both time-consuming and costly. It seems that this large room with a fireplace has single-glazed windows, which would lose a lot of heat during the winter and would not be very eco-friendly.
Intricate Wood Panelling
Beechwood Hall has some very classic period features throughout, like this intricate floor to ceiling wooden paneling. It's no wonder that Faith Hill and Tim McGraw didn't refurbish this large property, as they would have had to employ somebody full time just to polish all of the wood! Again, this room is very large and it doesn't look like there is central heating installed, so it would have been a mammoth undertaking to make it liveable and functional as a part-time residence for the family.
On The Porch With A Lemonade
Finally, we find ourselves in the property within the Franklin estate that Faith Hill and Tim McGraw did renovate and live in. This gorgeous porch complete with rocking chairs is at the back door to the 3,300 square foot house. The perfect place for sipping lemonade in the sunshine! The couple could enjoy a summer's afternoon in this spot whilst gazing out across the green pastures of the large, luxurious property.
Farmer's Kitchen
The brand new kitchen that Tim McGraw and Faith Hill added in their stunning Franklin home has a homely, country vibe to it. The furnishings are light and bright with painted wood adding to the log cabin effect that we saw on the exterior. This home is very stylish but has a relaxed and more friendly style compared to some of the couple's previous homes. It looks warm and inviting compared to the main building, so it's clear why they chose to renovate this house instead.
Vaulted Ceiling
This converted log cabin on Tim McGraw and Faith Hill's estate in Franklin, Tennessee, has 5 bedrooms. The bedrooms would have been kept just for sleeping because this stunning living room is an incredible space that just calls out to be occupied. The vaulted ceiling adds intrigue, while the classic chic style we saw in the kitchen is replicated here too. The large French doors that open to the garden could be flung open in summer to listen to nature humming in the background.
In The Conservatory
This peaceful conservatory area was added by country superstars Faith Hill and Tim McGraw when they renovated the log cabin. The view extends across the estate, where apple trees line the fields and all manner of creatures scuttle around the pastures. It seems like the couple truly wanted to build a haven of peace and quiet where they could feel like normal country folk, albeit wealthy ones! It's a shame they ultimately sold this property in 2013 as it looks like it's got it all!
Giddy Up!
Last but not least, there's a view of the fully equipped stables area for horses in the separate barn building. Every country star dreams of riding around their estate on horseback, and it seems like Faith Hill and Tim McGraw are no exceptions! Their children have lead relatively sheltered lives, but it seems that the daughters all tried out horseriding at one time or another, which may be why the couple kept the stables in great condition. Giddy up!
Nashville, Tennessee
This stunning house in Nashville, Tennessee, was home to Faith Hill, Tim McGraw, and their 3 children up until 2013. The 5-bedroom property was built in 1936 and sits in a private and leafy street. It looks like the perfect place to relax! This gorgeous property has a lot of furnishings that are interesting too, with the antique wooden rocking horse that looks to be from the Victorian era. Read on to get a glimpse of Faith and Tim's love of romantic style inside and out in this Nashville, Tennessee home.
Breathtaking First View
The front facade is breathtaking, with its double-height columns and a grand roof terrace that looks across the wooded area. The whole property is almost 10,000 sqft meaning there's more than enough space for a couple and three teenagers. It's beautifully bathed in natural light, with amazing views of their perfectly groomed garden surrounding the property. The drive up to the house would be a treat for any guest.
Sculpted Garden
Faith Hill and Tim McGraw are big fans of a sculpted garden, and this property is no exception. The whole estate is fully landscaped with professional topiary on all the trees and bushes. It's worth mentioning that there are houses for workers and a nanny, meaning that Faith and Tim could have staff on-site to tend to the beautiful plants and flowers all year round, handy! What, did you think they were chlorinating that pool water themselves!?
Perfect Pool
Speaking of pools, this one is an absolutely beauty! The three children have always been keen swimmers, so Faith Hill and Tim McGraw made sure they could keep up the sport. The stepped entry looks like a great spot for the adults to sit with a cocktail on a sunny afternoon. This pool also has an adjacent poolhouse big enough to have people to stay over in. Perfect for when the kids have friends round and want to make a little noise!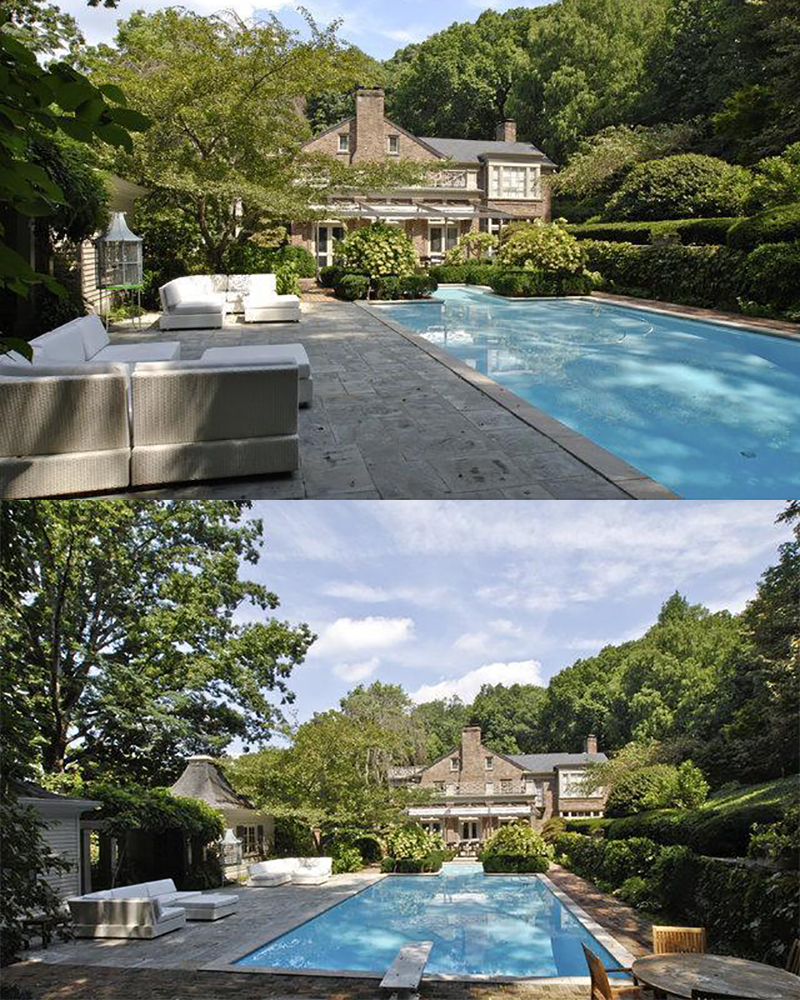 Sun-kissed Patio
It's fair to say that Tim McGraw and Faith Hill enjoy having company over, so they'd make regular use of this gorgeous sun-kissed patio area. Nashville has pleasantly hot summers, so this area would be action from May until September. Accordingly to the estate agent listing, there is also a barbecue and a wet bar outside, so the couple can wow their celebrity friends with restaurant-style food and drinks service. It's the little details that count in this $4 million mansion.
Stylish And Functional
Guests entering Faith Hill and Tim McGraw's gorgeous Nashville mansion would be instantly impressed by this classic helical staircase that sweeps up to the second floor. There are obvious nods to the 1930s era of the house, and the interior stylings are in harmony with the architecture. The lantern light fixture in the entrance hall is gorgeous, and the vintage fan in the casual dayroom area brings back memories of the glory days of American architecture. Stylish and functional!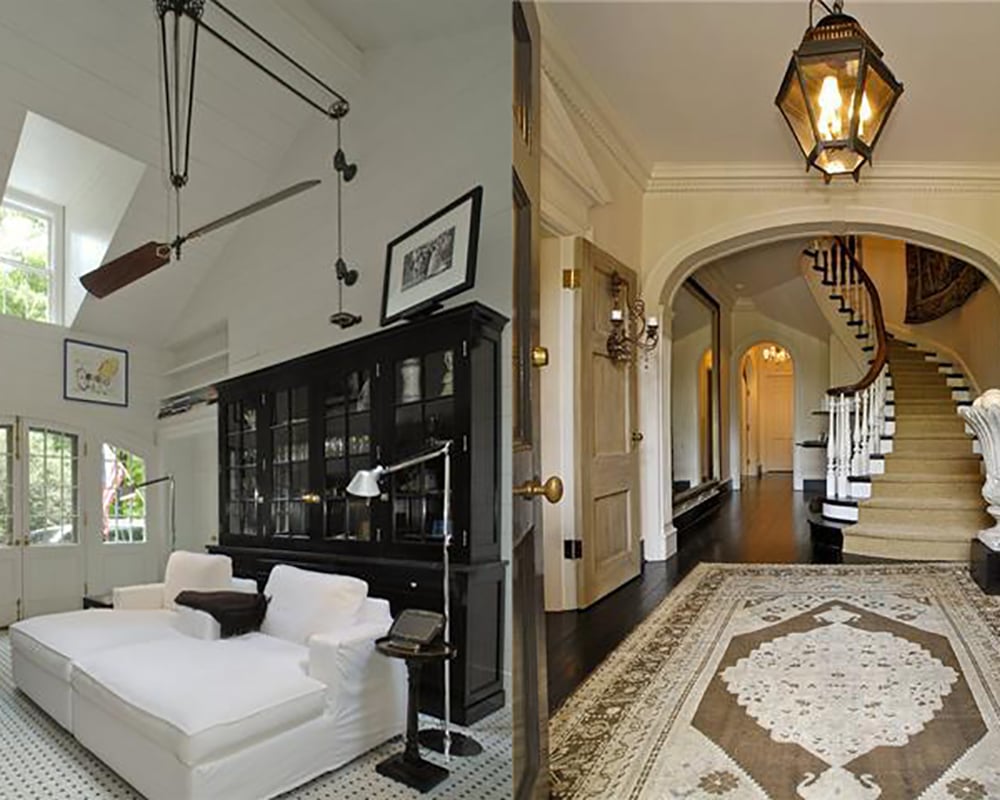 Environmentally Friendly
The rest of the house may be vintage in design, but the kitchen appears to be very modern and functional. This gourmet kitchen has all the modern appliances, from a large range, a trash compactor, and a big-screen TV that's ideal for watching your favorite show while you cook. The energy and heating to the kitchen and to the whole house is natural gas and geothermal energy, meaning it's also incredibly environmentally friendly. These are two country singers who want to care for their country!
Neutral Color Palette
Faith Hill and Tim McGraw love to have a variety of living spaces for all occasions. The fireplace should be noted – that'll come in handy when the cold Tennessee winters roll around. As in the other rooms, the neutral color palette is maintained in these lounges, making them appear calm and open. According to the estate agent listing, this property also has a 4K theatre! You can imagine the whole family hunkering down for a cinema-style movie night during bad weather.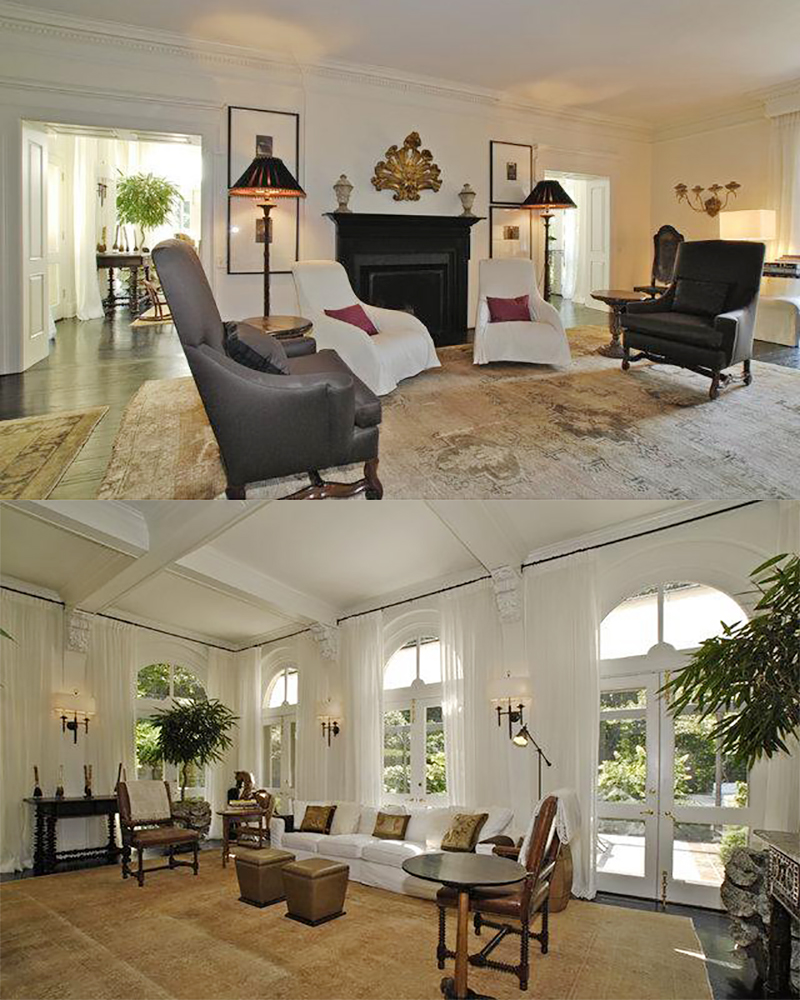 A Tale Of Two Dining Areas
Last but not least, two dining areas! The first room seems to be a more formal setting, perhaps for when visitors came. The second looks to be decorated in the same style as the kitchen and could have been used for casual snacks and family-only meals. The formal dining room has exquisite vintage wallpaper, but there is something very charming about the second room. It would be so peaceful to sit down and gaze out towards the beautifully cared-for garden.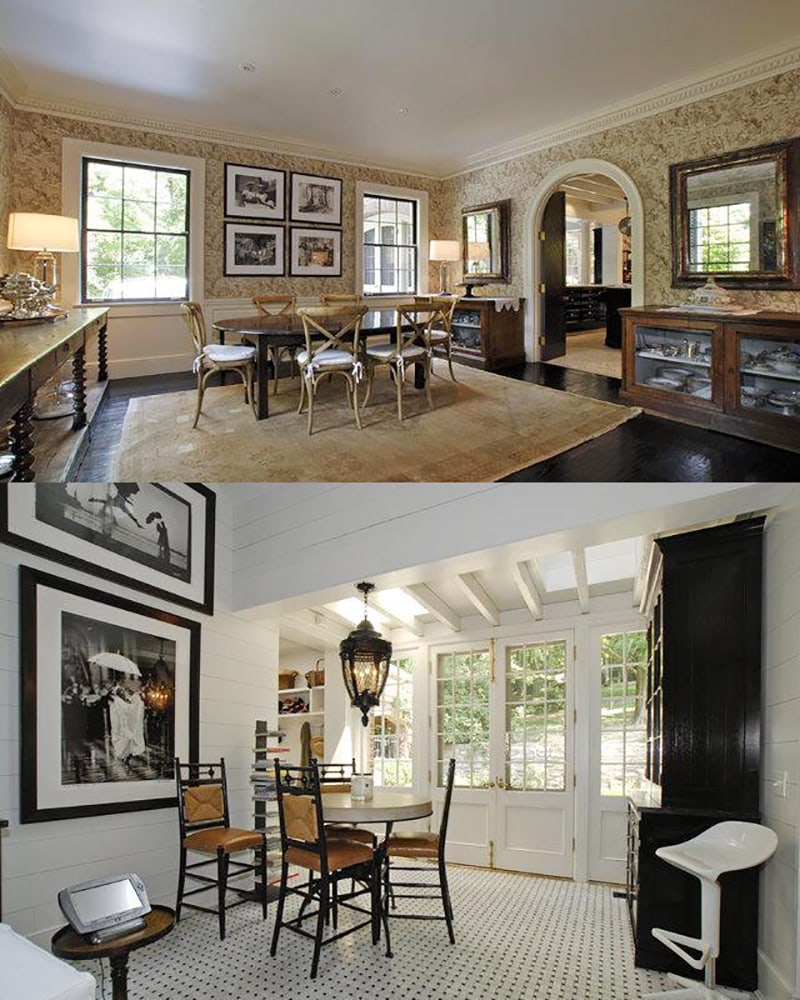 Beverly Hills, California
While Faith Hill and Tim McGraw had a family home in Tennessee, they also owned this Beverly Hills house. The pair were often in Los Angeles for work, so it's no wonder they needed a second home, and they lucked out with this exclusive neighborhood. Even though this Beverly Hills pad was not Faith Hill and Tim McGraw's primary residence, they still made sure there was plenty of room to entertain guests. The lounge features interesting period touches such as the exposed wooden beams and functioning fireplace.
Beverly Hills, California
Due to the California sun, Faith and Tim were more likely to use their outdoor seating area than the open fire! The wooden trellis is a nice touch to complete the Mediterranean feel – you can almost imagine grapevines trailing over it. The house sits on a 4-acre plot on a small hill with breath-taking panoramic views. It certainly makes a change from some of their more rustic Tennessee properties, although perhaps the style inspired their Bahamas home.
Get Ready To Grill!
This stunning property is described as a Mediterranean estate, which is evidenced by the warm, terracotta tiles and cool white exterior walls that are found in villages in Italy, Spain, and Cyprus. Of course, Faith Hill and Tim McGraw required a luxurious pool, and this one looks good enough to dive into! There's a casual outdoor seating area with a built-in grill for when the BBQ mood strikes and the garden is manicured to perfection. The property cost the couple over $10 million when they purchased it.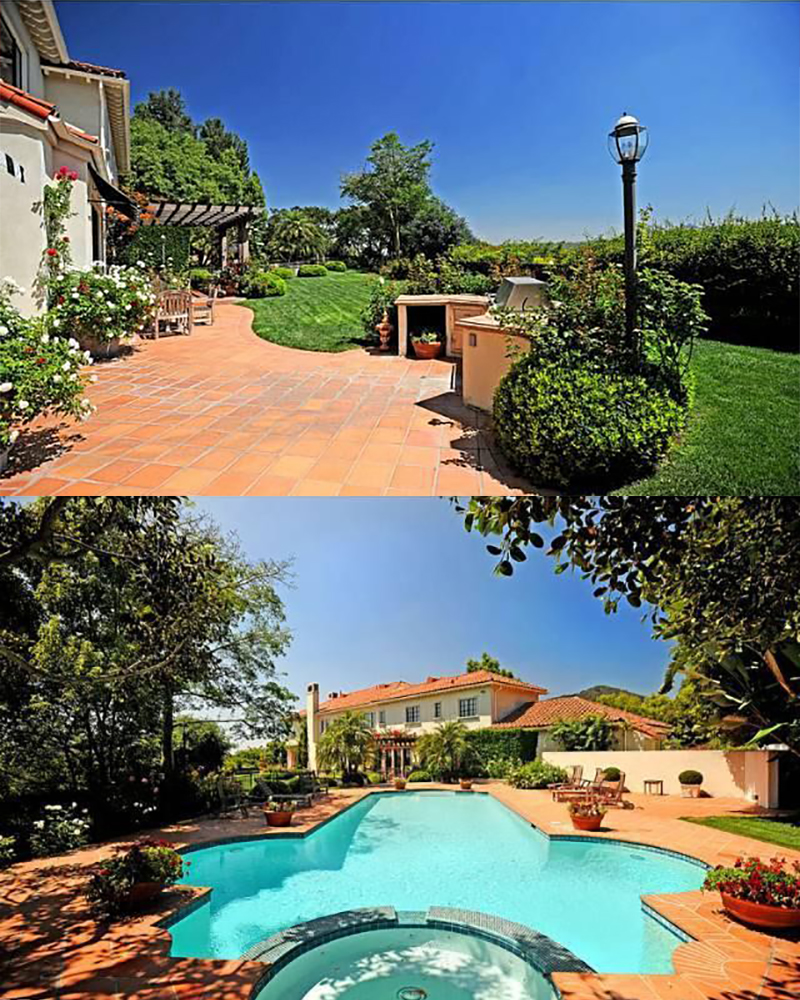 Fit For Royalty
The rest of the interior of this Beverly Hill's property is equally plush, with dark woodwork and comfy-looking soft furnishings fit for royalty… or country music's royal couple, anyway! According to the estate agent listing, the stylish house also has a gourmet kitchen with all stainless steel appliances. Faith Hill and Tim McGraw eventually sold this property in 2009, by which time they already had the Bahamas home in progress, as they probably had more houses than they needed.
Belle Meade, Tennessee
This large 1960s property in Tennessee's Belle Meade area was bought by Faith Hill and Tim McGraw in 2004. The house sits on an 11.6-acre lot in a wooded area, with a long private drive that leads to a broad parking area. There is a large swimming pool, which is definitely one of the couple's non-negotiable 'must-haves', an outdoor lounging area, and a neat-looking sculpted rear garden. The couple stayed in this property until 2010 when they sold it for $2,115,000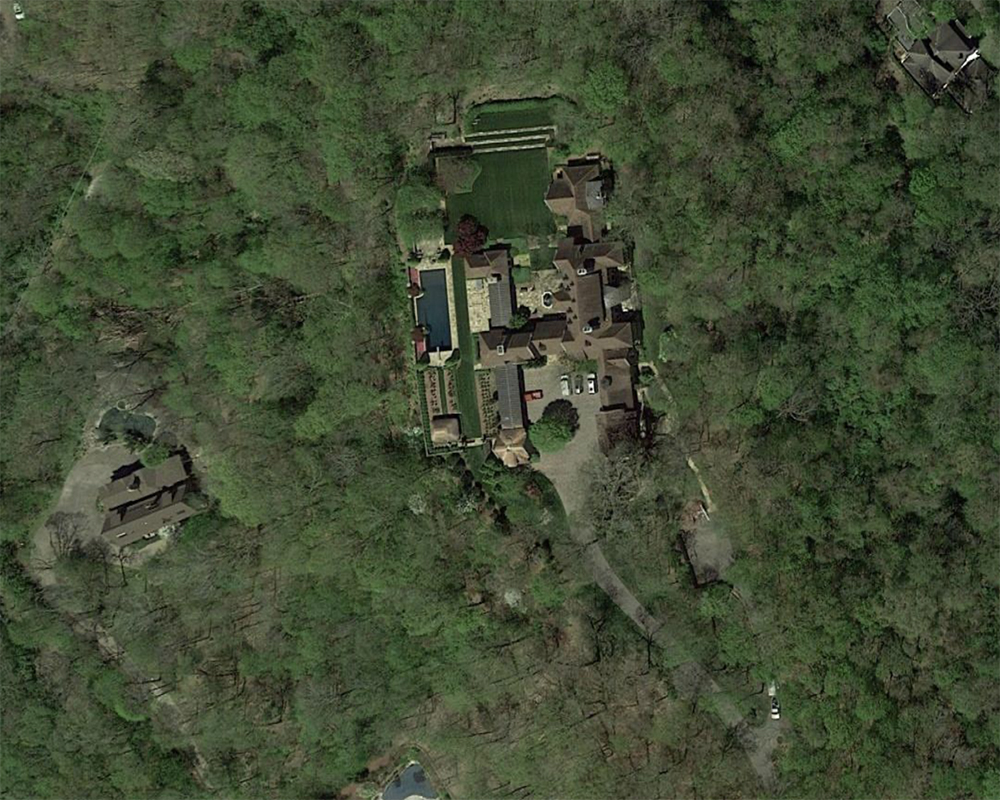 Feels Like Home
Faith Hill and Tim McGraw's Belle Meade house boasts 7 bedrooms and 5 bathrooms, as well as a large attic and basement. The estate agent that sold them the property said, "The 6,072 square-foot house is a wonderful, welcoming place that feels like home. It has a pool and a beautiful wooded lot." There is a large swimming pool, which is definitely one of the couple's non-negotiable 'must-haves', an outdoor lounging area, and a neat-looking sculpted rear garden. The couple stayed in this property until 2010 when they sold it for $2,115,000
Brentwood, Tennessee
This mid-90s house on a quiet, leafy street in Brentwood, Tennessee, was home to Faith Hill and Tim McGraw until 2005. They sold the gorgeous property for a cool $1,855,000. Since then it's added half a million dollars to its value from inflation alone! There is a large swimming pool, which is definitely one of the couple's non-negotiable 'must-haves', an outdoor lounging area, and a neat-looking sculpted rear garden. The couple stayed in this property until 2010 when they sold it for $2,115,000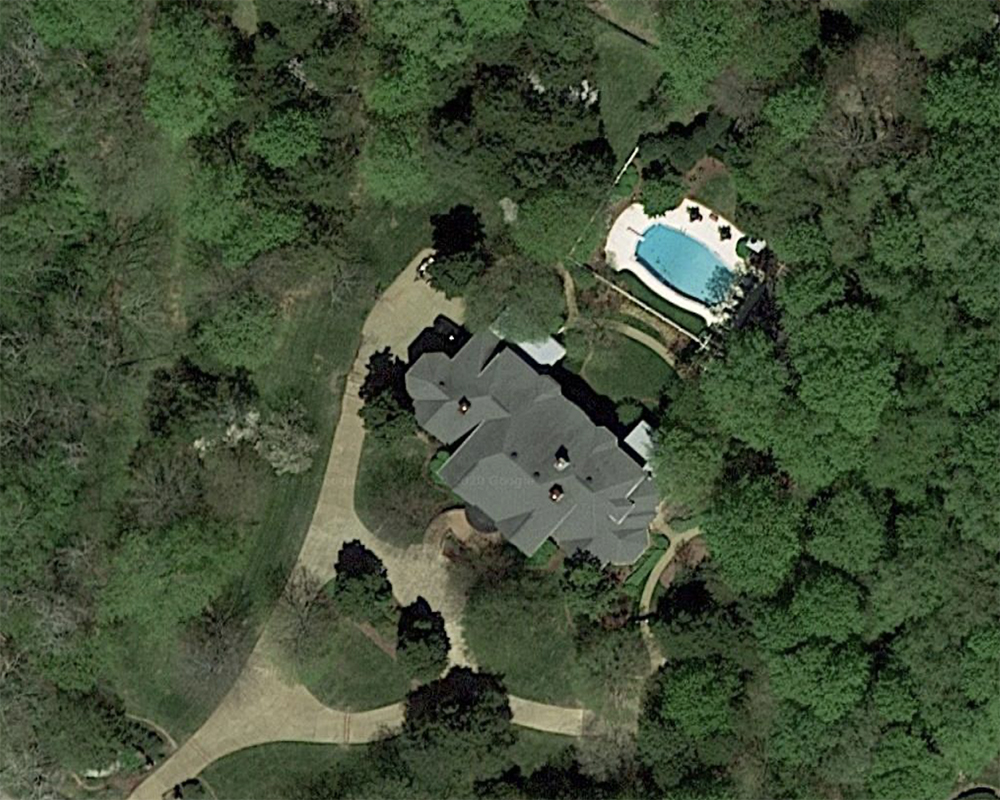 A Place To Get Away
Faith and Tim never shared any photos of the property, so not much is known about the interior, although an estate agent website states it has a fireplace and 10.5 bathrooms. It sounds like there are plenty of rooms to have guests stay! The early 2000s were Faith Hill's real breakthrough years in music, so the couple probably wanted a nice, secluded property where they could get away from their busy professional lives.