It's no surprise to us that the biggest names in news earn the biggest salaries. They work hard to bring us the most up-to-date, relevant, and hard-hitting news stories daily. Whether its sports, entertainment, politics, or weather, we tune in to better understand our world. Some are reporters, some anchors, and some correspondents. In any case, you'll certainly recognize these famous names and faces. All of the names on this list had to work extremely hard to get where they are today. Nothing was handed to them and every single penny of their jaw-dropping salaries has been earned through their dedication and commitment to their work. Lets' see what they make.
Abby Huntsman- $3 Million Annual Income
Abby Huntsman worked her way up from a behind-the-scenes internship at the ripe young age of 16 on Good Morning America to becoming a general assignment reporter for Fox News Channel.
In her now well-established career, Huntsman brings in a total income of $3 million annually. It was announced in August 2018 that Huntsman would be joining the ABC talk show The View as a co-host alongside Whoopi Goldberg, Joy Behar, Sunny Hostin, and Meghan McCain.
Ainsley Earhardt- $400 Thousand Annual Salary
A South Carolina native, Ainsley Earhardt began her broadcasting career before she graduated from the University of South Carolina as a reporter for a local CBS station in Columbia, South Carolina.
In 2005, Earhardt took a job in San Antonio, Texas as a weekday anchor for KENS-TV Eyewitness News. She stayed in Texas for two years before landing a job based out of New York City with Fox News Channel. Her annual salary is reported to be around $400 thousand.
Erin Andrews- $1.6 Million Annual Income
Erin Andrews has become one of the most famous sportscasters and television personalities in recent years. She has worked on ESPN's College Gameday, as well as ABC's Good Morning America.
Andrews currently earns around $800 thousand per year working as a sportscaster and journalist for Fox NFL. That, on top of her $700 thousand per year as a host of Dancing with the Stars, and $100 thousand per year in endorsements brings her annual income to a whopping $1.6 million.
Michael Strahan- $17 Million Annual Income
Former New York Giants defensive end Michael Strahan wasted no time after retiring from his 15 years in the NFL in 2007. He began working on Fox NFL Sunday as a football analyst and quickly climbed his way up the ladder as a television personality, branching out to hosting jobs outside of football.
He co-hosted Live! with Kelly and Michael from 2012 until 2016 and is now the host of ABC game show The $100,000 Pyramid. Strahan's annual income is reported to be around $17 million.
Hoda Kotb- $7 Million Annual Salary
Hoda Kotb has worked on NBC since 1998 when she joined as a correspondent for Dateline NBC. In 2008, Kotb began co-hosting the fourth hour of the Today Show with Kathie Lee Gifford and in 2017, became the third co-anchor of Today.
Following the dismissal of Matt Lauer, Kotb officially became part of the first-ever entirely female co-hosting duo in the show's history in January of 2018. With her promotion, Hoda Kotb will be bringing in an annual salary of $7 million a year.
Kelly Ripa- $22 Million Annual Income
Kelly Ripa's rise to prominence began in 1990 with her portrayal of Hayley Vaughan on the soap opera All My Children. This proved to be her longest acting role on television, lasting 12 years.
In 2000, Ripa became a co-host of Live! with Regis and Kelly, alongside Regis Philbin. Today, she still works on the talk show, and has shared the desk with Philbin, Michael Strahan, and current co-host, Ryan Seacrest. In 2017, Ripa's annual income was reported at $22 million.
Megyn Kelly- $23 Million Annual Salary
While previous reports listed NBC News anchor Megyn Kelly's salary to be around $17 million, DailyMailTV has reported that her salary was, in fact, even higher than anyone had predicted.
The former Fox News employee was offered around $20 million to stay, but Kelly had other plans in mind, making the move to NBC in 2017 and bringing in an annual salary of about $23 million. Megyn Kelly had been with Fox News for 13 years before deciding to move on.
Nancy O'Dell- $2 Million Annual Salary
Former Miss South Carolina and Clemson graduate Nancy O'Dell began her broadcasting career in her hometown of Myrtle Beach, South Carolina with a job as a reporter and anchor at WDPE-TV.
She worked her way through a few other local stations in Charleston and Miami before landing a job on Access Hollywood, where she stayed from 1996 until 2009. Today, she works as a special correspondent on Entertainment Tonight, where she brings in a reported salary of about $2 million.
Anderson Cooper- $12 Million Annual Income
After deciding a career with the Central Intelligence Agency was not for him, Anderson Cooper opted to pursue a career in journalism.
While working as a fact checker for Channel One, Cooper forged himself a fake press pass and began selling his own news segments to Channel One. Now a household name, Anderson Cooper has come a long way since then, serving as the primary anchor of Anderson Cooper 360°. He brings in an annual income of about $12 million.
Paula Faris- $565 Thousand Annual Salary
It took Paula Faris a few years before getting her big broadcasting break, but when she became a production assistant at WKEF/WRGT, she took full advantage of the opportunity, eventually becoming a part-time reporter and anchor.
She would later work in Cincinnati and Chicago before signing with ABC to work on World News Now and America This Morning. These days, Faris co-hosts The View and works as a correspondent for ABC News. Her annual Salary is reported to be close to $565 thousand.
Brian Williams- $10 Million Annual Salary
Brian Williams was reportedly making a staggering $15 million per year as an anchor on NBC prior to a 2015 scandal that exposed Williams for exaggerating his personal experiences as a reporter during the U.S. invasion of Iraq in 2003.
Following the controversy surrounding his lies, Williams was demoted to a breaking news anchor on NBC's sister station, MSNBC. While his reputation was certainly tarnished, we're pretty sure that Williams' yearly salary of $10 million can still put a smile on his face.
Katy Tur- $1.3 Million Annual Income
Katy Tur worked for several local stations around New York, including News 12 Brooklyn and Fox 5 New York, and even served as a storm chaser for The Weather Channel before NBC News picked her up in 2009 as a broadcast journalist and correspondent.
In September 2017, Tur released her first book titled Unbelievable: My Front-Row Seat to the Craziest Campaign in American History, in which she shares her experience covering the 2017 presidential elections. Tur is believed to earn around $1.3 million per year.
Charissa Thompson- $500 Thousand Annual Income
Throughout her career, television host and sportscaster Charissa Thompson has been affiliated with ESPN, Versus, GSN, and the Big Ten Network. She currently works for Fox Sports, where she serves as a sideline reporter for NFL games.
She is also a sideline reporter for the Big Ten Network, covering college football, and college basketball games. She was once a co-host of FSN's The Best Damn Sports Show Period, which was canceled in 2009. In 2016, Thompson's annual income was reported around $500 thousand.
George Stephanopoulus- $15 Million Annual Salary
Prior to becoming a journalist, George Stephanopoulos spent over a decade pursuing a career in politics and was highly involved in the Bill Clinton administration.
In 2002, Stephanopoulos began hosting ABC News' This Week, a job he still holds to this day. He now also serves as the chief anchor and chief political correspondent for ABC News, co-anchor of Good Morning America, and substitute anchor for ABC World News Tonight. Stephanopoulos is said to bring in a salary of $15 million a year from ABC.
Ginger Zee- $500 Thousand Annual Salary
As the current chief meteorologist for ABC News, Ginger Zee has always been career-driven, having set a goal for herself at graduation to become a meteorologist on The Today Show by age 30.
She ended up surpassing her goal when she filled in as a guest meteorologist on the show long before her 30th birthday. She continued in the national spotlight, joining Good Morning America Weekend, Nightline and ABC World News Tonight. Zee currently brings in an annual salary of about $500 thousand a year.
Savannah Guthrie- $7 Million Annual Salary
Savanah Guthrie has worked on NBC's The Today Show since July 2012. As of January 2018, Guthrie became half of Today's first-ever all-female anchor duo alongside Hoda Kotb.
Guthrie has also studied law at Georgetown University and is a member of the bars in the District of Columbia as well as Arizona. Before signing with NBC News, she worked as a broadcaster in Missouri, Arizona, and Washington D.C. Her salary as a co-anchor on Today is listed at $7 million a year.
Melissa Francis- $400 Thousand Annual Income
As a former child actress on Little House on the Prairie, Melissa Francis has had a long and lucrative career. She's worked both on CNET and CNBC. In 2012, she was hired by Fox Business Network as a financial news reporter and anchor.
She has also written a book and appeared in films including The Dictator, and Race to Witch Mountain. In 2016, her annual income was estimated around $400 thousand, with $300 thousand coming from Fox News and another $100 thousand from Fox Business News.
Sean Hannity- $29 Million Annual Income
Talk show host, author, and political commentator Sean Hannity has been involved in radio broadcasting since the late 1980s.
The conservative and sometimes controversial broadcaster has worked on radio for a majority of his career but has also hosted his own television talk shows on Fox News. Hannity has also written three books and took part in the 2017 film Let There Be Light as an executive producer. In 2016, his annual income was listed at an impressive $29 million.
Robin Roberts- $18 Million Annual Salary
As the current anchor for ABCs Good Morning America, Robin Roberts has worked hard to earn her hefty paycheck. Roberts' career began in 1983 as a sports anchor and reporter for WDAM-TV in Mississippi.
She also spent time working on local stations in Nashville and Atlanta before ESPN came calling. She worked as a sportscaster from 1990 until 2005 before leaving to focus on Good Morning America, where her annual salary is now reported as being about $18 million per year.
Chelsea Handler- $10 Million Annual Salary
Chelsea Handler hosted her self-titled late-night talk show on the E! network from 2007 until 2014, where she reportedly brought in a salary of about $8 million a year. In 2012, Handler was named by the New York Post as one of the most overpaid TV stars.
In 2014, Handler signed a deal with Netflix that would reportedly earn her a paycheck of $10 million for four "docu-comedy" specials. The show, titled Chelsea Does, debuted on Netflix in 2016 and received mixed reviews.
Shepard Smith- $10 Million Annual Salary
After working his way through numerous local news stations in Florida as a reporter and anchor, Shepard Smith became a correspondent for A Current Affair based out of Los Angeles, California.
As a newscaster who has remained loyal to Fox News since its inception in 1996, it's appropriate that Shepard Smith falls among Fox News' top ten highest paid hosts. Smith is currently the host of Shepard Smith Reporting, for which he earns an annual salary of about $10 million.
Deborah Norville- $1 Million Annual Salary
A few years back, it was reported that Deborah Norville earned a salary of around $1 million per year. These days, however, Norville has numerous income sources.
These include her anchor position at the CBS syndicated news magazine program Inside Edition, a job she has held since the mid 1990s, her membership with the Board of Directors of the Viacom Corporation, and her own yarn business, where she markets and sells the Deborah Norville Collection to avid knitting and crochet aficionados.
Josh Elliott- $4 Million Annual Salary
Getting his start as a panelist and later host of ESPN's Sportscenter, Josh Elliot quickly worked his way through the ranks, working for shows on ABC, NBC, and CBS.
Unfortunately, Elliot was fired from CBS News in February of 2017 following a miscommunication and disagreement among CBS executives. A few years prior to his termination back in 2014, Elliot was reportedly earning an annual salary of about $4 million. We hope to see Elliot back in our living rooms in the near future.
Rachel Maddow- $7 Million Annual Salary
With her own nightly show on MSNBC, Rachel Maddow is sitting pretty, hosting The Rachel Maddow Show and bringing in about $7 million per year.
Getting her start on radio, Maddow proved herself to be an honest an reliable journalist. She has been described as having the unique ability to deliver the news "with agenda, but not hysteria," something that is hard to come by in today's world where most news programs prioritize entertainment over facts and ratings over honest reporting.
Scott Pelley- $5 Million Annual Salary
Back in 2014, Scott Pelley was reported to make around $5 million per year. As a correspondent and anchor who has been loyal to CBS for close to 30 years, it's safe to say that Pelley has earned his keep.
Currently working on the CBS News Magazine 60 Minutes, Pelley has covered everything from the aftermath of the September 11th attacks on the World Trade Center, to the wars in Iraq and Afghanistan, as well as scandals in professional sports.
Diane Sawyer- $9 Million Annual Salary
In her early career, Diane Sawyer was a member of President Richard Nixon's White House Staff. Following the infamous Watergate scandal, Sawyer joined CBS News as a general-assignment reporter.
With so much prior political experience, the network executives decided to promote her early on to become a political correspondent. These days, Sawyer works as the anchor of ABC World News and co-anchor of Good Morning America and Primetime. Sawyer does pretty well for herself at ABC, bringing in an annual salary of $9 million.
Bret Baier- $7 Million Annual Salary
Bret Baier is currently the host of Fox News' Special Report with Bret Baier in addition to serving as Fox's chief political anchor. Baier has also previously worked as Fox's Chief White House Correspondent and Pentagon Correspondent.
Baier made headlines in 2016 after retracting two false statements he made about Hillary Clinton and a possible indictment. His sources proved to be false and Baier issued an apology for the incident not long after. Nevertheless, Baier earns an impressive $7 million per year.
David Muir- $5 Million Annual Salary
As the current anchor of ABC World News Tonight as well as a co-anchor of 20/20, David Muir brings in about $7 million each year. Muir has been with ABC News since August of 2003.
Martha MacCallum- $700,000 Annual Salary
Martha MacCallum joined Fox News back in 2004 and has remained loyal to the conservative network since. As a news anchor, she has been featured on programs like The Live Desk, America's Newsroom, The Kelly File, and The O'Reilly Factor.
She's also contributed to coverage of the past four presidential elections as well the Pope Francis's visit to the United States. She's had the opportunity to interview countless major public figures as well. These days, MacCallum has an annual salary of about $700,000 per year
David Gregory- $5 Million Annual Salary
Before he was replaced by Chuck Todd, David Gregory was said to make around $5 million a year as the host of NBC's Meet the Press.
Gregory's career with NBC and MSNBC lasted well over a decade and he was incredibly well-respected by his peers. Following his termination, Andrea Mitchell said about Gregory, "In 20 years with NBC News, David has done it all…. Through all the years, David has been true to the traditions of this program and NBC News."
Jane Pauley- $1.2 Million Annual Salary
With her involvement in news reporting dating all the way back to 1972, Jane Pauley is one of the most experienced broadcasters on our list.
Pauley is currently the anchor of CBS Sunday Morning but had a run on NBC's Today that lasted 13 years, as well as a 12-year stint co-hosting Dateline NBC. Pauley is also known for courageously publicizing her struggle with bipolar disorder. A few years back, Pauley was believed to be making a bit over $1 million per year.
Trevor Noah- $3 Million Annual Salary
While he's definitely not making as much as his Daily Show predecessor John Stewart, Trevor Noah is definitely doing alright for himself. The South African comedian replaced Stewart, reported to make around $25 million a year, in 2015.
Considering that Stewart hosted the show for almost 17 years, Noah had some big shoes to fill. Noah was rumored to make around $3 million per year but with a renewed contract in 2017, his salary could very well be approaching that of Stewarts in the coming years.
Natalie Morales- $2 Million Annual Salary
Born in Taiwan to a Brazilian mother and Puerto Rican father, Natalie Morales is currently the West Coast's anchor for The Today Show. She is also occasionally featured on other NBC programs like Dateline NBC and NBC Nightly News.
Prior to pursuing a journalism career, Morales worked at Chase Bank. We hope she left her old job on good terms because these days Morales is bringing in the big bucks, with a reported annual salary of close to $2 million a year.
Bill O'Reilly- $18.5 Million Annual Salary
Prior to his infamous scandal in 2017 which lead to his firing along with the tarnishing of his reputation, Bill O'Reilly was raking in the big bucks, with an estimated salary of about $18.5 million dollars a year.
As the host of Fox News Channel's The O'Reilly Factor, Bill O'Reilly brought his own brand of conservative talk-show style news to the living rooms of millions of Americans on a nightly basis. The O'Reilly Factor even inspired spoof shows like Comedy Central's The Colbert Report.
Willie Geist- $2.5 Million
Willie Geist has been a busy man in recent years. As a co-anchor of MSNBC's Morning Joe and lead anchor of Sunday Today with Willie Geist, Geist also somehow finds time to frequently fill in on the weekday and Saturday editions of Today and serve as a correspondent for NBC News and NBC Sports.
With such a busy schedule, it's no wonder that Willie Geist is compensated with a large paycheck. In 2014, his yearly salary was estimated around $2.5 million.
Erin Burnett- $3 Million Annual Salary
Erin Burnett has worked her way to the top of the newscaster food chain. As a former financial analyst for Goldman Sachs and writer for CNN's Moneyline, Burnett now anchors her own show on CNN titled Erin Burnett OutFront.
She has previously worked for Bloomberg Television and CNBC. Burnett is also an accomplished documentary filmmaker, with six documentaries already under her belt. Erin Burnett's strong opinions and hard-hitting stories have earned her the privilege of a $3 million per year salary.
Matt Lauer- $25 Million Annual Salary
Prior to his infamous 2017 scandal involving allegations of workplace misconduct, and his subsequent firing, Matt Lauer was bringing in an annual salary of about $25 million for his duties hosting Today.
Since his termination from Today, Lauer has done his best to remain out of the public eye. He has reportedly been staying in the Hamptons and "focusing on family." In early 2018, NBC announced that Lauer's former position as co-anchor alongside Savannah Guthrie would be filled by Hoda Kotb.
Glenn Beck- $90 Million Annual Salary
Having previously worked with Fox, Glenn Beck decided to launch his own network in 2011. Beck currently hosts his own conservative talk-radio show, as well as his own self-titled television program, which has bounced around from network to network since it began in 2006, but now airs on Beck's network, TheBlaze.
In addition to his shows, Beck is also an accomplished author, with six New York Times best sellers. Beck reportedly earns an impressive annual salary of about $90 million.
Steve Kroft- $3 Million Annual Salary
Steve Kroft has been a CBS team-member since 1980. In 1989, Kroft joined the program 60 Minutes as a correspondent, a job he still holds to this day.
Since his start on 60 Minutes, Kroft has consistently delivered groundbreaking reports, earning himself three Peabody Awards in addition to nine Emmy awards, including an Emmy for Lifetime Achievement. His loyalty to the CBS network is reflected in his salary, which, in 2014, was reported to be around $3 million annually.
Chris Cuomo- $2.5 Million Annual Salary
Chris Cuomo's career began with appearances on CNBC, MSNBC, and CNN where he provided commentary on social and political issues. After a stint with Fox News, Cuomo was hired by ABC, where he worked on 20/20 and Good Morning America.
These days, Chris Cuomo can be seen on CNN as well as on CNN's sister network, HLN, where he hosts the documentary series Inside with Chris Cuomo. In 2014, his annual salary was reported to be about $2.5 million.
Ann Curry- $2 Million Annual Salary
Ann Curry has worked as a reporter for well over 30 years. For most career, Curry has focused on covering war zones, natural disasters, and humanitarian crises all over the world. In 2012, Curry became the international correspondent for NBC News and an anchor on the Today show.
During her career with NBC News, which lasted for almost 25 years, Curry also anchored Dateline NBC from 2005 until 2011. As co-host of Today, Curry earned a reported $2 million annually.
Maria Bartiromo- $6 Million Annual Salary
Maria Bartiromo is the current host of Fox Business Network's Mornings with Maria and well as Wall Street Week with Maria Bartiromo. Bartiromo also serves as the Global Markets editor for the network and hosts Fox News' Sunday Morning Futures with Maria Bartiromo.
Prior to working with Fox, Bartiromo spent some tome on CNN and CNBC, where she anchored Closing Bell and hosted On the Money with Maria Bartiromo. Her annual salary with Fox Business Network is reported to be around $6 million.
Lawrence O'Donnell- $4 Million Annual Salary
Lawrence O'Donnell is the host of MSNBC's The Last Word with Lawrence O'Donnell. Prior to hosting his own show, O'Donnell would frequently appear as a fill-in for Keith Olbermann on Countdown with Keith Olbermann.
In addition to a political career as an aide to Daniel Patrick Moynihan and as Staff Director for the Senate Finance Committee, O'Donnell also served as a producer and writer for NBC's series The West Wing. In 2014, O'Donnell's annual salary was reported to be around $4 million.
Nancy Grace- $3 Million Annual Salary
For over 10 years, Nancy Grace hosted her own self-titled show on the HLN network. As a legal commentator and television journalist, Grace also hosted Court TV's Closing Arguments from 1996 until 2007.
Nancy Grace once served as a prosecutor in the Georgia District Attorney's office and it was here that she gained a unique perspective on issues which she considers to be "victims' rights." Her HLN salary in 2014 was reported to be close to $3 million per year.
Lester Holt- $4.5 Million Annual Salary
In 2015, Lester Holt became the first ever African-American to solo anchor a weekday nightly newscast. As a current journalist and anchor for NBC Nightly News and Dateline NBC, Holt is able to reach the television screens of millions of Americans on a weekly basis.
Holt has also served as a moderator for the first Presidential debate of 2016, where he was praised for his fact-checking and fairness. In 2015, his annual salary was reported to be somewhere around $4.5 million.
Wolf Blitzer- $5 Million Annual Salary
As a loyal CNN reporter since 1990, Wolf Blitzer is sitting pretty with a hefty $5 million per year salary. Blitzer has hosted his own 2-hour long show, The Situation Room with Wolf Blitzer, since 2005.
With Blitzer's unique format and the show's tremendous consistency, the program has maintained solid ratings and is showing no signs of slowing down anytime soon. Blitzer also happens to be a fluent Hebrew speaker and actually wrote for numerous Israeli newspapers in the 1970s and 1980s.
Amy Robach- $300,000 Annual Salary
After nine years with NBC News, Amy Robach switched over in ABC News and on May 19, 2012, first appeared on Good Morning America as a correspondent. These days, Robach serves the same show as a News Anchor.
She also occasionally fills in for Robin Roberts on 20/20. With over a decade of broadcasting experience under her belt, Amy Robach's paycheck is reflective of the hard work she has put in. In 2017, Robach's salary was reported to be $300,000 per year.
Kathie Lee Gifford – $2 Million Annual Salary
Kathie Lee Gifford has just announced that she's leaving the Today show, a year later than she planned due to the Matt Lauer scandal. "I've been here almost 11 years. Thought I would stay one year. Something happened along the way: I fell in love," she said.
She plans on focusing on other personal creative endeavors after she leaves the show in April 2019. We're sure leaving the show won't put a damper on her income, as she has a lot in the works.
Laura Ingraham- $2 Million Annual Salary
Laura Ingraham is the host of the recently released Fox News Channel program, The Ingraham Angle which premiered in October of 2017. With her strong conservative opinions, Ingraham can sometimes stir up a bit of controversy.
In 2018, while doing a piece on why basketball players shouldn't comment on politics, Ingraham found herself in some trouble when she suggested that Lebron James "shut up and dribble." Regardless, Fox News reportedly is paying Ingraham a yearly salary of somewhere around $2 million.
15 Weather Girls That Will Chase Away Any Storm
You might want to have a water bottle ready because these gorgeous weather girls are forecasting a heat wave! We've found some of the most beautiful and talented meteorologists, weather anchors, and broadcast reporters from all over the world.
Elita Loresca
Elita Loresca is a Filipino-American newscaster currently working for KTRK-TV in Houston, Texas. Her broadcasting career began with a job as a news associate for KCBS in Los Angeles. From 2001 until 2002, Loresca served as the noon weather anchor and assignment editor for KGET-TV in Bakersfield, California before moving to KGPE-TV in Fresno, where she was the morning and noon weather anchor. Loresca made a name for herself covering some of the biggest hurricanes in modern history including Hurricane Frances, Katrina, Rita, and Wilma.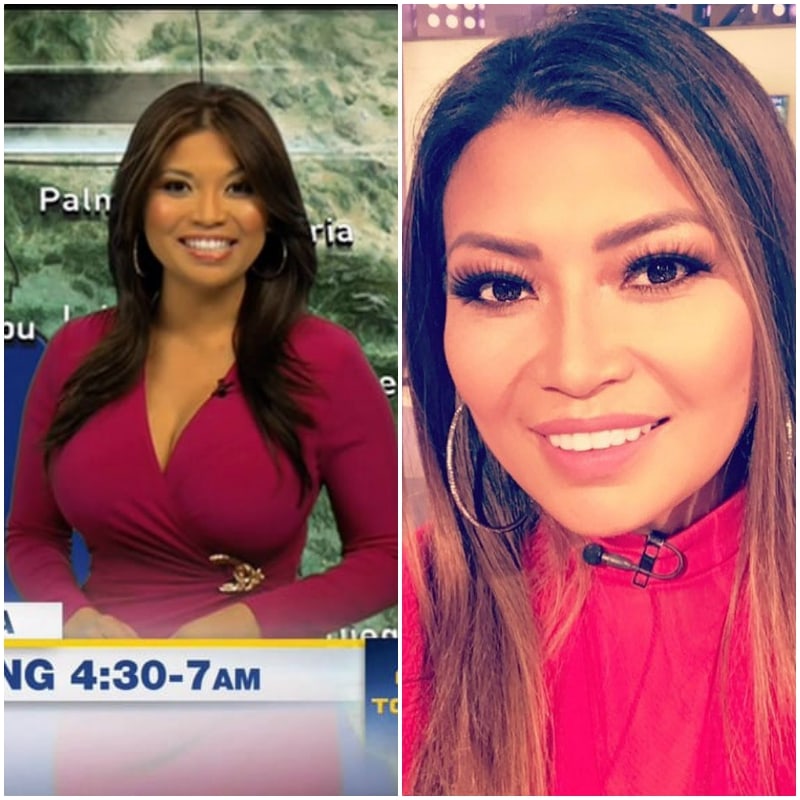 Evelyn Taft
Evelyn Taft was born on August 24th, 1984 in San Fransisco. The multitalented Taft is fluent in Russian, Hebrew, French, and English. She worked for a KCOY, a CBS affiliate, as a weather anchor and reporter before moving on to work for KRON 4, again as a weather reporter. She began working at KCAL-TV channel 9 of the Los Angeles station in August of 2010 as a weeknight meteorologist. Taft also works for KCAL as an anchor, news editor, director, and journalist.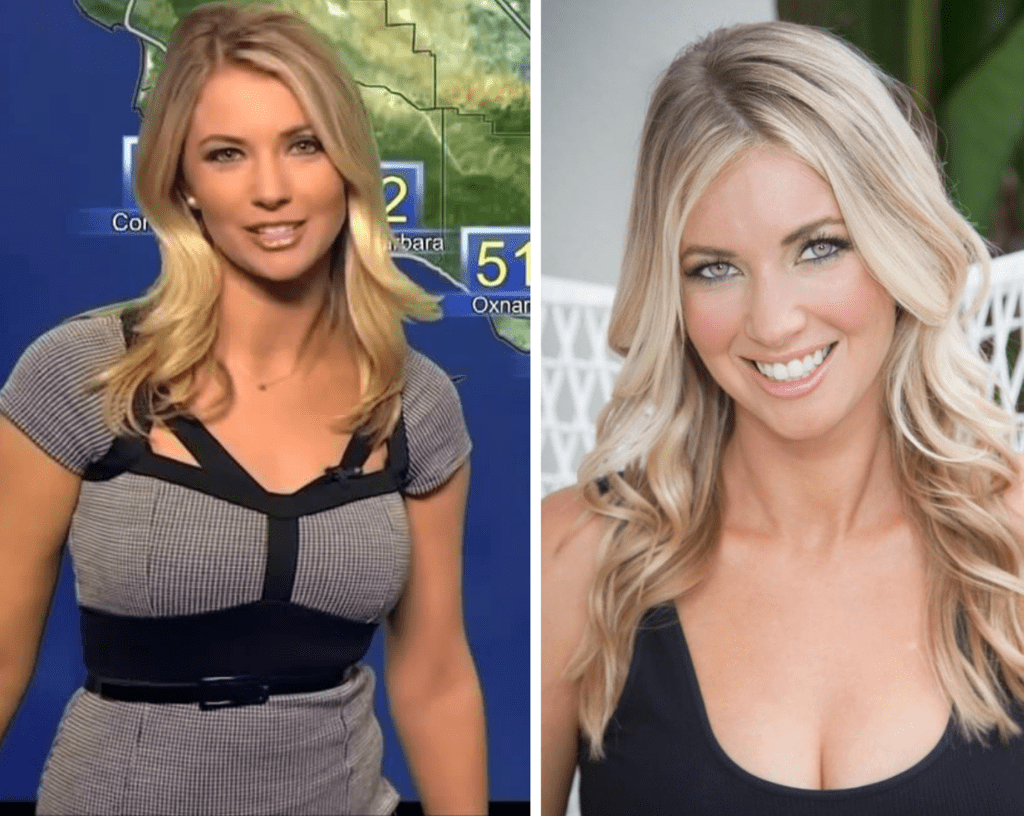 Bri Winkler
As one of the youngest weather girls on our list, Bri Winkler was born on October 25, 1988. She started her broadcasting career on the NBC affiliate KAMR-TV in Amarillo, Texas, serving as morning meteorologist and co-host for Today in Amarillo. In 2011, Bri joined ABC as a meteorologist for Eyewitness News. At just 24 years old, Bri miraculously survived a stroke and made a complete recovery. In 2017, Winkler announced that she would be leaving Eyewitness News to pursue a Master's Degree in environmental science.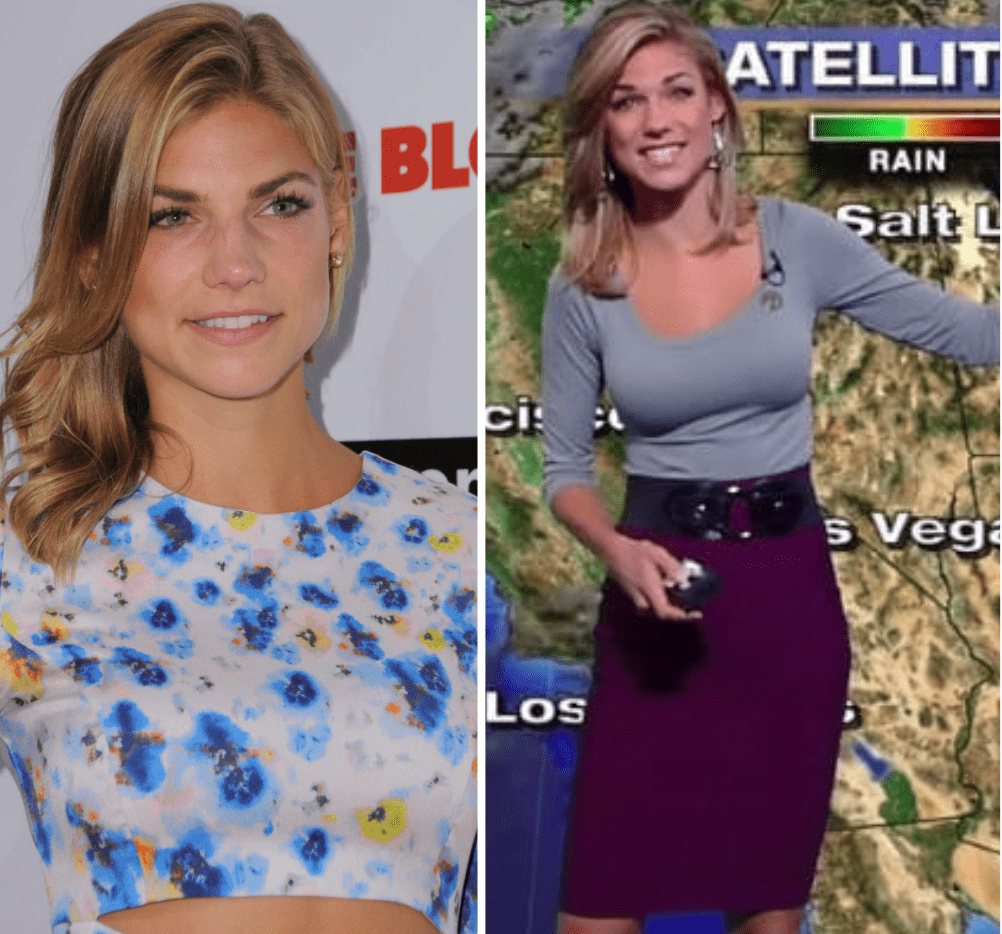 Gabriela Grechi
Gabriela Grechi in an Italian news anchor and on-air meteorologist who knows how to bring the heat. Grechi got her start with some minor acting roles on Italian television. In 1999, Grechi worked on a magazine-style show called Orario Continuato for the Telelombardia network. Aside from weather-reporting, Grechi has also appeared on TV commercials, sports programs, and chat shows. Grechi's beauty and personality has earned her international attention in recent years, as she continues to make a name for herself in the world of broadcasting.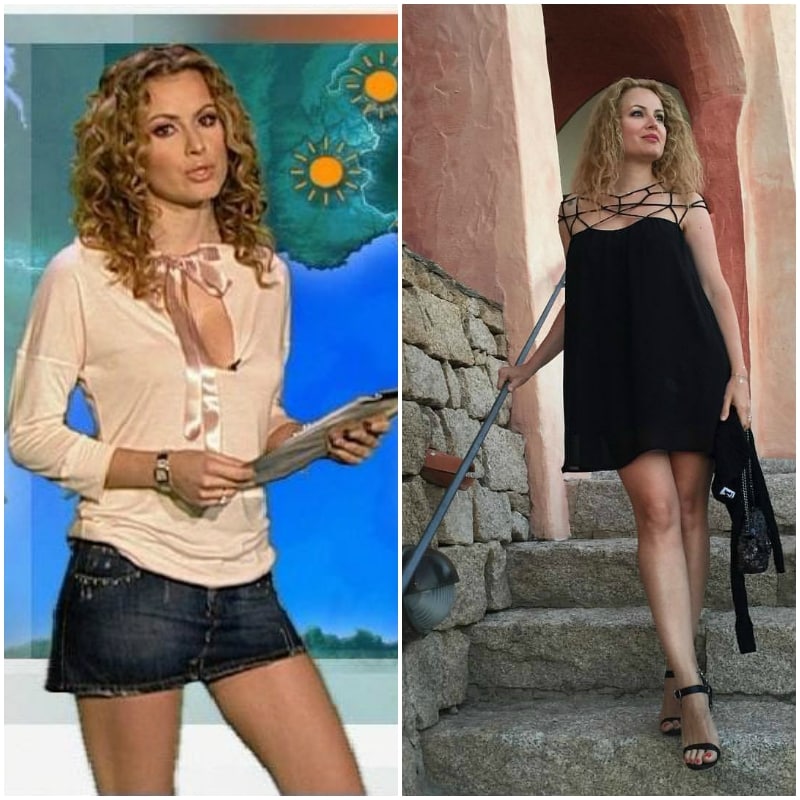 Sonya Hill
Sonya Hill is a bilingual weather anchor hailing out of the great state of Texas. Before she was a weather girl, Hill competed against 70 other girls from all over the world and finished in the top 10 at the Swimsuit USA International competition. Hill is currently employed by KZTV Action 10 News in Corpus Christi, Texas but has had lots of other experience in the field. Prior to working for KZTV, she spent nearly three years as a weather anchor and reporter for KRIS Communications.
Christina Loren
Christina Loren took the job of news anchor and agricultural meteorologist at RFD-TV in greater Nashville back in 2015, and she's made a name for herself in that role ever since. She has a Master's in theology as well as meteorological certification, and before her current job she held other important positions at other stations. These include CBS Miami and for NBC in the San Francisco Bay area, which is much closer to her hometown of Palm Springs, California.
Jackie Guerrido
Jackie Guerrida was born and grew up in San Juan, Puerto Rico before settling in Miami, where she accepted a job offer to work at WRMA. Guerrida worked hard and was eventually given her own music show on radio station WRTO, while at the same time working as a traffic reporter for WSCV. Univision picked up Guerrida and she worked as a meteorologist on Despierta America and Primer Impacto for several years. She now serves as a co-anchor of Primer Impacto.
Leticia Castro
Born in California to Mexican parents, Leticia Castro grew up in Las Vegas and became well-known following a distinguished beauty pageant competitor in both Mexico as well as Nevada. Castro had her first taste of fame on the reality show and beauty contest Nuestra Belleza Latina, where she came in fourth place. Leticia has also been a host for Lucha Libre USA: Masked Warriors and currently runs her own popular Youtube channel. As a weather anchor, Castro has worked on ABC Sacremento, Univision, and Telemundo.
Mayte Carranco
In recent years, Mexican meteorologist Mayte Carranco has blown up on the international stage, and it's not hard to see why. Carranco was born and raised in Monterrey, Nuevo Leon, Mexico. Her career began with music at a very young age, when she had dreams of becoming a famous singer. The former beauty pageant winner began heating things up on News Televisa Monterrey back in 2007 and hasn't slowed down since! In 2009, she even won the Miss Televisa Monterrey title.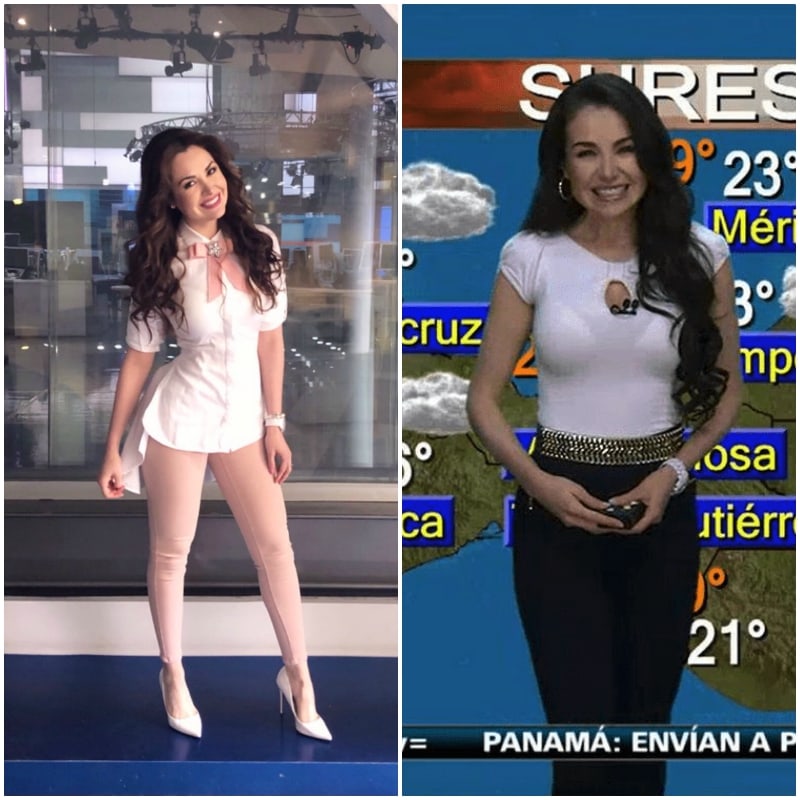 Indra Petersons
The Latvian Indra Petersons made a name for herself as a weather anchor for CNN's New Day as well as CNN Newsroom. As a natural over-achiever, Petersons went to the University of Arizona where she received a degree in Atmospheric Physics while also minoring in business, math, and physics. After finishing school in 2002, Petersons went on to work as a meteorologist at KVIA in El Paso, KEYT in Santa Barbara, and KABC in Los Angeles before being hired by CNN.
Alex Wilson
35-year-old Alex Wilson began working at The Weather Channel in March of 2013, where you can still catch her to this day reporting during the afternoon news from 3-6 pm alongside Dave Shwartz. She graduated from Syracuse University with a degree in Broadcast Journalism and Marketing before moving on to study meteorology at Penn State University. Before ending up on The Weather Channel, Wilson worked as a meteorologist at WHNS-TV in South Carolina and at WOWK-TV and WVNS-TV in West Virginia.
Sian Welby
As one of England's biggest television and radio personalities, Sian Welby has made a name for herself with her animated and lively weather forecasts. In true British fashion, Welby is spot-on with her subtle and yet effective delivery of hilarious puns according to the given daily weather theme. Throughout her career, Welby has worked on Channel 5, BBC, ITV, and Channel 4. In 2016, she started operating her own national radio show on Heart from 7-10 pm every Monday through Thursday.
Kait Parker
As a successful meteorologist, Kate Parker has used her platform on weather.com The Weather Channel app, and Good Morning America to voice her concerns about climate change and environmental pollution. In 2016, Parker created a mini-documentary called Toxic Lake: The Untold Story of Lake Okeechobee which exposed Florida's water management issues and cyanobacteria problem. She has worked in Missouri, Alabama, and Florida before being picked up by The Weather Channel. Parker left The Weather Channel in 2016 but continues in her environmental activism efforts.
Maria Timmer
Now a Ph.D. student at Central Michigan University, the talented Maria Timmer served as an on-air meteorologist for Fox News for six years starting in 2010. Maria was born in Nicaragua and grew up in South Florida. Her inspiration to become a meteorologist came from her experiences living in an area that faces hurricanes on a regular basis. Before working at Fox, Timmer was a meteorologist for AccuWeather in State College, Pennsylvania, where she gave weather forecasts in both English and Spanish.
Llarissa Abreu
Llarisa Abreu can deliver your daily forecast in both English and Spanish. The bilingual beauty works as an on-air broadcaster at AccuWeather. Throughout her extensive career, Abreu has worked at NBC News, Latino Vision TV, and Univision. She has been involved in work both in front of and behind the camera. Like many of the meteorologists on our list, Abreu found her passion for predicting the weather when she came to realize the importance of advanced warnings for hurricanes and other extreme weather events.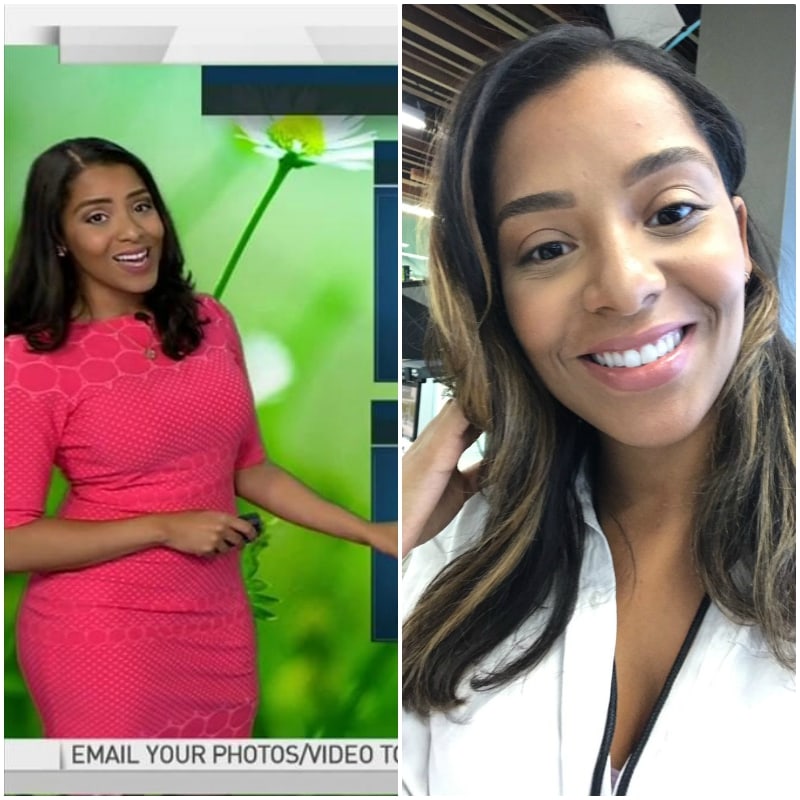 Raegan Medgie
Raegan Medgie got her first taste of broadcasting at her alma mater, Temple University, as a reporter for Temple Update, the student-run TV station. Her career began at a local cable station in Allentown, Pennsylvania before moving on to NBC affiliate WETM in Elmira, New York. She has also worked at ABC affiliate WNEP in Scranton Pennsylvania before eventually ending up in New York City, where she moved from The Weather Channel, to WCBS, and finally to FOX5 in 2017, where she remains today.
Jennifer Delgado
Jennifer Delgado started her career in Richmond, Virginia, as a morning and noon meteorologist at WTVR-TV. After two years, Delgado moved on to a job with CNN International and CNN domestic. While at CNN, Delgado delivered news and updates for numerous natural disasters, including deadly typhoons in the Pacific, the 2013 tornado season, and 2012's Hurricane Sandy. Delgado now works at The Weather Channel. In 2016, Jennifer Delgado made headlines for false and insensitive statements claiming that Haitian children were eating deforested trees.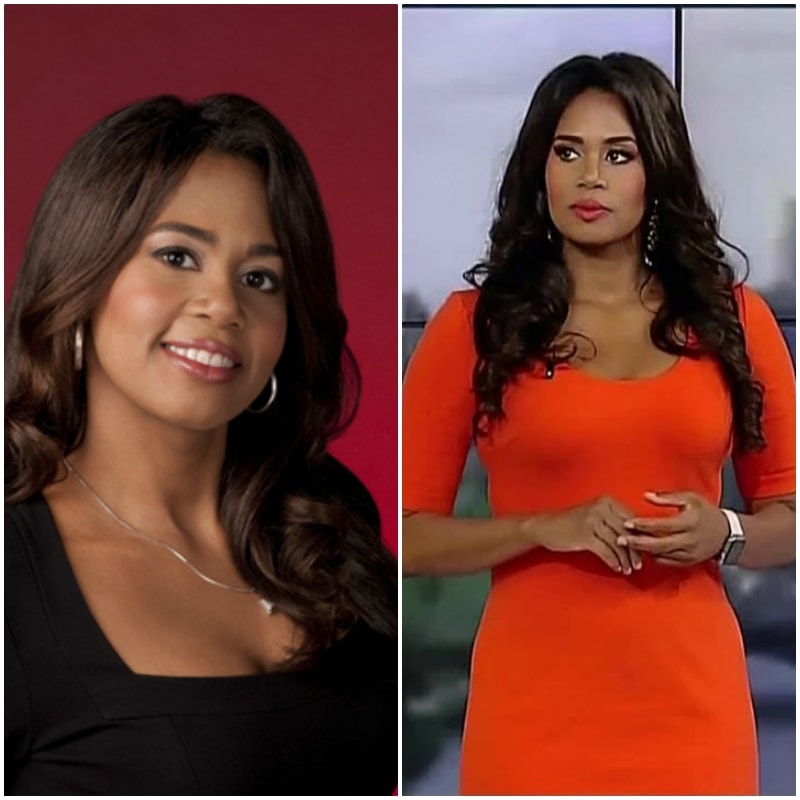 Shay Ryan
A Florida native, the beautiful Shay Ryan grew up in the Fort Lauderdale area and graduated from the University of Florida with a degree in Telecommunication. She then moved on to Mississippi State University to pursue a Master's degree in Geoscience. Shay's successful career has taken her to New York, Michigan, Georgia, and Mississippi, where she has covered severe storms, heat waves, floodings, and hurricanes. Shay Ryan currently works at WFTS-TV as a meteorologist for the Tampa and St. Petersburg areas.
Lauren Sanchez
Lauren Sanchez grew up in New Mexico bus moved to Los Angeles after her high school graduation. She graduated from the University of Southern California with a degree in communications. Working her way up from the bottom, Sanchez began her career as a desk assistant for KCOP-TV in Los Angeles. She also worked for Phoenix's KTVK-TV as an anchor and reporter before being picked up as a reporter for Extra. Sanchez has also worked for Fox Sports Net, KTTV Fox-11, and The View.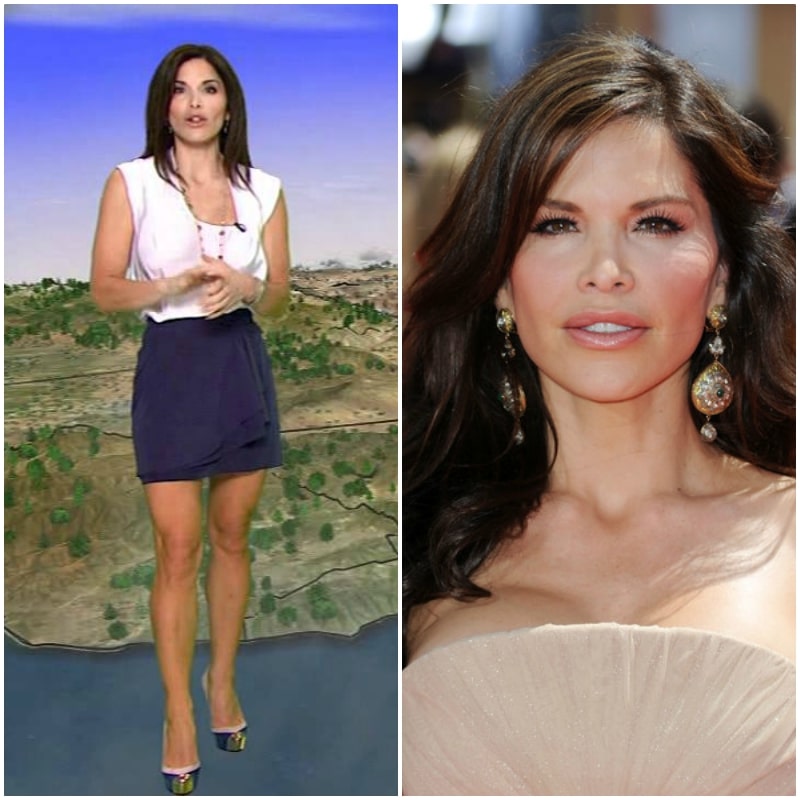 Vera Jimenez
Vera Jimenez was born in Mexico City, Mexico and moved to California at age three. She graduated from California State University but also studied meteorology at Mississippi State University. Now in her 50s, Jimenez boasts an impressive resume, having worked at KIK-FM, KFWB-AM, and KNX-AM. She currently works for KTLA 5 News at 6 and KTLA 5 News at 10 in LA. She's covered both traffic and weather and has earned two Emmy Awards, three Golden Mikes Awards, and three Golden Pylons Awards.
Lissette Gonzalez
Former Miss Miami and Miss Florida Lissette Gonzales received her degree in meteorology from Mississippi State University. She has also won runner-up in the the Miss America Contest and has had previous experience as a recording artist, off-Broadway actor, and television host. Gonzalez started reporting the weather for CBS4 News in Miami back in 2007. She has also worked in Los Angeles for KTLA's Prime News. Gonzales is active in the South Florida community, frequently visiting schools to speak about the importance of education.
Robin Meade
As an accomplished news anchor, former Miss Ohio, and country music artist, Robin Meade can do it all. Meade grew up in New London, Ohio and went to Ashland University, where she majored in radio and television broadcasting, programming and performance, and minored in political science. Meade has worked in Miami, Cleveland, Columbus, and Chicago. She is currently the lead news anchor for HLN, previously known as CNN Headline News. Her first day on-air with HLN was September 11, 2001.
Dylan Dreyer
As one of the go-to meteorologists for NBC News, Dylan Dreyer is no stranger to hard work. While she now works on MSNBC, the Orange Room on Weekend Today, NBC's The Today Show, The Weather Channel, and NBC Nightly News, she wasn't always on such a big stage. Dreyer climbed her way up from the bottom, working jobs at WICU in Erie, Pennsylvania, WJAR in Providence, Rhode Island, and WHDH in Boston, Massachusetts, before getting her big break as a meteorologist.
Susana Almeida
Yet another Mexican beauty makes our list. This time it's the lovely Susana Almeida. Almeida works as a presenter for a television news program in Guadalajara, Jalisco, Mexico. Almeida nearly broke the internet and went viral for all the wrong reasons in 2016 following a very unfortunate wardrobe malfunction that happened while she was reporting the weather live on-air. While the attention she received for the mishap was certainly unwanted, Almeida seems to be taking everything in stride and not letting it phase her.
Sabrina Fein
A California native, Sabrina Fein was born and raised in San Diego but chose to go to the University of Miami, majoring in Meteorology and Climatology. Her interest in meteorology was sparked by the coverage of Hurricane Andrew in 1992. Following graduation, Fein started working in broadcasting right away. Throughout her career, she has worked on television stations in Springfield Missouri, and Lubbock, Texas, before returning to her hometown and settling in at San Diego 6 News as an evening meteorologist.
Sheena Parveen
Sheena Parveen was born in 1987 in India and is currently a successful meteorologist and television personality. She studied meteorology at Florida State University. Throughout her career, Parveen has worked as a weather reporter at WCTV in Tallahassee, and WTVT in Tampa for two years. Her career finally was taken to the next level in 2011 when Parveen started working at Philadelphia's NBC 10 as a weather forecaster and meteorologist. She stayed there for two years before moving on to NBC 4 in Washington D.C.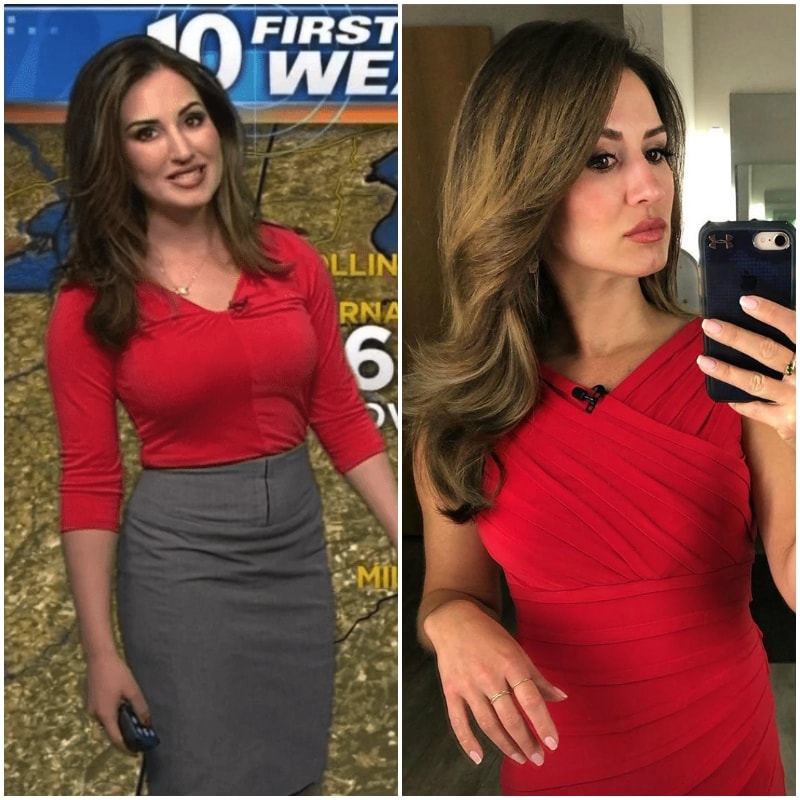 Megan Glaros
Megan Glaros is currently a meteorologist and entertainment reporter for CBS affiliate WBBM-TV in Chicago. Glaros received a degree in atmospheric sciences and journalism from Indiana University, and in 2004, moved to South Florida to work as the Local 10 morning news meteorologist and SportsJam Live host. While in Florida, Glaros gained valuable experience covering Hurricanes Katrina, Rita, and Wilma, among others. Throughout her career, Glaros has worked in New York, West Virginia, and Maryland. She has also made frequent appearances on Good Morning America.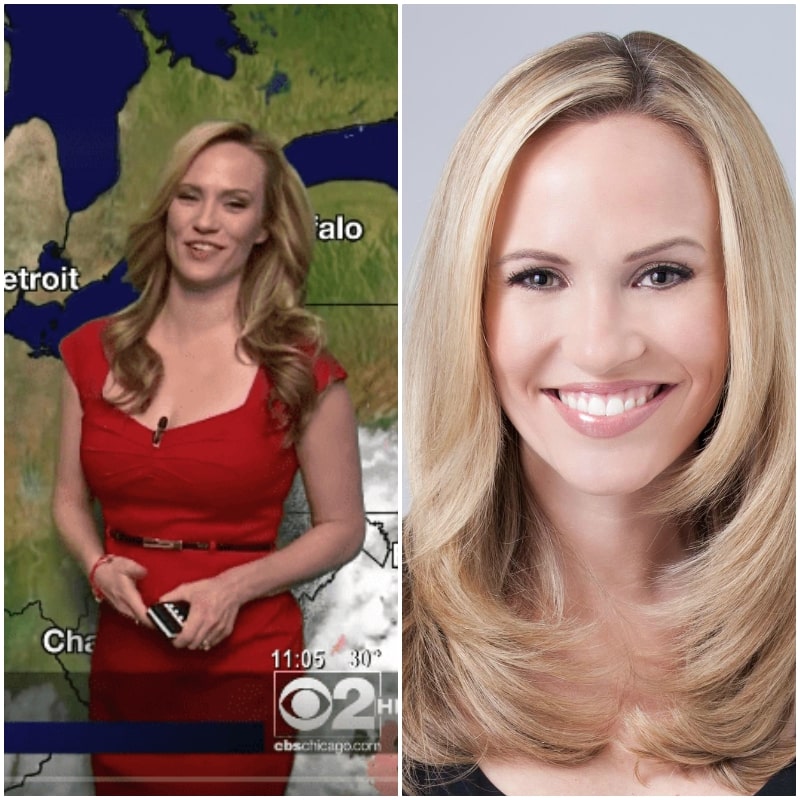 Maria Quiban
Maria Quiban is currently a weather anchor on KTTV in Los Angeles. Born in the Philippines, Quiban moved with her family to Honolulu, Hawaii at age nine. She grew up in Hawaii and would later study journalism at the University of Hawaii. She began working at the NBC affiliate KHNL in Honolulu before leaving the island and moving on to a job in Los Angeles at the Orange County Newschannel in 1998. She stayed there for two years before moving to KTTV.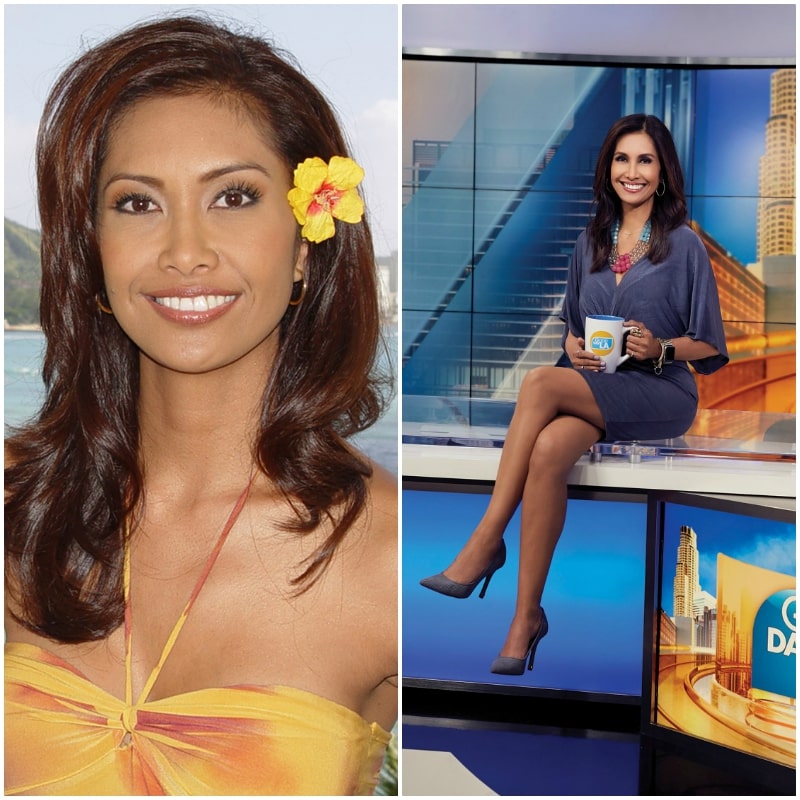 Chita Craft
Blonde bombshell Chita Craft was born in Knoxville, Tennessee and attended school at Arizona State University and Mississippi State University. Today, Craft works on KHOU 11 News This Morning in Houston, delivering the weather as a meteorologist. One can only assume that Chita is a morning person, considering her coverage airs daily between 4:30 AM and 9:00 AM. Before moving to Houston in 2011, Craft worked in Redding, California for KRCR, where she won the title of Best Media Personality two years straight.
Erin Nicole
Erin Nicole grew up in Birmingham, Michigan and graduated from Mercy High School. She then moved to New York to pursue a career in the broadcast and entertainment industry. In 2002, she started her career as a reporter for UPN and CBS in Detroit. In 2004, Nicole served as the Detroit Pistons arena hostess for the team's home games in addition to appearing on the Pistons weekly shows. In late 2013, Erin Nicole welcomed her daughter Lillian Marie into the world.
Cristina Blackwell
A bilingual blonde beauty, Cristina Blackwell was born in San Antonia to a Mexican mother and a father from Alabama. Blackwell spent many years of her childhood moving around and was consequently a victim of bullying. Blackwell graduated from the University of Texas at San Antonio in 2009 with a double major in speech and communications. Throughout her career, she has broadcasted in both Spanish and English for Univision Network as well as Kens-TV 5 Eyewitness News, where she is still located today.
Magda Palimariu
Magda Palimariu is a weather girl hailing from Romania, where she works for Pro TV. She was born in 1979 in Sibiu, a small town in Transylvania. After getting her Master's in journalism, she started working in Bucharest where she is still based today. Palimariu has quite the fanbase, with over 72,000 followers on Instagram. In addition to reporting on the weather, she swims and has landed modeling gigs as well, appearing in magazines like Pro TV Magazine and Playboy.
Angie Gonzalez
Angie Gonzalez was born in 1987 and currently presents the weather at Milenio TV, in Mexico. From a young age, she was selected to be Multimedia network's weather presenter — so young, in fact, that she had to wait before joining. In the meantime, she concentrated on learning how to become a meteorologist. Gonzalez has a phenomenal figure, but she claims she hardly ever hits the gym and doesn't diet. She is indeed lucky, as few people are able to keep such a figure while enjoying junk food.
Sugey Abrego
Sugey Abrego from Mexico was born in 1978 and has made quite an mark on weather reporting in that country. She presents the weather for Canal 4, yet that's hardly all that she's known for. She studied acting and is known for her work on telenovelas for TV as well as in theater. Also a model, she has appeared on the cover of Playboy and Maxim Mexico. Abrego is quite a star, with over 620,000 followers on Instagram
Kristi Capel
A teen athlete when she was in high school, Kristi Marie Capel still keeps herself in shape by running. After that, she transitioned to beauty pageants and was even named Miss Missouri. Capel competed in Miss USA 2006, though despite being Miss Missouri, she's actually a Kentucky native. She worked for three years at KSPR-TV Springfield as a news and weather anchor after getting her broadcasting and communications degree. Capel then made a name for herself as the morning show weather anchor on WBRE-TV/WYOU-TV.
Patricia Jaggernauth
Patricia Jaggernauth is an Emmy and Canadian Award-winning TV host. Currently, she's the weather specialist and remote reporter for CP24, Toronto's Breaking News. Better known as just Patricia J, she's been dubbed "The Next Tyra Banks" for starting her own successful online fashion boutique called PJ Glamgirl. She even hosted and produced her own TV talk show called Patricia J. From all of this exposure, she's reached over 140,000 followers on Instagram. Not bad for a Torontonian weather girl!
Roxana Vancea
Roxana Vancea is another Romanian weather girl who makes the temperature in the room just a bit hotter when she's on TV. The fun presenter is known for dancing and doing jumping jacks on air, and she's attracted attention for her good looks as well. Proudly showing off her tattoos in revealing outfits, she's even been known to present the weather in a bikini or braless. She shows off how she stays in shape with workout clips she posts on Instagram, where she has close to 370,000 followers.
Liberté Chan
Liberté Chan is a meteorologist and reporter with KTLA 5 from Los Angeles, but some might recognize her from her previous career as a competitive figure skater who was ranked nationally. Not just a pretty face, she has a Master's in public health. Currently, she stays fit by doing yoga and shares this with followers on social media. In addition, she maintains a fashion and beauty blog and owns an athleisure clothing line called Sweat with Soul, along with her partners.
Alejandra Medina
The weather girl for TV Azteca, Alejandra Medina, used to be a beauty queen and model from Mexico before getting into meteorology. When you see how good looking she is, it's no wonder she's in such demand to cover such a broad area from Mexico City to Monterrey and all the way to Texas. She stays in shape by doing CrossFit, showcasing her difficult workouts on Instagram, where she has close to 27,000 followers, and other social media platforms.
Diana Alvarado
Diana Alvarado presents the weather on Mexico's Channel 44 for Juarez, she's also known for being a former Miss America Internacional, which highlights the identity of Latina women. Even compared to the other beautiful winners than have won the competition, she stands out as one that's remembered for her good looks. With over 14,000 followers on Instagram, she's only going to accumulate more with her incredible grace and beauty. Alvarado is also a motivational speaker and a life coach.
Lluvia Carrillo
Mexican journalist Lluvia Carrillo got her professional start as a host for Televisa Deportes, a Spanish sports program. She has since moved to Televisa Moneterrey, where she is the weather reporter replacement for Yanet Garcia on Monterrey al Dia. On top of her broadcasting career, Carillo is also an accomplished model, having placed second in Nuestra Belleza Nuevo Leon in 2014, and having been featured in TVyNovelas magazine. Carillo is currently romantically involved with Javier Aquino, the Mexican national team, and Tigres soccer player.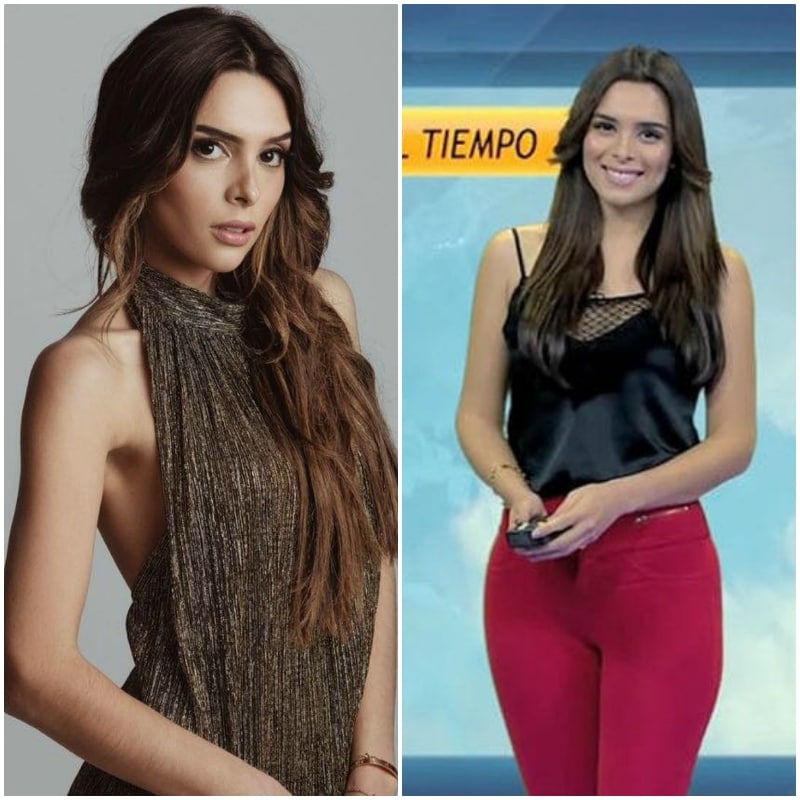 Araksya Karaptyan
The Armenian-born Araksya Karapetyan currently works for KTTV out of Los Angeles on the morning news and entertainment show, Good Day L.A. Karapetyan grew up in Palos Verdes, California and graduated from Syracuse University with a degree in international relations and broadcast journalism. Her television career began in Los Angeles, where she interned at KABC-TV and KFI 640 AM radio out of Burbank, California. Outside of California, Karapetyan has also worked as an anchor and reporter for networks in Idaho, and Oregon.
Julia Durda
Born and raised in Sacremento, California, Julia Durda can bring sunshine into even the dreariest of weather forecasts. Since her graduation from Mississippi State University, Durda has worked for KXTV in Sacremento, KPHO in Phoenix, WSVN in Miami, and WPLG in Miami and Fort Lauderdale. Durda has appeared on the national stage on shows such as Good Morning America and ABC's World News. She made headlines in 2012 with her controversial move from WSVN to WPLG before the end of her contract.
Domenica Davis
The Italian born Domenica Davis went to Boston University and graduated with a degree in Broadcast Journalism before enrolling in Mississippi State University to study Broadcast Meteorology. Davis currently works at NBC News but has also held jobs with Fox News as a weather forecaster. In 2010 she joined NBC, based out of New York. As a mother of two, Davis has kept her personal life away from the spotlight. It is unknown whether or not she is currently married or engaged to anyone.
Janice Villagran
Mexican-American broadcast journalist and weather girl Janice Villagran was born and raised in Guadalajara, Mexico. In college, she studied communications and began working on a show called En Vivo USA on Estrella TV, where she provided the weather in addition to occasionally presenting for shows and other live TV events. In 2017, she began working on a modern news show called I Testigo TV. Villagran enjoys playing chess in her free time and has been previously engaged. She's been single since 2017.
Marilu Kaufman
Marilu Kaufman is originally from Monterrey, Nuevo Leon, Mexico. She currently works as a weather anchor for Multimedios Television and on Milenio TV. Before becoming a Mexican household name, Kaufman began her broadcasting career on a local cable newscast. With such incredible beauty and grace, it's no surprise that Kaufman is also a model and actress on the side, having appeared in television commercials, advertisements, and even some popular music videos. Kaufman's signature bodacious brunette locks and infectious smile have earned her nearly 50,000 Instagram followers.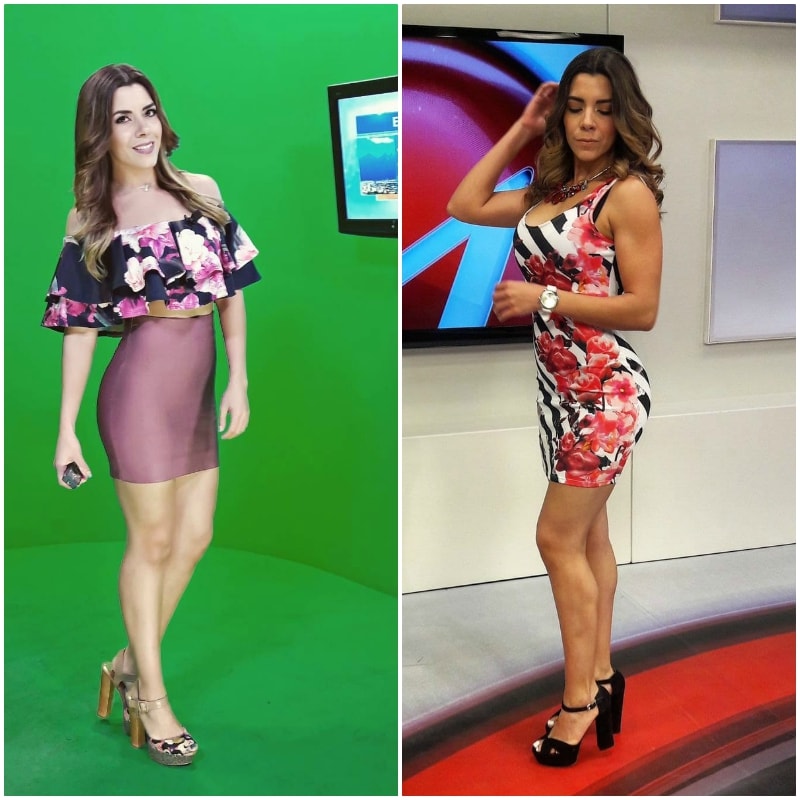 Naile Lopez
The young Naile Lopez became a model not long after graduating from high school. A Mexican native, Lopez has spent time living int Monterrey, Mexico City, and Miami. In 2012, Lopez decided it was time for a career change and became a weather anchor for Las Noticias Televisa Monterrey, a job she still holds to this day. A jack of all trades, Lopez has also taken the opportunity to try her hand at acting, working with the Televisa San Angel studio in Mexico City.
Ximena Cordoba
Colombian model and actress Ximena Cordeba began her career on the reality show Protagonistas de Novela. Throughout her career, she's acted on numerous telenovelas. She's worked on TNT, Fox Deportes, and Fox Sports. Rain or Shine, she delivers the weather with her signature smile.
Jackie Johnson
Jackie Johnson is currently a weather forecaster for KCBS-TV news at 5, 6, and 11:00 PM in Los Angeles, California. She also does radio broadcasts for CBS's KNX1070. Her career began as a weekend weather anchor for WCTV-TV in Tallahassee, Florida. She would later move on to a job with WSVN-TV in Miami as a reporter and weathercaster. Before starting at KCBS-TV in 2010, Johnson worked at KCAL 9 News. She has appeared as a meteorologist or newscaster in several popular films.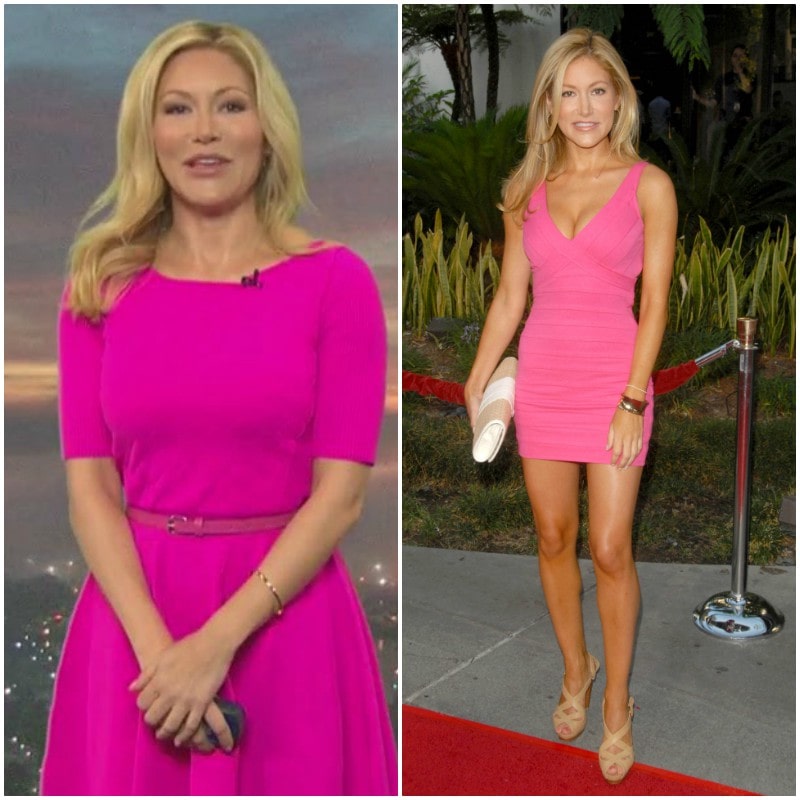 Yanet Garcia
With well over 5 million followers on Instagram, it's no surprise to us how the gorgeous, young, and talented Yanet Garcia rose to popularity. The Mexican model and meteorologist first came onto the scene following the 2013 casting for Nuestra Belleza Nuevo Leon. Garcia became well-known and recognizable, especially among young people, after she began working as a meteorologist on Televisa Monterrey News. At just 27 years old, Garcia already owns and operates her own academy for young models called Yanet Garcia Models.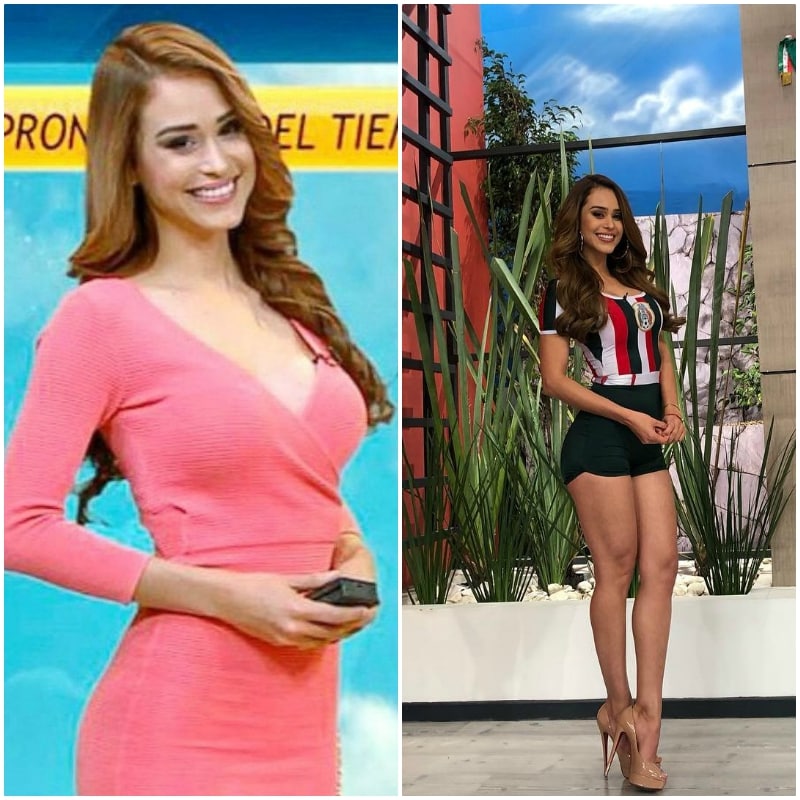 Carolina Ramirez
Carolina Ramirez has over 50,000 Instagram followers and counting. Before making it to Despierta America, the gorgeous Colombian weather girl got her start on the beauty pageant reality show, Nuestra Belleza Latina in 2010, where she stole the hearts of fans and judges alike. When Univision hired Ramirez, she quickly acquired a massive fan base with her trendy dresses and lovable personality. Carolina has also worked on other promotions for Univision including Premios Juventud VIP tours, and Latin GRAMMY Street Parties.