In today's society, we have come a long way in accepting and respecting interracial marriages and pairings, resulting in the breakdown of racial barriers, making everyone appear as equals.
Salma Hayek & François Pinault
The beautiful Mexican actress Salma Hayek met French billionaire François Pinault in 2006. Salma announced her engagement to the businessman as well as her pregnancy in 2007. In September 2007 she gave birth to the couples' daughter Valentina Paloma Pinault in Cedars-Sinai hospital in Los Angeles, California. The two were then married in in 2009, having 2 ceremonies, one in Venice and one in Paris on Valentine's Day. However, despite being very much in love, the couple faced some troubles in 2011 when Pinault was named in a paternity case for model Linda Evangelista's son Augustin James, born in 2006. Although denying allegations, they later reached a settlement over the child.
Tyra Banks and Erik Asla
Supermodel Tyra Banks started dating her Norwegian boyfriend Erik since 2013 and reportedly met on the set of Norway's Next Top Model where Erik played photographer. Erik's occupation as a professional photographer led him to relocate to Los Angeles, which may have a lot to do with his relationship with Tyra. Erik is no stranger to Tyra's modeling work as his website states he has had work published in fashion magazines including Elle, Glamour, German Vogue and German Vanity Fair. In early 2016 the couple welcomed a son via surrogate, adding to their brood of Erik's two daughters from a previous relationship.
Michael Jordan & Yvette Prieto
Twice married Basketball legend and sneaker entrepreneur Michael Jordan met his second wife Yvette Prieto in a Miami club. The two immediately hit it off, and after 5 years of dating, they got hitched in 2013 in a lavish, star-studded ceremony in Palm Beach, Florida, witnessed by over 500 guests. Being 15 years his junior, Michael's bride became a step-mother to his 3 grown children from his marriage to Juanita Vanoy, and in February 2014, the two welcomed their own children, identical twin girls named Victoria and Ysabel.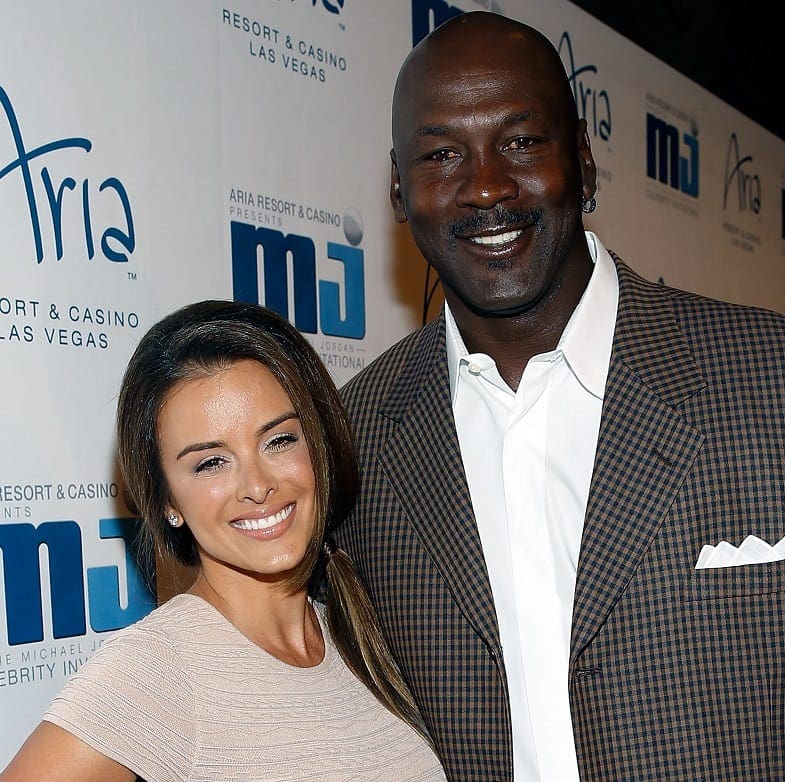 Prince Harry & Meghan Markle
In 2016, Prince Harry made headlines by dating stunning 'Suits' actress Meghan Markle. The two were reported to have met at private members club Soho House in London and have been a tabloid favorite ever since. Due to Meghan being harassed by the press, Kensington Palace broke Royal protocol to confirm the new relationship between the Prince and Actress and requested that their privacy was respected. Since then the couple has been spotted attending friend's weddings and visiting each other in their residing countries.
Alfre Woodard & Roderick Spencer
Alfre Woodard is one of the most successful and talents African-American actresses turned producers in the industry. She has been married to writer husband, Rodrick Spencer, since 1983. Although the two appear to have a great marriage, they have publicly spoken about their struggles about being a biracial couple and receiving criticism from both her and her husband's families over their racial differences. However, they have overcome their marriage troubles and went on to adopt 2 children named Mavis and Duncan.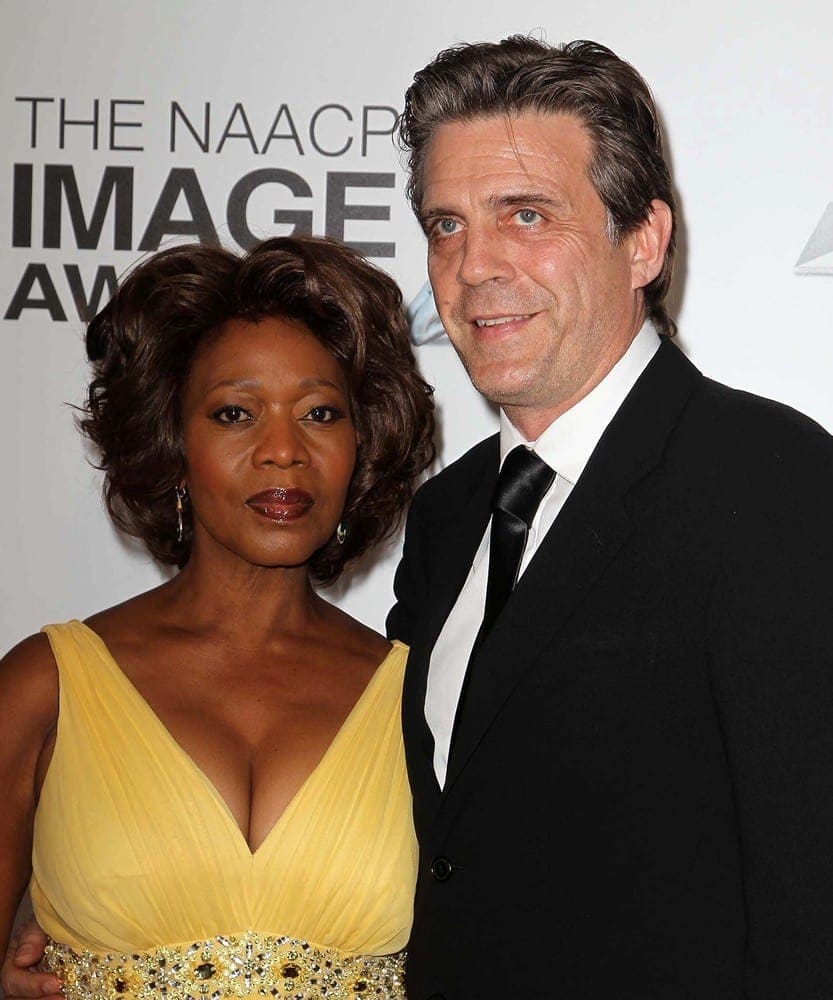 Robin Thicke & Paula Patton
'Blurred Lines' singer, songwriter, and producer Robin Thicke, met ex-wife Paula Patton in 1991 at the age of 14 in a hip-hop club named Balistyx on the Los Angeles Sunset Strip and then started dating her two years later. It was truly a high school sweethearts tale for these two who married in 2005 and welcomed their son Julian Fuego Thicke in 2010. However, their love story came to a dramatic end when Robin Thicke was photographed with his hand up a fans dress and in a series of events it led Patton to file for divorce in 2014 which was then finalized in March 2015.
Cuba Gooding Jr. & Sara Kapfer
Another couple on our list who met as teenagers were actor Cuba Gooding and his wife, Sara Kapfer. The couple were together for 30 years with 22 of them as husband and wife. The couple were married in 1994 and had 3 children during their relationship named Spencer, Mason, and Piper. Unfortunately, their marriage went downhill along with Gooding's career, and they legally separated in 2014. Their divorce was later finalized in 2017, and the couple agreed to joint custody of their youngest child, 11-year-old Piper.
Halle Berry & Olivier Martinez
Bond girl bombshell and Academy Award winner Halle Berry met her Frenchmen actor Olivier Martinez back in 2010 on the set of Dark Tide and began dating after that. 2 years later, the couple became engaged and married the next year in a stunning ceremony in romantic France. Just three months after their wedding, Berry gave birth to their son Maceo Robert Martinez. However, after only two years of marriage, the couple announced they were filing for divorce. In 2016, their divorce was finalized and it was said that Berry rushed proceedings so that her ex-husband could not have access to her pending financially rewarding deals.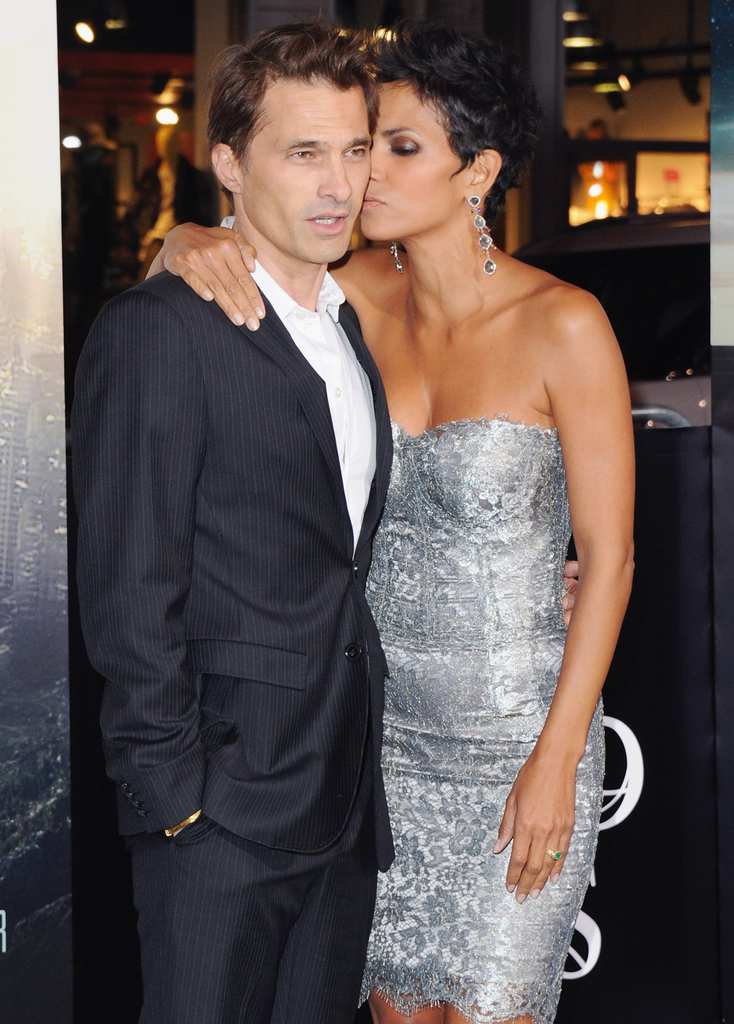 George Lucas & Melody Hobson
Star Wars creator George Lucas met the beautiful Melody Hobson in 2006 during a business conference. Hobson was a well-known name in the entertainment industry being the Chair of the Board of Directors at Dreamworks Animation. The couple were together for 7 years before announcing their engagement in January 2013 before being married 6 months later in July at the Lucas Skywalker Ranch. Just a month later, the newlyweds welcomed their first child via surrogate named Everest Hobson Lucas.
Kelly Ripa & Mark Consuelos
Host of 'Live! With Kelly' met actor and co-star Mark Consuelos on the set of All My Children. After falling in love almost immediately, the two eloped the following year in May 1996. The couple had three children together thereafter, Michael Joseph, born June 2nd 1997 and Lola Grace Consuelos born June 16th 2001 and their youngest Antonio Consuelos, born February 24th 2003. Although the two are working parents often living on different coasts, they have remained a strong unit who's very much in love!
Chris Noth & Tara Lynn Wilson
The notorious Sex and the City star Mr. Big has not had quite the exciting dating life off screen as he has on. Noth had met his wife Tara Lynn before he made it 'Big' while working at the bar The Cutting Room of which he was a co-owner. Wilson had appeared in TV shows including Frame of Mind and Law and Order: Criminal Intent before Noth joined the cast. The two started dating in 2004 and had their first child named Orion in 2008. On April 6th, 2012, the two got married and have been a solid unit ever since!
Randy & Erika Jackson
Randy Jackson and his partner Erika Riker were married for 18 years until Riker filed for divorce from the Jackson family member citing irreconcilable differences as the cause. The couple had two children together, of which Riker was seeking full physical custody and joint legal custody of their 17-year-old son Jordan. Riker's demands did not end there as she wanted to revert to her maiden name, have spousal support and have Jackson pay her attorney's fees. When the couple married, there was no prenup set in place, so Erika was reportedly in line for half of his $40 million fortune.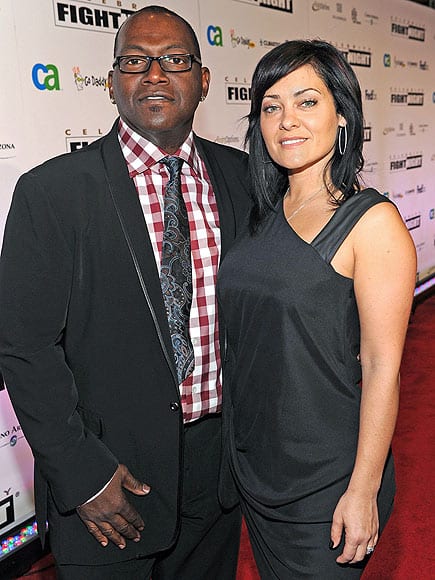 Kanye West & Kim Kardashian
The notorious marriage of reality TV star and world famous businesswoman Kim Kardashian married rapper Kanye West in a lavish wedding split between Paris, France, and Florence, Italy in 2014. The couple have been longtime friends and decided to take their relationship to the next level a couple months after Kim's disastrous marriage to basketball player Kris Humphries in a $20 million ceremony followed by only 72-days of marriage. This celebrity couple was a match made in tabloid heaven a tabloid produced two beautiful babies, North West born in 2013 and Saint West, born in 2016.
Eva Mendes & Ryan Gosling
Eva Mendes and Ryan Gosling are almost like Hollywood royalty being one of the best-looking, high profile couples in the industry. The couple met in 2011 on the set of their movie 'The Place Beyond The Pines' and were first spotted on a date at Disneyland. The couple have now been together for almost 6 years and kept their relationship as private as possible, avoiding press and interview questions when possible. The couple had their first child together in 2014 and welcomed their second in 2016.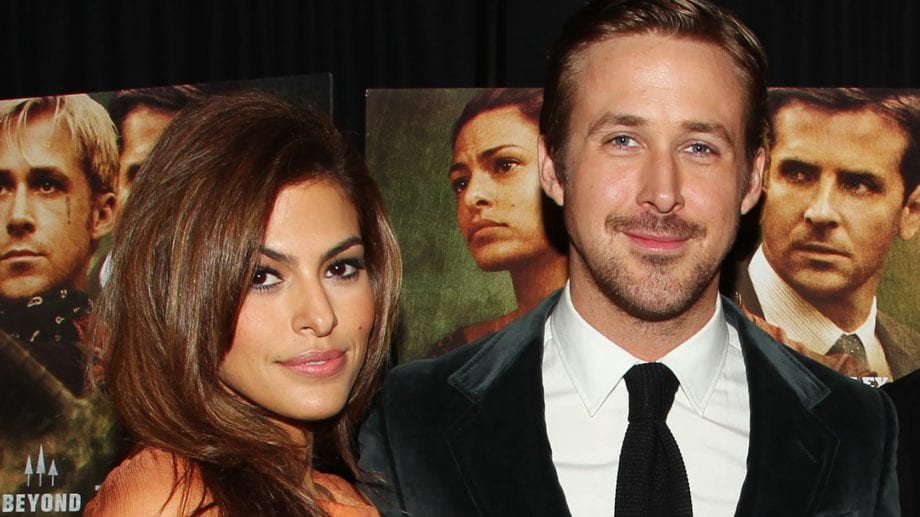 Michael Strahan & Jean Muggli
Former American football player Michael Strahan married Jean Muggli after meeting at a spa in Manhattan in 1999. The couple had 2 daughters together but decided to separate in 2005 when Muggli called the police claiming he threatened to beat her. Michael then filed for divorce claiming she had taken $3.3 million from their bank account which she denied. The divorce got increasingly ugly when Muggli further claimed that he had cheated on her, refused to sleep with her and had secretly recorded her sister undressing. The accusations against Michael got worse with Muggli claiming he beat her so violently that her kidney was damaged. Although both Michael and the judge dismissed such claims, Muggli was given $15 million in settlement and $18,000 a month in child support.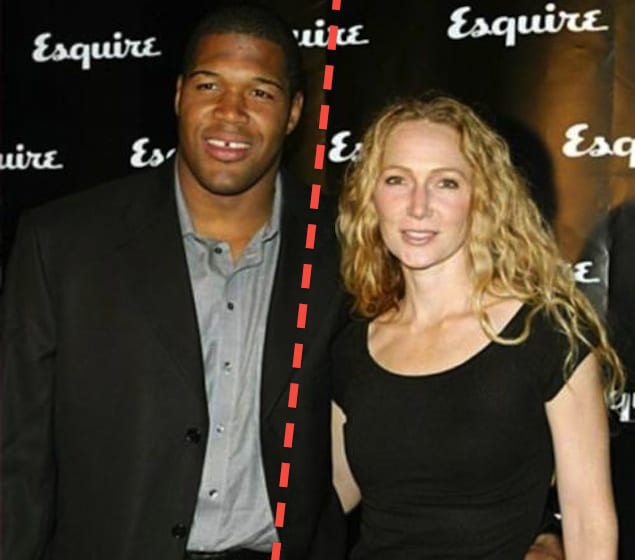 Chrissy Teigen & John Legend
After meeting on the music video set of 'Stereo', John Legend fell for Sport's Illustrated model Chrissy Teigen in 2007. John said in an interview that he fell in love with Chrissy's personality, her intelligence, and her wittiness. Four years of dating later, the couple got engaged and then married in a stunning ceremony in Como, Italy in 2013 witnessed by celebrities including Kanye West. In 2016, the couple welcomed their first child, a daughter named Luna Simone Stephens. John and Chrissy have gone from strength to strength and have becoming couple goals through their adorable candid Instagram and Snapchat shots.
Ashlee Simpson & Evan Ross
After Ashlee Simpson divorced singer Pete Wentz, she moved on to actor Evan Ross, son of legendary singer Diana Ross. In 2013, it was reported the two had begun dating and they quickly got engaged a year later in 2014. The two were married in a beautiful intimate ceremony on Diana Ross' estate in Connecticut. Ashlee and Evan wasted no time and 4 months after their wedding they announced they were expecting their first child together, a daughter named Jagger was born in July 2015.
Laverne Cox & Jono Freedrix
In 2016 it was confirmed that transgender actress Laverne Cox was dating Jono Freedrix, president of The Virtual Stage, a Vancouver-based film and theater company. The two were spotted together at the Weinstein Company/Netflix SAG Awards afterparty in West Hollywood, California getting down on the dancefloor and showing some PDA.
Matthew McConaughey & Camila Alves
After being linked to Hollywood beauties including Sandra Bullock, Ashely Judd, and Penelope Cruz, Matthew McConaughey met his Brazilian model and television personality Camilla Alves in 2006. The couple dated for 5 years and had first son Levi in 2008 followed by their second Vida in 2010. The following year on Christmas Day, Matthew proposed to his stunning partner and the two were married in June 2012 in Texas. The couple welcomed their third child Livingston 6 months after they were wed.
Zoe Saldana & Marco Perego
In 2013, Hollywood starlet Zoe Saldana started dating Italian Artist Marco Perego in 2013. Only a couple of months later, the pair secretly married in London. In a reversal of tradition, Zoe revealed in 2015 that her husband was to take her name after marriage and became Marco Perego-Saldana while Zoe's last name changed to Saldana-Perego. In 2014, the couple welcomed their twin boys named Bowie and Cy Perego-Saldana,and in 2017, their third male arrival came who they named Zen.
Tina Turner & Erwin Bach
Tina Turner met her toy boy husband, Erwin Bach, at an EMI record label party back in 1985, although their relationship remained platonic for the first year before they decided to start dating. The two were together for 27 years and have enjoyed a blissfully happy romance, with Tina gushing about her beau at any opportunity. Tina moved to Zurich for the German record mogul and has resided there for over 15 years. The two finally exchanged vows in 2013 in a star-studded Buddhist ceremony attended by the likes of Oprah Winfrey and David Bowie on the stunning shores of Lake Zurich.
Wanda & Alex Sykes
Comedian and television actress Wanda Sykes married her French partner, Alex Niedbalski in 2008 after meeting in 2006. The two became parents when Alex gave birth to fraternal twins Olivia Lou and Lucas Claude in 2009. Although Wanda seems more comfortable than ever with her wife, she had not always been attracted to women. Wanda was previously married to record producer Dave Hall from 1991 to 1998; she only came out in a same-sex marriage rally for Proposition 8 in Las Vegas in 2008.
FKA Twigs & Robert Pattinson
Twilight heartthrob Robert Pattinson suffered a painful breakup with his co-star lover Kristen Stewart when she got caught having an affair with married director Rupert Sanders. Since then the actor has found love with a fellow Brit singer FKA Twigs. The two met in 2014 and have been inseparable ever since, attending highly publicized events together including the famous Met Gala in New York City. In April 2015 the two took their relationship to the next level and became engaged, leaving Twilight fans devastated in their hopes for an Edward and Bella reconciliation.
Kylie Jenner & Tyga
Kylie Jenner reportedly started dating rapper Tyga at the young age of 17 and due to their 8-year age gap, waited until she was of legal age to confirm they were an official couple to abide by California law. From then on, Kylie has appeared in Tyga's music videos including his song 'Stimulated' which was penned about the youngest member of the Kardashian-Jenner clan. The two have been dating for around 3 years with many ups and down during which time Kylie was linked to another rapper PARTYNEXTDOOR.
Josh Holloway & Yessica Kumala
Lost's resident bad boy Josh Holloway met his Indonesian wife in an L.A bar when he hit on her friend. Holloway recalled the incident and stated that she looked him up and down with a martini glass in hand and said to him 'give me your number before you leave.' The couple dated for a couple of years before tying the knot in 2004. The couple welcomed their first child, a daughter named Java, born in 2009 followed by son, Hunter, born in 2004.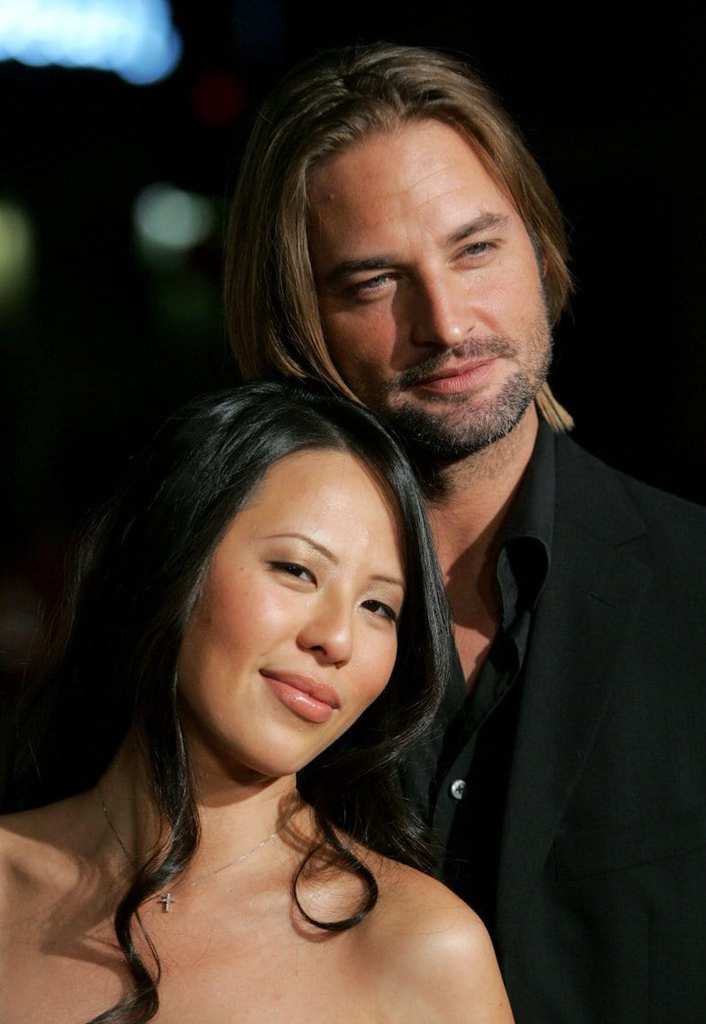 Ellen Pompeo & Chris Ivery
'Grey's Anatomy' star Ellen Pompeo met her music producer partner Chris in a grocery store in Los Angeles back in 2003. The loved-up couple got married in 2007 and have 3 children together Stella, Sienna and Eli Christopher. While Sienna was confirmed as being carried via surrogate, the couple never commented on Eli. Although the two always look in love, they've been plagued with their fair share of divorce rumors and 'cheating' scandals. However, Ellen and Chris have overcome the rumors, and their marriage has gone from strength to strength.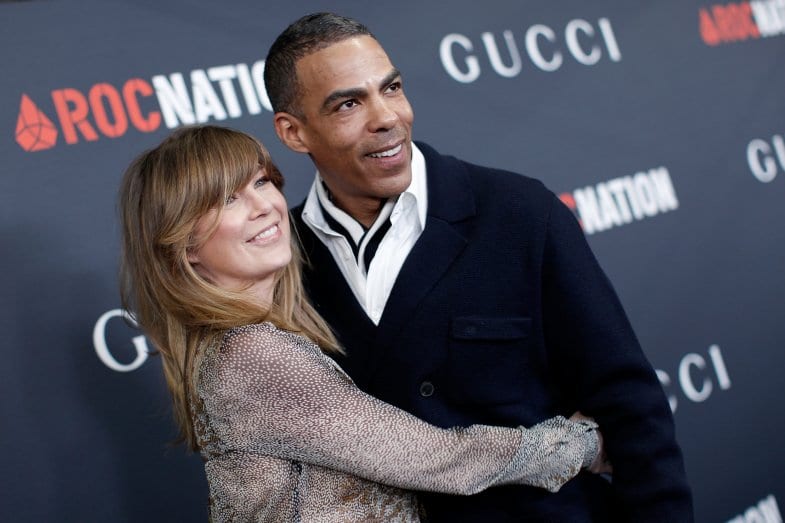 Jacob Fishel & Rutina Wesley
'True Blood' star Rutina Wesley met Jacob Fishel while the two were both students at the prestigious Julliard School in New York, prior to Rutina hitting screens on the racy vampire hit show. The two married after graduating back in 2005. However, their college love story did not last and Rutina filed for divorce in 2013, citing irreconcilable differences after 8 years of marriage. The couple had very separate career paths, Rutina became successful with roles whereas Jacob did not,leading his former wife making sure he could not get his hands on her assets.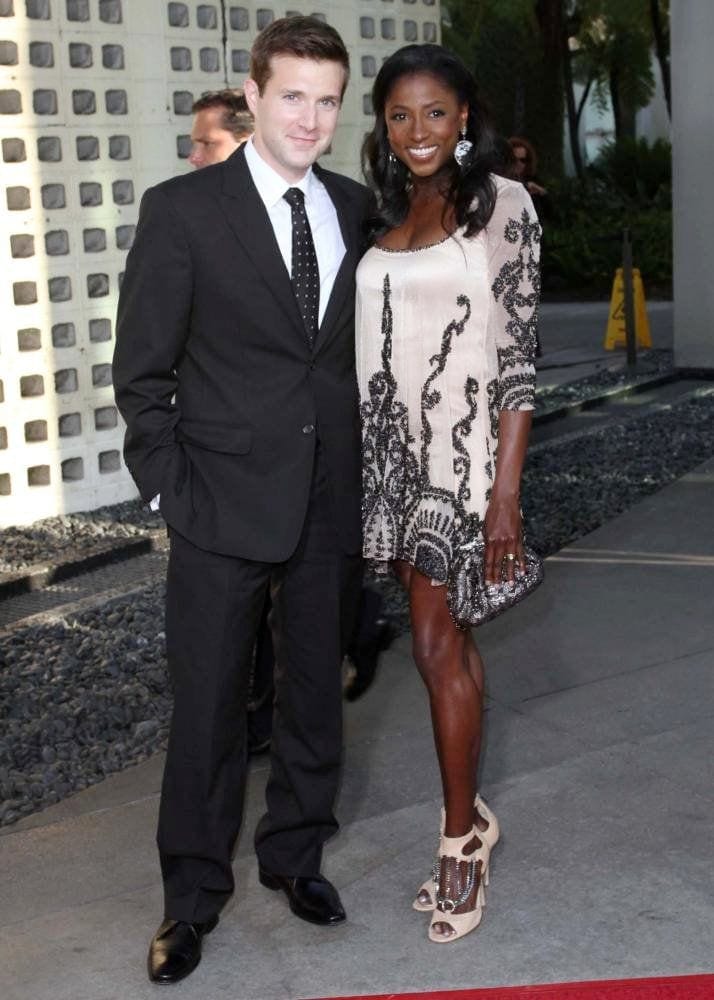 w
Dr. Dre & Nicole Threatt Young
World-renowned producer, rapper turned successful entrepreneur Dr. Dre had a colorful dating past, having four sons and two daughters by five different women but in 1996 settled down with Nicole Threatt. Prior to meeting Dre, Nicole was previously married to NBA-star Sedale Threatt. Although Nicole's occupation was an attorney, her life with Beats mogul Dre had allowed her to become more of a socialite and housewife than a practicing lawyer. Dre won over his wife by penning a letter in pursuit of her love. Dre's creativity has certainly paid off and the two have been married for 18 years and have 2 children together.
Demi Lovato & Wilmer Valderrama
Teen stars Demi Lovato and Wilmer Valderrama got together around 2010. Demi was only 18-years-old when she started dating Wilmer when she was around 31. The two had a rollercoaster of a relationship with many break-ups and make-ups along the way. The two shared the highs of their relationship on Instagram and regularly gushed about their other half in red-carpet interviews. Demi hit the lowest point in her life when she was with Wilmer, going through an eating disorder and seeking help for it. In 2016, the two sadly ended after 6 years of dating stating that they are better of as friends than in a relationship.
Jessica Alba & Cash Warren
Latina American actress and businesswoman Jessica Alba met husband Cash Warren, son of actor Michael Warren, on the set of her hit movie 'Fantastic Four' in 2004. Four years later, in 2008, the two were married in a ceremony in Los Angeles. Cash and Jessica welcomed their first child, Honor Marie, the same year of their wedding and reportedly sold the pictures to US OK! Magazine for $1.5 million. The couple later had their second child in 2011, a daughter name Haven.
Chris Evans & Naomie Harris
In 2008 the rumor mill went into overdrive when stunning British actress Naomie Harris, turned up to the movie premiere of 'Street Kings' on the arm of handsome actor and star of the 'Captain America' franchise, Chris Evans. Although there was never an official word on what happened between the two, we'd like to think that they were something more than just movie co-stars. There's still time for these two as both of them have reportedly become single recently.
Rob Kardashian & Blac Chyna
Interracial couples seem to be a common theme in the Kardashian family. Rob Kardashian's controversial relationship with Blac Chyna was not received well due to her previous engagement to Kylie Jenner's boyfriend, rapper Tyga who Chyna also shares a child with. Rob and Chyna announced their engagement in 2016 to the surprise of his family. A few weeks later the couple announced Chyna's pregnancy. The couple's ups and downs have been well documented on their reality series on E! 'Rob and Chyna' but they appeared stronger than ever when they welcomed their baby girl in October 2016 but soon after announced their split again. The new parents can't seem to decide whether they're going to stay together or not!
Dave Chappelle & Elaine Erfe
Comedian and movie star Dave Chappelle has managed to keep his personal life out of the spotlight and away from tabloids allowing for him and his Filipino wife Elaine to have a smooth sailing marriage. The two were married in 2001 and since then have had three children together, sons Sulayman and Ibrahim and daughter Sonal. The multicultural family lives on a 65-acre farm in Ohio Cornfields.  The couple are only really ever seen together on Dave's red-carpet gigs.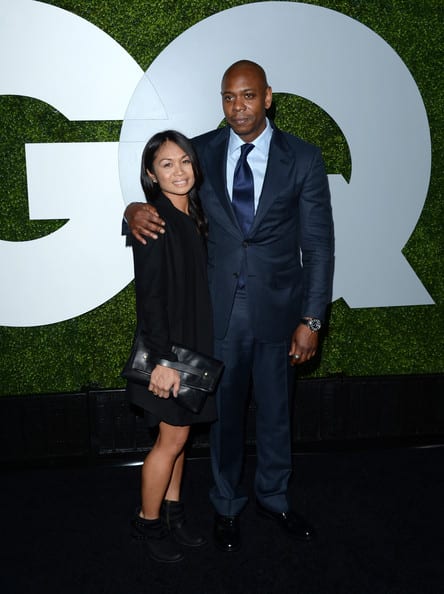 Kevin James & Steffiana de la Cruz
Television and movie star Kevin James met his wife Steffiana in 2002 and were married in June 2004 in California. Steffiana is from New York and is of American and Filipino descent. She is a former fashion model and since being with James got her big break through him, featuring in a number of his movies including Paul Blart: Mall Cop and Zookeeper. The couple has four children together including daughters Sienna-Marie, Shea Joelle and Sistine Sabella and their son Kannon Valentine.
Dirk Nowitzki and Jessica Olsson
In 2010, Dallas Mavericks player and German basketball star Dirk Nowitzki met Jessica Olsson at a charity event for the Sports for Education and Economic Development (SEED) in February 2010. The two connected on many levels including intellectually and over sports. The couple were married 2 years later in an intimate African ceremony in Dallas, Texas. Nowitzki discussed the ceremony and his life in being married to an African woman. He stated that he loved the ceremony and he is fascinated by the traditions.
Tamera & Adam Housley
Actress, singer, and model Tamera Housley is best known for her role as 90's Disney star on 'Sister, Sister' starring her and her twin. In later life, the sisters starred in the Style Network reality show Tia & Tamera for three seasons. The program showed Tamera's wedding plans to now-husband Adam Housley. The two were dating for almost six years before getting married to the Fox News Correspondent. Tamera revealed in 2013 that she was as a devout Christian, she stayed a virgin until 29-years-old and she felt guilty for losing it before she was wed. The couple now has two beautiful children together.
Vanessa Hudgens & Austin Butler
Another Disney teen star on our list is High School Musical lead, actress Vanessa Hudgens. Her infamous relationship with co-star Zac Efron left everyone hoping these smitten childhood sweethearts would last but unfortunately it didn't work out. Vanessa then moved on to fellow teen star and heartthrob Austin Butler. The two began dating in 2011 and have gone from strength to strength ever since, displaying their loved up relationship on many red carpets, giving other Hollywood power couples a run for their money.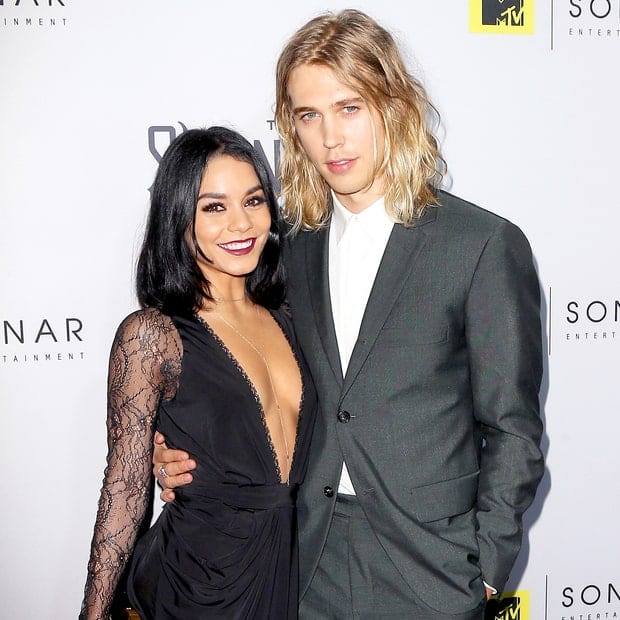 Kris Jenner & Corey Gamble
The Kardashian interracial relationships have even extended to the matriarch Kris Jenner herself. Since her divorce to Caitlyn Jenner (formerly known as Bruce), Kris moved on to Atlanta native and member of the Justin Bieber team, Corey Gamble. Although Kris' new toy boy is 25-years her junior, he appears to be an old soul, favoring art and music over the party lifestyle. Corey has proved he can keep up with the Kardashians and appears to keep Kris grounded on many things while playing 'momager' to her large, crazy family.
Woody Harrelson & Laura Louie
Acting superstar Woody Harrelson met his wife Laura Louie in 1987 on set while filming the classic TV show 'Cheers'. Laura then became Woody's assistant for two years and later married in 2008 in an intimate ceremony at their Maui home attended by industry friends Owen Wilson, Willie Nelson, and Sean Penn. Alanis Morissette provided the music, singing in the ceremony. The couple had three daughters together before they got married. Woody has been married once before to Nancy Simon, daughter of playwright Neil but the marriage lasted only 10 months.
Taye Diggs & Idina Menzel
Frozen star and Broadway singer Idina Menzel was married to fellow Broadway star for 10 years. The two met on the Broadway show Rent and immediately hit it off and were married in January 2003. The couple welcomed their son Walker in 2009. Menzel had publicly spoken about their marriage stating that it's not as easy as it looks and they have to work hard at it. Four years later in 2013, the Broadway duo announced their separation after 10 years of marriage. Their divorce was finalized in December 2014.
George Takei
Japanese-American actor and Star Trek legend George Takei revealed in an interview in 2005 that he is gay and has been in a relationship with partner Brad Altman, for the last 18 years. The decision to out himself was prompted by California Governor Arnold Schwarzenegger veto of same-sex marriage legislation. Although he spoke about his relationship for the first time in 2005, Takei's sexuality was well-known amongst Star Trek fans, and many people were aware of his membership with LGBTQ organizations.
George Clooney & Amal Alamuddin
Notorious, eligible bachelor, George Clooney, has had many relationships with some of Hollywood's most beautiful women but none of them went the distance. Clooney met Amal Alamuddin, a British-Lebanese lawyer and activist back in 2013 and almost immediately knew she was the one he wanted to settle down with. It was said that George was attracted to her intelligence and their shared passion for activism and charity work in conflict and poverty-stricken regions. The two were wed in 2014 and 3 years later in 2017, it was announced that the two were expecting twins.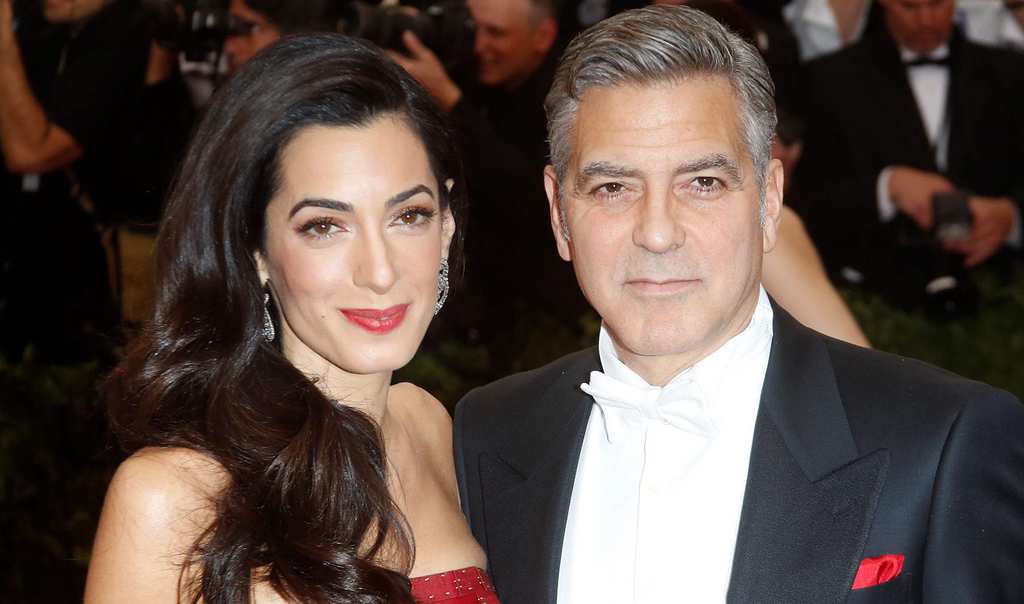 America Ferrera & Ryan Piers Williams
'Ugly Betty' star America Ferrera met Ryan Pier Williams when he cast her in a student film at USC. In 2010, the pair became engaged and married a year later in 2011. Their time working together did not stop in college as he directed her in the 2010 film 'The Dry Land' which landed Imagen Awards nominations for best feature film and Ferrera's performance as best actress. Although their careers both appear to be on the rise, their marriage also seems solid.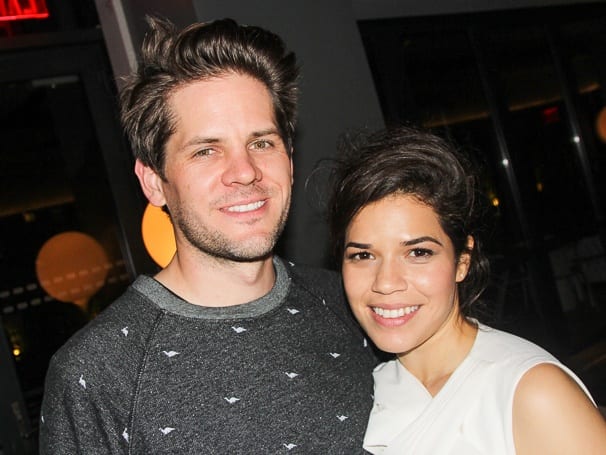 Enrique Iglesias & Anna Kournikova
In 2001, Spanish singer Enrique Iglesias started dating tennis ace and blonde beauty Anna Kournikova. The two have been together for over a decade but have kept their relationship under wraps for the most of it. The two live together in a $26 million mansion on a private Island in Miami, Florida. It was reported that the couple split in 2013 but reconciled soon after, realizing they couldn't be without each other. As for marriage, Enrique has hinted they may or may not be married stating 'Who knows what the future holds…or the past'.
Eve & Maximillion Cooper
British hip-hop artist Eve was dating now-husband in 2010. Maximillion Cooper is an entrepreneur and created the ultra popular Gumball 3000 event after being a race car driver. The couple were engaged for about a year before getting married in a ceremony in Ibiza, Spain. Eve divides her time between London and Los Angeles and after they wed, became a stepmother to Max's four children. Eve has discussed her relationship saying that she'd love to have children of her own one day and that Max is the first person she feels truly comfortable with.
r
Sammy Davis Jr. & May Britt
American entertainer Sammy Davis Jr. was married three times, but the relationship which caused the biggest controversy was the marriage to actress May Britt. The two were married in 1960 and Davis received hate mail as he was marrying a Swedish-born white woman. During this time, interracial marriages were illegal in 31 states but New York was exempt. The two had a daughter together named Tracey and went on to adopt two sons. However, their controversial marriage did not last and the two were divorced after 8 years together. Davis later admitted he was having an affair with singer Lola Falana during his marriage to Britt.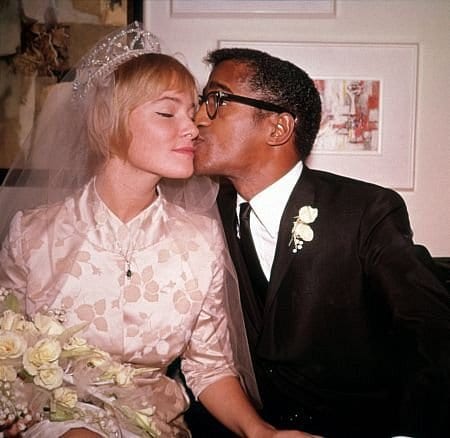 Mariah Carey & Nick Cannon
Mariah Carey got together with radio host and tv personality Nick Cannon and married in 2008 at her private estate on Windermere Island in The Bahamas. They had fraternal twins on their third wedding anniversary in 2011 named Moroccon and Monroe. In 2013, the two celebrated their twins birthday and fifth wedding anniversary in Disneyland where they renewed their vows in a big ceremony. However, their love did not last, and they separated in 2014, and their divorced was finalized in 2016.
Iman & David Bowie
After 2 failed marriages, supermodel Iman, married rock music legend David Bowie in a private ceremony in Laussane, Switzerland. The couple were together for over 20 years, a complete rarity in the entertainment business. The couple shared a daughter named Alexandria who was born in 2000 and are step parents to children from their other marriages. When Bowie sadly died in 2016, his passing was hardest on his widowed wife, someone that she described as her 'forever love', it was said he was most happy when they were together.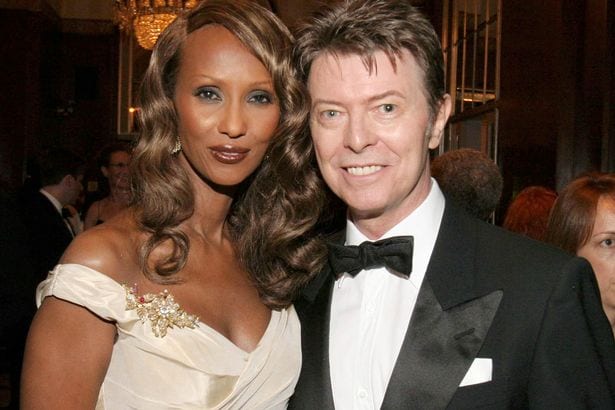 Bill de Blasio & Chirlane McCray
Mayor of New York City, Bill de Blasio married his activist and poet wife Chirlane McCray in 1994. They met when they were both working for Mayor Dinkins' administration and fell in love from then on. Before moving to the traditional residence of the New York City Mayor, Gracie Mansion, the two resided in Park Slope, Brooklyn where they enjoyed their first few years of marriage. The couple has two children named Dante and Chiara, with both of them attending college during their fathers time as mayor.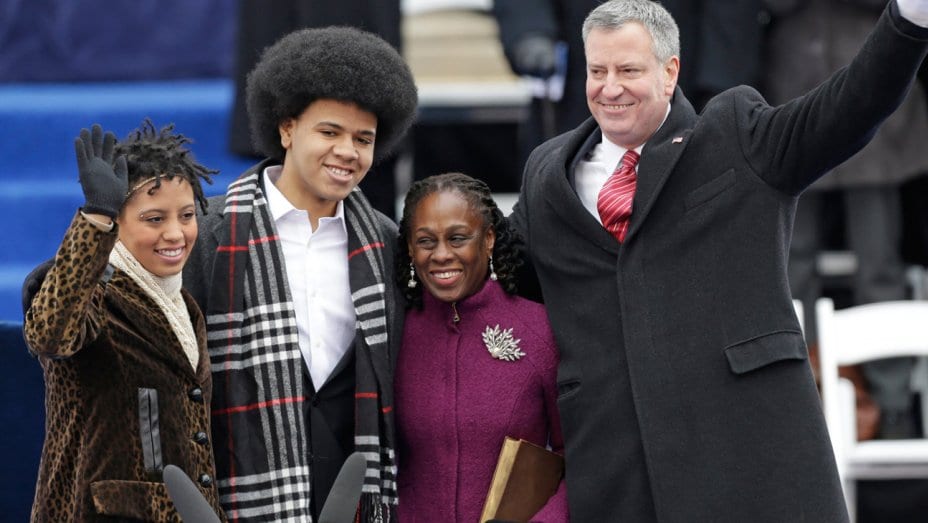 Laura Dern & Ben Harper
American singer and activist, Ben Harper met his then-wife Laura Dern in 2000 at one of his concerts, the same year he was separated from his first wife, Joanna. The two were then married in 2005 in a private ceremony in their home in Los Angeles. The couple had two children together with a son named Ellery and a daughter named Jaya. However, in 2010, Harper filed for divorce citing irreconcilable differences however they briefly reconciled and attended the 2012 Golden Globes together but he later proceeded with the divorce and it was finalized in September 2013.
Justin & Keisha Chambers
Former 'Grey's Anatomy' hunk met his wife Keisha, a former model agency booker, while the actor was working on advertising campaigns for Calvin Klein. The two were married back in 1993 and now have 5 children together, ruling out having any more. Justin has publicly spoken about the support Keisha gives him stating that they have been through everything together and couldn't imagine going through anything without her by his side. Sounds like a marriage that will go the distance!
Anthony Weiner & Huma Abedin
In 2010, U.S. Representative Anthony Weiner married American Political Staffer Huma Abedin. The wedding ceremony was officiated by former President Bill Clinton as the couple maintained close relations both on the political circuit and in their personal lives with the couple. In 2011 the couple welcomed their first child together. However, their marriage came under strain when Weiner was involved in a 'sexting' scandal, leading Huma to file for separation in 2016 although later in 2017 it was reported that the couple was working hard to save their marriage.
Karyn Parsons & Alexandre Rockwell
'Fresh Prince of Bel-Air' star Karyn Parsons married director Alexandre Rockwell in 2003, and the couple has two children together, son Nico and daughter Lana. Parsons had discussed the importance on educating her children on her heritage and the history of Black Americans. The family posed together in a portrait, making a statement and portraying how society has evolved so that people of all backgrounds and races are accepted and celebrated. The portrait was created to keep the momentum of an evolving society moving forward.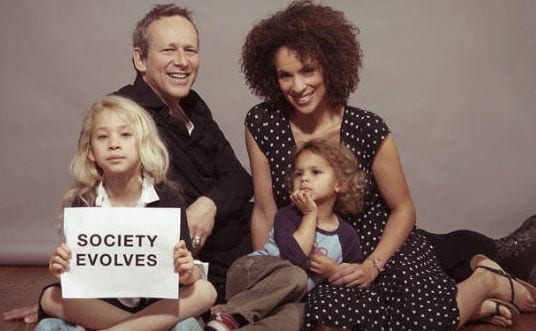 Lucille Ball & Desi Arnaz
Lucile Ball and Desi Arnaz were a married couple both on-screen and off-screen. The couple is well-known for their tv marriage, starring in the hit show 'I Love Lucy.' Although fans loved their chemistry, their marriage did not last and came under strain from Desi's growing alcohol problems and constant womanizing. According to his memoir, these issues stemmed from demanding production operations and stress in his life which led him to find alternative paths to alleviate his problems. The couple were divorced in 1960 and came to a working agreement with Desi, causing her to buy him out.
Nicolas Cage & Alice Kim
Actor Nicolas Cage met Alice Kim in 2004 when she was a waitress as Los Angeles restaurant Kabuki. In a whirlwind romance, the two fell madly in love and Nicolas put a ring on her finger just 2 months later. In July of the same year, the two were married at a ranch in northern California and later had a child together. However, it was reported in 2016 that Kim was caught cheating leading Cage to file for separation against his young wife after 11 years of marriage.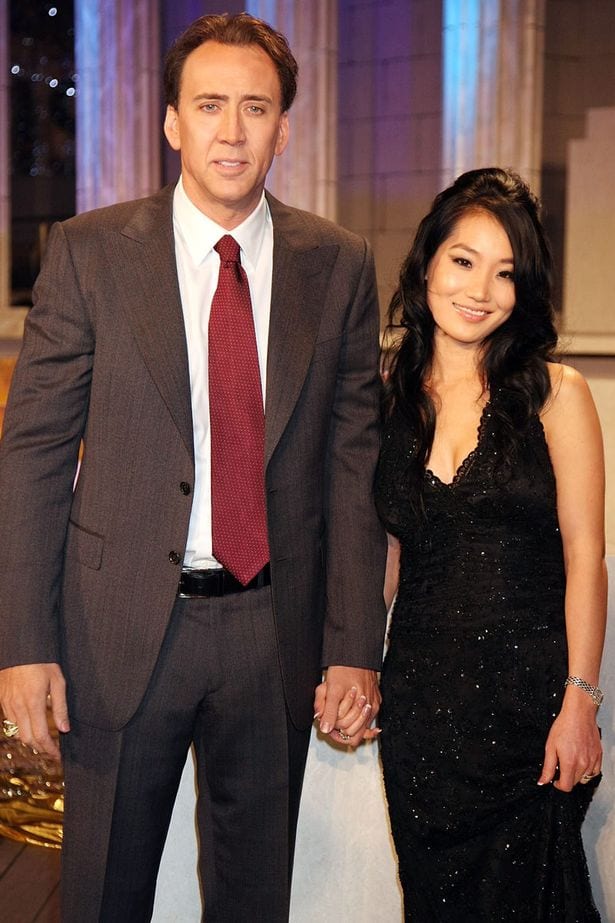 Wolfgang Puck & Gelila Assefa
Austrian-born, world-renowned chef Wolfgang Puck was dating Ethiopian beauty Gelia Assefa for just over four years before he decided to pop the question in 2005. The couple had two children before they got engaged at the Ritz-Carlton, Laguna Niguel in Dana Point, California. Wolfgang stated that it felt like they were already married and he didn't need a ring to confirm his commitment to Gelia. Their fairytale wedding was a celebrity-studded affair on the beautiful Island of Capri, off the coast of Italy.
Kendra Wilkinson & Hank Baskett
Kendra Wilkinson left behind her life at the Playboy Mansion and her relationship with Playboy founding father Hugh Hefner to begin dating someone closer to her own age. Kendra became engaged to American football player Hank Baskett in 2008 and married the following year at the Playboy Mansion. Kendra gave birth to their first child Hank Baskett IV in 2009 followed by their daughter Alijah in 2014. The two have had a rocky marriage with Hank exposed for allegedly cheating on Kendra, but he has vehemently denied these allegations.
Vanessa & Kobe Bryant
Basketball superstar Kobe Bryant met his wife Vanessa in 1999 when she was only 17-years-old, working as a back-up dancer in a music video while Bryant was working on his debut music album. After only 6 months of dating, the couple were engaged and got married later in 2001. Kobe's parents did not attend the wedding due to them disapproving of his bride's race and their young age, leading to an estrangement period. When the couple's daughter was born in 2003, the Bryant's reconciled as a family and in 2006 they welcomed a second daughter. In 2011 the couple filed for divorce but later called it off in 2013 and then welcomed their third child in 2016.
Khatira Rafiqzada & Michael Ealy
'Think Like A Man' star Michael Ealy secretly married his longtime girlfriend, Afghan actress Khatira Rafiqzada in 2012 in a ceremony in Los Angeles, California. The couple who had been dating for four years decided to enjoy their married bliss privately for 2 years before sharing the news with fans. Early into their relationship, it was reported that some of Ealy's fans had condemned his decision to date a woman who was not of African-American descent. In 2014 the couple welcomed their son and 2 years later they had a daughter together.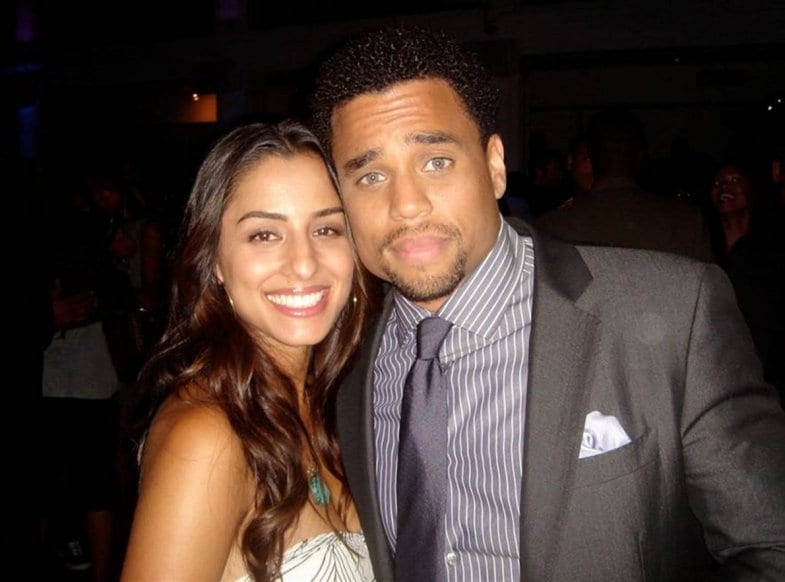 Eddie Murphy & Paige Butcher
Eddie Murphy started dating Australian model turned actress Paige Butcher in 2012. The two are not married and have not shown any signs of taking that step; perhaps Eddie's previous failed marriages have played a part in that decision. Nevertheless, in May 2016, they welcomed a beautiful daughter named Izzy Oona Murphy.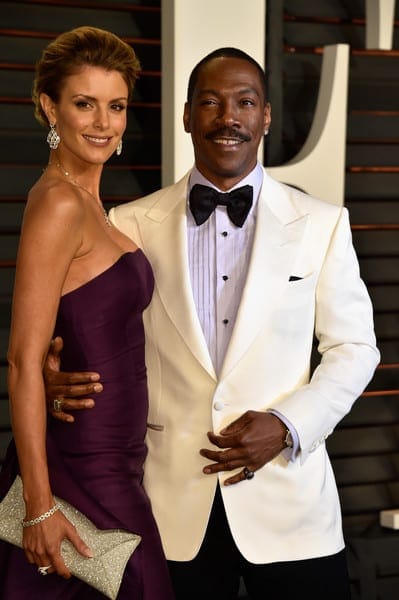 Robert De Niro & Grace Hightower
Two-time Oscar winner met his wife Grace Hightower in 1987 in London at the restaurant Mr. Chow where she was working as a hostess. The couple did not comment much on their meeting but only revealed that it wasn't exactly a whirlwind as they weren't married until a decade later in 1997 at which time they had their first child Elliott. However, in 1997 the couple filed for divorce, but it was never finalized and later in 2004 the couple renewed their vows. In 2011 the couple welcomed their second child via surrogate named Helen Grace.